My father, Jesse Taub, served in WWII and took Memorial Day very seriously, but never explained to me why it was celebrated. Every year he made me wear my Boy Scout uniform and march in parades. Sometimes I had to sing songs. I hated it.
As I got older I came to learn that Memorial Day is observed to remember our fallen soldiers and since my father passed away a few years ago it's become a very important holiday for me. My father served as an Assistant Pharmacist's Mate on the Battleship New Jersey and was an original crew member or "plank owner," as he liked to call himself. He was incredibly proud of his military service, but seldom spoke of it.
Yesterday, my family and I had the privilege of touring the USS Cole, a guided missile Destroyer that was docked in Staten Island for Fleet Week. I was born in Staten Island, and my father lived there when he joined the Navy, so it was a good homecoming for us.
The USS Cole is an impressive vessel (approximate crew is 283) and there was a huge turnout of people to tour the ship. Our guide, Lt. JG Douglas Kroh, was knowledgeable, polite and extremely patient. As he took us through the Cole, we met a variety of specialists, who immediately made it clear why the ship is called a Destroyer.
I've always loved military acronyms, and the sailors on the Cole had plenty of them. The tour began with the VLS (Vertical Launching System) a rather inconspicuous group of steel plates that I wouldn't have paid much notice had I not been informed that when opened they launch tomahawk missiles and torpedoes. Close by was what action movies call Fast Boats, but Ensign Hannah Taylor explained it was a RHIB, or Rigid Hull Inflatable Boat. I also found that the Navy has a sense of humor, when I pointed out that a 20mm machine gun (4,000 rounds per minute) looked like R2D2 from Star Wars I was told that's what they call it.
My father's explanation for choosing the Navy was he wanted to know he'd a have "a decent place to sleep and three square meals a day." The Cole's mess hall is hip, comfortable and popular with the crew and probably wouldn't be out of place on Diners, Drive-ins and Dives. The hallway directly outside takes on a more somber tone and is known as the Hall of Heroes, dedicated to the 17 sailors who lost their lives when the Cole was attacked by terrorists on October 12, 2000. There are also 17 brass stars embedded in the floor, and every time a sailor walks down the hall, they remove their hat for the brief journey.
I've toured many Navy vessels and my favorite area is usually the bridge. I'd describe the Cole's bridge as old-school, save for one piece of equipment that looks like a Nintendo control. It was explained to me that it's a remote control device for a 25mm chain gun, so perhaps not every future soldier or sailor will need to look like Mark Wahlberg to fight the enemy.
A tour of the Cole would not have been complete without meeting the Commanding Officer, Captain Dennis L. Farrell, an Annapolis graduate with 24 years of service. The Captain is a self-described "ship driver" who reminded me of the coach or boss that you only hear or read about, but very few of us are actually lucky enough to encounter. Captain Farrell greeted me warmly and said, "Welcome to the best ship in the Navy!" He told us about the preparation and "the unbelievable amount of training" the crew goes through prior to being deployed and I was wowed by the dedication of these young men and women who are responsible for millions of dollars' worth of equipment, which they operate with great proficiency to defend our country.
The Cole is indeed impressive, and the technology on today's military equipment is astounding, but they are nothing but bells and whistles without an outstanding crew to oversee them. I write about all sorts of topics and meet a wide range of people from many walks of life, but the intense honor and devotion I saw in every sailor on the Cole was truly inspiring. The crew seemed to take unique pride in what's called "connected replenishment," which is one ship resupplying another via a connection called a padeye while both vessels are moving, and clearly no easy task. I had trouble passing a baton on a relay team and handing off a beer from one moving car to another so two ships at sea is definitely out of my wheelhouse.
As Captain Farrell walked away from us he said, "It's awesome being in New York!"
It was awesome having you here, Sir.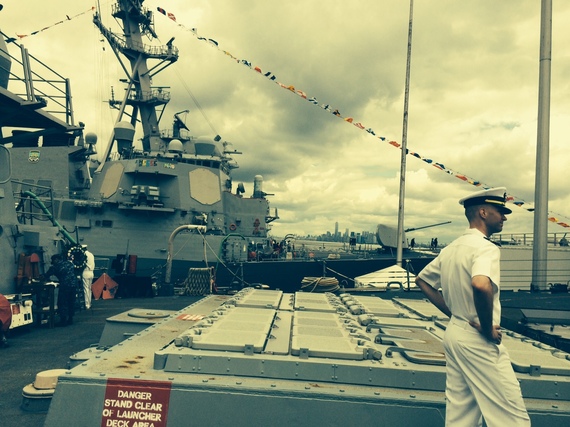 (USS Cole VLS Launcher)