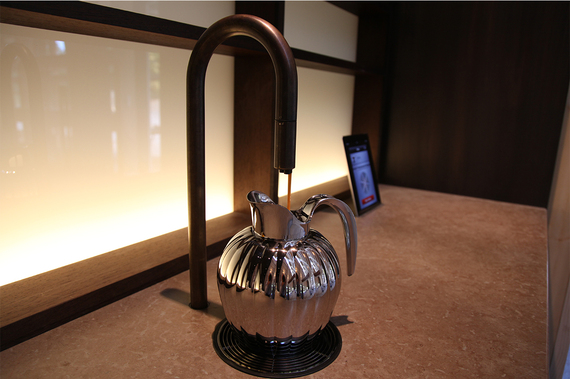 (Top Brewer makes coffee with your handheld device)
Rupert Murdoch recently spent over $57 million dollars on a four-floor penthouse located on Manhattan's East 23rd street for a virtually raw space that will be retrofitted with every state-of-the-art accouterment imaginable. Leonardo DiCaprio's New York apartment boasts vitamin C-infused showers, purified air and water as well as a circulated aromatherapy air supply. The Manhattan skyline continues to grow with cutting edge buildings such as One West 57th Street and 432 Park Avenue and new condominiums and homes are being built like never before while existing structures are being retrofitted with ultra-modern technology that until a few years ago was non-existent. This innovative technology is creating new products and jobs at breakneck speed.
"It's amazing how much technology drives houses and buildings today," said Christopher Pollack, whose project management-owners representative firm, Chris Pollack, Ltd specializes in overseeing construction and renovation of high-end residential and commercial real estate and seems to be helping to redefine the term "domestic technology." People are now adding owners-representative to a list that already includes lawyers, architects and contractors.
When I first met Pollack I had inquired about smartphone apps that enable you to remotely control home air conditioners and other appliances. "HVAC, lights, music, shades, your television and security system are all being driven by technology and can be controlled by a cell phone, iPad or other handheld devices," he explained. "Today, if somebody rings your doorbell you can see who it is on your handheld and let them in with the push of a button."
The days of the construction project foreman with a tool belt and a beer gut appear to be over. Pollack attended Harvard Architecture School and prior to starting his own business in 2002, worked as the head of development for S.L. Green, a large commercial real estate firm. A significant part of installing new technology is in renovating older buildings, so when Pollack was at S.L. Green a large portion of the business was refitting B minus buildings and upgrading them to B plus or better. "Construction projects are far more complex than they were in the past, so depending on the budget and scope of the project, I've been responsible for managing as many as 15 to 20 specialty consultants on a residential job," said Pollack.
For example, the stereo guy no longer exists. He's been replaced by a "systems integrator," who installs home automation systems like Crestron and Savant. I personally use a Sonos wireless system that integrates my music collection and allows me to listen to a variety of programs ranging from iTunes to Spotify all from one handheld device. In our environmentally conscious society, people are now using geothermal systems, which use the earth to heat and cool their residences, as well as solar panels, which according to Pollack, architects are regularly integrating into homes less obtrusively these days. "People are really thinking green," he said. "We recently installed a geothermal system in a New York City townhouse as well as a double entry security door similar to those found in jewelry stores. Changes and advances are coming fast and furious."
The construction trade is notorious for chicanery and everyone you speak with has some sort of renovation or construction story, but Pollack acts as an advocate for the owners rather than the contractors. "We represent homeowners and their interests, with the goal of saving them both time and money," he said. "Builders and architects are often incentivized by escalating costs, but that's not what we do and our fee is a small percentage of the project cost."
Indeed, Pollack has shown me how I can incorporate the same technology used by celebrities and titans of industry into my own home and thereby enhance my real estate investments. Before we parted, I asked Pollack if there was device to automatically make a martini.
"Not yet," he said. "But there is Top Brewer." This countertop system from Scanomat uses a stainless steel tube to serve cold water, juice or a piping hot espresso all ordered via a handheld device.
I asked my phone for a latte, with extra foam.
It worked perfectly!
--
Rob Taub is a licensed real estate agent in the state of New York.