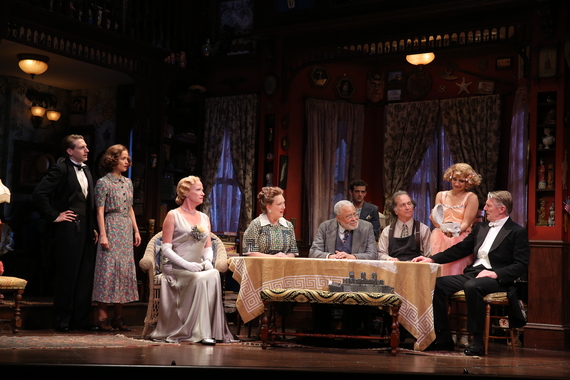 James Earl Jones leads an impressive ensemble in You Can't Take It With You
Photo: Joan Marcus
My grandmother had an expression she always used after a large family gathering: "No one was arrested or sent to the hospital, so I consider the event a success!"
In You Can't Take It With You, things don't go quite as smoothly for the Sycamore family while entertaining their daughter's fiancé and his parents, but what ensues is -- to say the least -- extremely funny. Although some people may consider the Sycamore's crazy, they are also a happy, loving family that makes You Can't Take It With You as relevant today as it was in 1936, when it was written by Moss Hart and George S. Kaufman, winning the Pulitzer Prize for best play in 1937. It also went on to win the Academy Award for Best Picture and Best Director.
Over the past few years there have been numerous attempts to revive the show, but it's been difficult due to the size of the ensemble -- 19 cast members. Like a great coach or GM in sports, a Broadway production of this size requires a strong leader at the helm, and Scott Ellis has been tasked with directing an impressive ensemble that includes James Earl Jones, Rose Byrne and Mark Linn-Baker. I've always admired Ellis's skillful direction of other revivals (1776, Twelve Angry Men, Harvey), so we met recently in the theater district to discuss the show's enduring popularity.
"I love the play because it's about families and relationships -- most specifically what is a family. All families are different as are all people, and the show really deals with how we judge one another," said Ellis. The play also tackles issues like income tax, social status, as well as Russia, all as prevalent today as back in 1936. "It doesn't feel old, it feels relevant, because it's a comedy that's steeped in reality," said Ellis.
With regard to old and new, Ellis made an interesting choice by hiring David Rockwell to design the sets. The Tony Award-winning Rockwell is also responsible for the Jet Blue Terminal at JFK airport and the Nobu restaurants. "I wanted David because I knew he would look at the set design in a different way," said Ellis. Ignoring tradition, Rockwell has eliminated the stage curtain so the set is always exposed. In another distinctive move, rather than using existing music from 1936, Ellis brought in Tony winner Jason Robert Brown, who has written an original score based on period music. Ellis's overall assessment of the play is very straightforward. You Can't Take It With You has no deep message -- it's all right there in the dialogue and action. "We're only on this earth for a short time," said Ellis. "It's not going to last forever and you can't take it with you."
Ellis is passionate about the show and every aspect that goes into putting together a Broadway production and his own family circumstances have helped him further identify with the play. Ellis is gay and has two children, so he's experienced being judged by others and handles it with a great sense of dignity, pride and humor. Just like the Sycamore family, who make being different a most admirable quality.
You Can't Take it With You is currently in previews and opens September 28th at the Longacre Theatre.