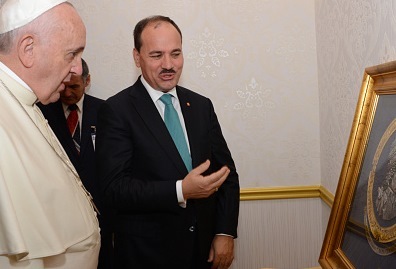 Pope Francis and Albanian President Bujar Nishani
The news media is always rife with stories about foreign countries or organizations exporting hate and animosity to the United States, but we hear very little regarding those who promote peace and religious harmony, such as Albania. Pope Francis recently chose to visit Albania on his first European trip outside of Italy because it's a predominantly Muslim country where religious tolerance flourishes. The Pope's visit focused on the harmonious co-existence between Muslims and Christians in the country, despite substantial war and violence in the rest of the Islamic world.
Following the Pope's trip, Albanian President Bujar Nishani made a diplomatic visit to New York, where I had an opportunity to sit down and chat with him. President Nishani presided over a private ceremony at the Russian Tea Room where Albanian American Jim Xhema (pronounced Jay-ma), a businessman and philanthropist, was awarded with the Albanian National Medal of Honor. "Albanian Americans have always served as a positive voice and example for our country because people like Jim Xhema have never forgotten their roots," said Mr. Nishani before the ceremony. "The people here tonight have done a great job of presenting our culture and identity to the world and I am not only here as the head of state, but also as a citizen of Albania."
A man standing next to me at the ceremony told me that Mr. Xhema has helped change the perception of Albanians in America by his involvement with politicians ranging from Bob Dole to the Clintons. He added that Mr. Xhema is "hugely philanthropic" and has sponsored numerous PBS shows, like many Albanians Mr. Xhema is "quietly proud, but has he definitely brought our people credibility." I met many other successful people at the function and found it interesting that Albanians have clearly made an impact in the US, yet still seem to go largely unrecognized.
At the ceremony I discussed this with Professor Nikolla Pano, who explained that "there are many prosperous Albanian business people in the U.S., but they have yet to develop a mechanism that allows them to speak effectively with one voice." Mr. Xhema offered me additional clarification on the matter: "In the past, Albania was divided in so many different ways -- politically and geographically -- that we lost our identity as a people. When I first came to the United States, many Albanians in this country were afraid of discrimination, so they referred to themselves as Yugoslavians or Italians instead, but I have worked tirelessly to change this attitude." Both Mr. Xhema and President Nishani hope the Pope's historic visit will help the country's image. "The Pope chose us because of the harmony and co-existence of different religions in our country," said Mr. Nishani.
Albanians export not only tolerance and good will, but great food as well. The president and I have crossed paths many times in the past, not only at the Russian Tea Room but also at Benjamin's Steakhouse, and both places are owned by Albanian Americans. I had mentioned to the man next to me at the award ceremony that I'd met actor Jim Belushi, another accomplished Albanian. "You should have met Mother Teresa," he said. "She was Albanian too."