"Isn't Brigadoon the one with the leprechauns?"
No, that's "Finnian's Rainbow," clarified my theatre companion as we walked into Goodman's suprisingly delightful new production of the Scottish-based Lerner and Loewe tuner.
Brigadoon is a show that I'd firmly dismissed. Many of those warhorse musicals often feel so steeped in schmaltz, by the time you're done, you feel like you need a root canal to eradicate all the manufactured sweetness. So a show about a pair of strapping men who happen upon a magical land that appears once very 100 years and fall in love with the lonely lasses who live in the misty hills didn't really capture my fancy.
But then I heard Goodman was producing a revival helmed by revolutionary musical theatre director Rachel Rockwell, and my interest piqued considerably. Maybe it was worth revising a show I hadn't seen since my community theatre dusted it off when I was 16?
Well, color me tartan: Upon the first few chords of this charming revival, I found myself swept up into a world of kilts, bagpipes and heartfelt ballads. Yes, this 1947 musical, while updated with some script tinkering (by Brian Hill), still relies on old-school musical theatre tropes, it's far from musty. In fact, I'd be so bold as to say it's blissfully charming.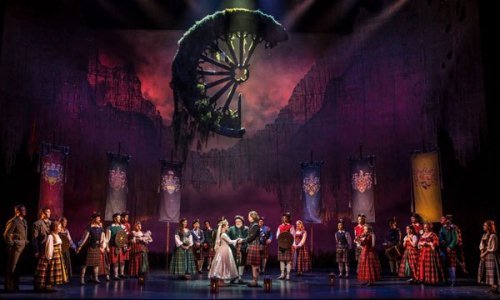 The cast of Goodman Theatre's "Brigadoon"
Leading this unapologetically romantic show, Jennie Sophia lends her warm presence and shimmering soprano to Fiona -- the leading lady who captures the heart of a hunter who wandered into the mysterious land (the evening I saw the show, Rod Thomas, who typically plays the sidekick friend, stepped in for Kevin Early, and was outstanding). Offering up some blowzy comedic relief, the ruddy cheeked Maggie Portman as Meg does well with two tongue-twisting numbers.
In fact, Rockwell, a rockstar director tapped by the Goodman to lead this rare revival, often succeeds because she casts shows extremely well, and here she's assembled a fresh-faced ensamble, many of whom are making their Goodman debuts along with her. In addition, many double as dancers, pulling off lively jigs also choreographed by Rockwell, including a thrilling sword dance to close out the first act.
It also doesn't hurt that the show looks delicious. Kevin Debinet's lush sets find a way to make green moss seem exotic, and Mara Blumenfeld dots the stage with bursts of color, while remaining authentic to the timeless period.
"Brigadoon" plays through August 17 at Goodman Theatre. More info here >