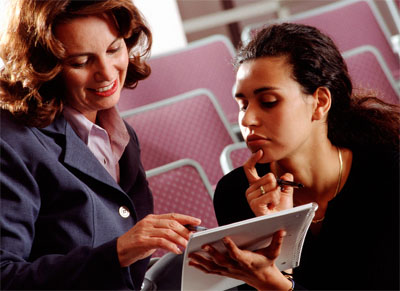 The process of moving an educational innovation from a good idea to widespread effective implementation is far from straightforward, and no one has a magic formula for doing it. The W. T. Grant and Spencer Foundations, with help from the Forum for Youth Investment, have created a community composed of grantees in the federal Investing in Innovation (i3) program to share ideas and best practices. Our Success for All program participates in this community. In this space, I, in partnership with the Forum for Youth Investment, highlight observations from the experiences of i3 grantees other than our own, in an attempt to share the thinking and experience of colleagues out on the front lines of evidence-based reform.
This blog, based on an interview between the Forum for Youth Investment and Debby Kasak, director of the National Forum to Accelerate Middle Grades Reform, shares how school-to-school mentoring is both bringing about substantial improvements and itself serving as an important sustainability strategy.
Mentoring is Good for Mentors and Mentees
Coaches and mentors, whether at the individual or school level, can improve their own practice by helping others. That is what has begun to happen among schools involved in the National Forum's i3 project. The National Forum is an alliance of educators, researchers, national associations, and officers of professional organizations and foundations committed to promoting the academic performance and healthy development of young adolescents. Through its Schools to Watch (STW) program, the National Forum has developed criteria for identifying high-performing middle-grades schools and created tools to help schools use them.
The National Forum's i3 development grant is focused on improving 18 low-performing schools in three states using the STW framework and criteria. The goal is for those schools to learn from other STW schools that have been performing well. "We are inspiring schools to change their practice through whole school intervention," says Kasak. "Each i3 school is matched up with demographically similar STW schools so they can see that it is possible to make change, even with a tough student population. It helps bring the theory to life for them. Given all the things that teachers get confronted with, they really respond when they see other teachers who are getting results." But it isn't just the low-performing schools and their teachers and administrators who are benefitting. "Successful schools can be powerful change agents in the lives of schools that need help, but interestingly, we've found that those mentor schools are improving their practice too," reports Kasak. By helping others - coaching and sharing tools and strategies - schools and individuals within them are reminded to shore up their own promising practices.
Building Relationships is Key
"It sounds like a cliché, but one thing we have learned that can't be underscored enough is that relationships matter," Kasak shares. "The first six to seven months that we were involved in this project it was really important that we had coaches in the buildings who could form good relationships with teachers and principals. We needed to take the time to nurture those relationships. And as we did that, we saw the culture and climate of those schools changing." Supportive relationships help schools weather the inevitable transitions that occur at the senior administration level. If teachers and coaches have a strong network and are committed to the work, it is less disruptive when a principal or superintendent leaves. A cadre of advocates for the initiative remains to educate new leaders. According to Kasak, that is exactly what happened in Chicago. "In Chicago, schools across the city are divided into networks. Originally, all of our schools were part of one network and we had a really supportive network leader. When the district administration changed, the networks were reorganized and our schools were no longer in the same network. One of our new network leaders wasn't as supportive. But in one school, a teacher invited the Mayor to come visit the school; low and behold he did, and he brought the network leader with him. Seeing the school in action, hearing the teachers talk about their experiences, and building that relationship with the school staff made all the difference. He (the network leader) has been much more supportive since."
Evaluation Can Be a Powerful Tool
Another way the National Forum has built relationships is through evaluation. Although it may sound counterintuitive, Kasak has found that working with the project evaluation team to look at what they are doing in a developmental way has helped them to share more information with schools than they might have otherwise and to build trust and commitment to the effort. "We are finding that in the second year we have gotten much better participation rates - almost 100% of the faculty in our 18 buildings - than we did the first year," reports Kasak. In speculating why that might be, the National Forum came up with a couple of explanations. "In part, we know this has to do with being in our second year - teachers understand the process better. But we also credit our evaluation team. They regularly give data back to the schools which helps them better understand how all this work is impacting their school culture. Our evaluation team has really helped us to ask: Are doing what we said we would? Is it working? And how can we improve?"
Participating Schools are Part of the Sustainability Pipeline
The National Forum has an innovative approach to scaling their innovation and sustaining those schools where they are already working. Their two networks - low-performing schools supported through the i3 project and higher-performing Schools to Watch schools - create a natural pipeline toward STW status. The goal is to have all of their i3 schools eventually become STW schools who then mentor and support other low-performing schools that may receive funding through additional i3 funding or other sources down the road. Only three years into the i3 initiative, this pipeline is already in action in North Carolina. "We have one rural school in our i3 project that has just been terrific over the past several years. Recently, it applied to be a Schools to Watch school. They were evaluated and received a very high score, so were designated as a STW school. Now they are in a position to mentor other i3 schools in North Carolina. They benefit from the mentoring process itself, and then every three years will have to go through a re-designation process to maintain STW status, ensuring they are always on their game and thinking about how to get better. This school just went from being one site in a project to being part of a sustainable system of reform. We hope to do this with all of our i3 schools."