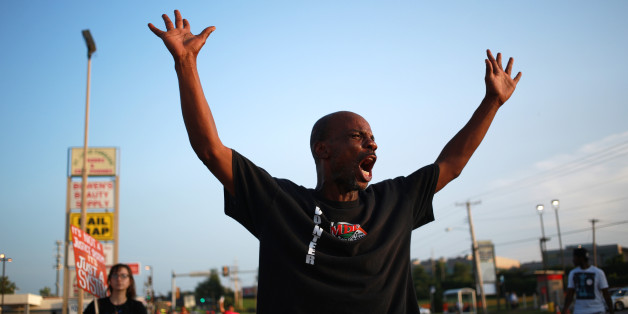 In August 1964, mourners sang "We Shall Overcome" at the memorial services and funerals for Andrew Goodman James Chaney and Michael Schwerner, three civil rights workers murdered in Mississippi. Fifty years later, it is still being sung at services and protests in Ferguson, Missouri.
"We Shall Overcome" is the best known, most beloved of all of the freedom songs and protest spirituals, but a host of other songs were sung as well. Some have their origins in the Antebellum South, when slaves sought -- and sometimes fought -- for their freedom from slavery. Others evolved during the modern civil rights movement, from Montgomery to Memphis, in hundreds of towns and villages in Alabama, Mississippi and beyond.
With that almost apostolic succession in mind, here is a suggested soundtrack for Ferguson:
10. "We Shall Not be Moved" and "Which Side Are You On?": When labor unions finally began admitting African Americans in the 1930s and '40s, labor protesters quickly absorbed and adapted the great protest spirituals. "In That Great Getting' Up Morning," for instance, became "In that Great Union Morning." These two old union songs were quickly adopted and expanded by the civil rights movement of the '50s and '60s.
9. "Lining out": This ancient musical call and response is still practiced in many African American churches today. A song-leader sings or speaks a line and the congregation at a mass meeting or protesters on the courthouse steps sing it back. One of the most popular lined-out hymn during the movement was the old hymn, "A Charge to Keep Have I."
8. "Up Above My Head, I Hear Freedom in the Air": This is an adaptation of a Sister Rosetta Tharpe song from the 1940s, which she adapted from an old spiritual. It was then appropriated by demonstrators in the great singing protests of Albany, Georgia.
7. "Woke Up This Morning With My Mind Stayed on Freedom": This one particularly enraged jailers, whether in Parchman or tiny, one-room jails in one-horse Alabama towns. Singing it usually resulted in a loss of food "privileges," mattresses and showers, and sometimes ended with the singers placed in the dreaded isolated boxes. But the singing usually continued.
6. "This May Be the Last Time": Usually sung solemnly before a journey where the end destination could result in beatings, imprisonment and -- sometimes -- death.
5. "Keep Your Eyes on the Prize"/"Hold On": There are dozens of variations of this civil rights era favorite. Most include the couplet about Paul and Silas in jail, but all were sung to bolster spirits in tough times.
4. "This Little Light of Mine": This old spiritual was made popular in Mississippi by the indomitable Fannie Lou Hamer. It was easily adaptable to every situation and good for naming the names of your oppressors.
3. "We'll Never Turn Back": Bertha Gober's magisterial hymn to the fallen is one of the most beautiful and haunting of the many songs composed for the movement. It was sung too often at gravesides and during memorial services in Alabama and Mississippi in 1963-5.
2. "Ain't Nobody Gonna Turn Me Around": This was the favorite of the youngest freedom protesters everywhere. It had definite Stax/Volt beat and lent itself well to a tone of defiance everywhere. It was another freedom song that was infinitely adaptable to the situation.
1. "We Shall Overcome": Few songs can match the majesty and soulful power of "We Shall Overcome," always sung standing, with arms crossed clasping the hands of those on either side. It has been sung in the Arab Spring, the Eastern European uprisings, Tiananmen Square and every significant event where African Americans are gathered. It is at its most powerful -- then and now -- when the lines "black and white together" are included.
The freedom songs and protest spirituals comprise an extraordinary body of work. They have endured and continue to be sung because they work. Whether to comfort the afflicted, inspire the hopeless, calm the enraged, or make clear the singers' defiance in the face of violence and oppression, they possess a power that extends far beyond the mere combination of words and music.
Robert Darden's upcoming book, Nothing But Love in God's Water: Black Sacred Music from the Civil War to the Civil Rights Movement. Volume I, which covers the influence of protest spirituals and freedom songs through the Montgomery bus boycott, will be published in October by Penn State University Press.