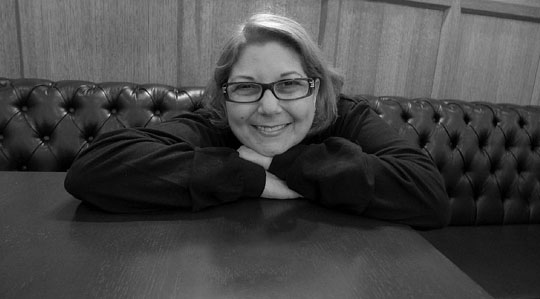 Marcie and I played together as kids in the early- to mid-1960s. Our moms were best friends, so naturally we spent time together, doing things that kids did back then, like climbing trees, going bowling, playing croquet and badminton in the yard. I remember one stretch of time where we had a contest to see who could say their telephone number the slowest. One day after a few weeks we're in the back seat of my mom's car and I say "One," and she asks "What?" I say "I'm saying my telephone number!" We never finish the game. As we live in different parts of town and go to different schools, we drift apart as we get older. Once in high school when we're going to different prep schools we see each other but don't speak.
Flash forward 30 years. It's 2002, and I'm driving at night from Los Angeles to Las Vegas for a photography job. Under the vast starry sky, suddenly Marcie pops into my thoughts. I call my mom in Miami and ask her to ask my brother Paul, who's good on Internet stuff, to see if he can find Marcie. Fifteen minutes later. Mom calls me back with Marcie's phone number and email address, gotten from Marcie's mom Sandy, whom Paul found and who now also lives in Florida. Turns out my little childhood playmate is now a huge mover and shaker in the disability world and is executive director of the National Spinal Cord Injury Association plus the mother of two wonderful children of her own.
I email Marcie, and the 30 years of time apart becomes an instant prism of life, radiating the full rainbow of light upon our rekindled friendship. We catch up, and I find out about the lives she has saved, the laws protecting rights of disabled she has instrumentally helped get enacted and much more. Now Marcie is director of disability integration and coordination for FEMA and is stationed in New York in the aftermath of Hurricane Sandy. We meet for lunch, and she hands me her current business card, which is in regular print and in Braille. That's my Marcie. It's been half a century since we last played our unfinished telephone number game. So hey, Marcie, "Five!"
info@kindsightfoundation.org
www.robertzuckerman.com
For more by Robert G. Zuckerman, click here.
For more GPS for the Soul, click here.