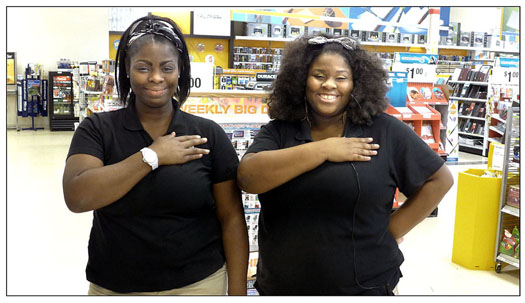 I'm in the office supply store on my way home, paying for my items. Allendya and I talk, and I tell her that I'm a photographer working on a film in town. She brightens up as I say this. "What about you?" I ask.
"I'm very much into photography and filmmaking," she exudes. We talk some more, as there are no customers behind me, and l tell her some of my credits and how I essentially turned a hobby into a successful career. I tell Allendya what Tommy Causey once told me Warren Beatty told him regarding his inner desire to direct: "Start before you're ready."
I can see her taking this in. I give Allendya my card and invite her to keep in touch. On my way out of the store, Reese, who greeted me when I first came in, asks me if I found everything I needed. I ask her, "What would you ideally like to be doing in five years?"
"Singing and performing," she says. "But I have a hard time singing in front of people. I can dance and do other things OK, but singing is hard for me."
We talk about this for a bit, and I tell her about how Woody Allen speaks of the courage needed to perform or speak in front of people. I also tell her what Mike Moyer's grandpa once told him: "You belong in any room you walk in to."
I tell Reese how these words have been very empowering for me through the years. At one point, Allendya comes over, and I say, "We could open a production company right here with all the talent in this store!" They both smile and like this. Really, all I want is to acknowledge these young women and their dreams and abilities, and hope to in some way encourage them. I ask if we can make a picture and they agree, and I say, "Better cover up your store logo on your shirts, just to be safe."
They do so, and it looks like they are pledging allegiance, hopefully to themselves and their dreams.
info@kindsightfoundation.org
For more by Robert G. Zuckerman, click here.
For more GPS for the Soul, click here.