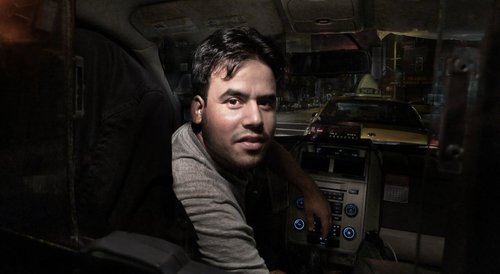 I am in New York for the grand opening celebration of the amazing new restaurant LT Burger, where a number of my portraits hang on the walls. The night before the event, I catch a ride in this taxi. I ask the driver how his day is going, and we make conversation.
It's a short ride, and as we pull over, I ask where he is from. I always ask this question in a respectful way, with genuine curiosity, as sometimes people become defensive. "Nepal" he answers.
I tell him about Jigmey, the Tibetan man I met who walked for 25 days through the Himalayan mountains to get to Nepal. "He's very strong," says Dirgha.
I pay him and say "Dhanyabaad" ("Thank you"). Many people are surprised when I say thank you in their language (I have learned how to say it in many languages), but Dirgha takes it in stride and simply says "You're welcome."
He continues, "Where are you from?"
"Planet Earth," I say.
He turns around and looks at me and says, "Yes, that's right, we all just live in one big house, don't we?"
For more by Robert G. Zuckerman, click here.
For more GPS for the Soul, click here.