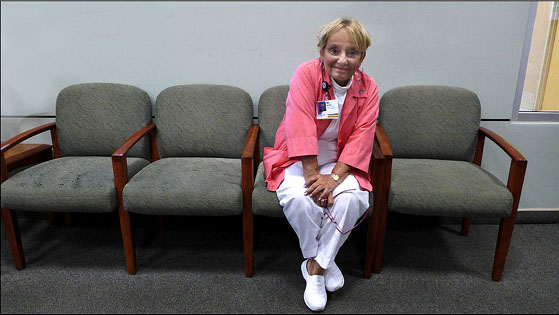 We arrive at the hospital for the semi-annual changing of Patti's feeding tube. It's Mom, Patti, Nurse Joy and me. We're directed to the third floor, which I don't remember going to on previous visits. The person at reception there doesn't seem to know about us; nevertheless, I tell her why we're there and we sign in and sit in the waiting area.
Soon this lady, whose name-tag says "Bev," comes over and greets Patti, and smiles are exchanged. She's very helpful -- I sense that she is a patient relations person -- and sure enough we find out that we've been sent to the wrong place, but she arranges for Patti to be registered here anyway.
She chats with Patti, who can't speak but is fully aware and smiles brightly.
"How old are you?" she asks Patti.
Mom says, "Guess!"
Bev says, "Twenty-Four?"
Mom laughs and says, "She's 50!"
"Wow, you look so young!"
I ask, "Where are you from?" but am pretty sure I know the answer already.
"Oh c'mon," she says. "Can't you tell?"
"New York?" I ask.
"Of course!"
"What part?"
"Forest Hills, Queens."
"I used to go to the U.S. Open when it was in Forest Hills at the West Side Tennis Club!" I say.
Bev says, "I lived right near there. I have quite a history as a competitive tennis player myself, you know."
We have a good tennis conversation. She tells me of her early mentor, Gardnar Mulloy, former top-ranked U.S. player in the early 1950s. I remember his name from when I was immersed in tennis as a teenager. Mom mentions my installation of Kindsight pieces that have been hanging near the hospital cafeteria for a few years now.
"I LOVE those pieces, I stop and read them all the time!"
I ask Bev if we can make a picture of her. "Why, you're not going to put my picture there are you?"
"Maybe, I don't know, why?" She allows me to photograph her but is a bit reluctant. We make a couple of pictures by the wall, then I go in and help finish registering Patti.
After a minute there's a tap on my shoulder and it's Bev. "Hey, maybe it would be good to put my story up!" She goes on to tell me about recognition she's received for her achievements in patient relations.
We make a few more pictures on the seats but then she has to leave. And I realize that even though we were directed to the wrong place, in many ways, here, as in all of life, what seems wrong is really right.
info@kindsightfoundation.org