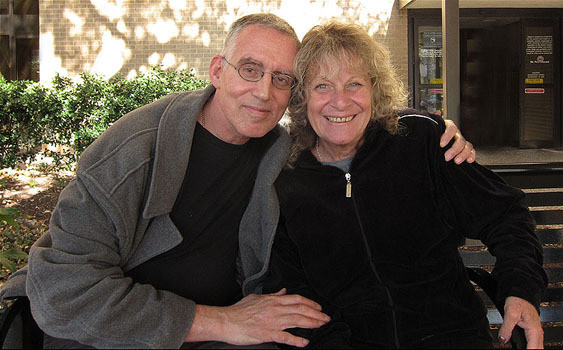 In late 2010, after over seven years of extensive testing, I am diagnosed, at UCLA, with a rare genetic condition called Adult Polyglucosan Body Disease. At the time, there are around 50 known cases in the world, affecting all or mostly Ashkenazi Jews (meaning Jews of Eastern European heritage). The projected course of the disease, I'm told, is paraplegia, bladder and prostate impairment, tremors of the upper extremities and dementia, with no set time frame.
Having been admittedly loco for most of my life, I'm not worried about dementia and, having been a primary caregiver for my quadriplegic half sister Patti for over two decades gives me perspective on the physical impairment I'm experiencing now and what awaits. I enroll in the one existing clinical trial for APBD (as it's abbreviated) at Baylor Medical School in Dallas, run by the venerable Dr. Raphael Schiffman and his esteemed colleague, Mary Wallace. The clinical trial involves quarterly visits to Dallas, each lasting a few days, consisting of a battery of tests which are comparatively measured on subsequent visits.
On my first day of testing, Mary asks me if I want to meet another afflicted person who has been in the clinical trial for a year and is just finishing her current visit at Baylor. Mary tells me her name, Judith Kraier, and that she is an Israeli woman now living in South America. That afternoon, while in Mary's office, Judith walks in. As Judith enters the room, our eyes meet and there is instant, complete connection, as if we are family and we have known each other our whole lives.
I've experienced similar things with others, but never to this full, unimpeded degree as now with Judith. Words are unnecessary and inadequate as oceans merge. We go outside and, with Mary's help, make this photograph, then Judith gets in the van to the airport and home. After this, we stay in touch by email, especially on Fridays as we wish each other Shabbat Shalom (a good Sabbath). She invites me to visit her, but I am not inclined to leisure travel, due to various factors, including limited finances from a reduction of work being offered to me resulting, it appears, from the perception in the biz that my condition has hampered my ability when, in fact, just the opposite is true.
At one point, Judith tells me it has become increasingly difficult to walk, which I can relate to. Then, our communication falls off. I figure we are both going through challenges in life and our silence is symptomatic of this. But she is always in my heart and thoughts and a Friday doesn't pass that I do not think of her. At one point I write to her with apologies for my unsociability, but do not hear back. Then, a few month ago, I get a call from Mary telling me that Judith's daughter has informed her that Judith has inoperable brain cancer. This explains things as I process the implication of the unspoken. I ask Mary for Judith's daughter's contact information but do not press the matter when there is no response. I understand.
And then, after a little time has gone by, I call Mary for an update and she tells me that Judith has passed away. I run the cycle of regrets, what ifs and wish-l-hads, but mainly give thanks that Judith is now out of suffering, and vow to make the best home I can for her in my heart, my thoughts in in how I live on, honoring the warm, kind, gentle yet strong sprit of my sister of many lifetimes, until we meet again.
photo by Mary Wallace
info@kindsightfoundation.org
www.robertzuckerman.com