One of the most memorable email replies I received this year came from the head of a plantation in Indonesian Borneo. The brutally honest answer was:
"Mr. Hii, we are in the plantations business. We don't know anything about conservation."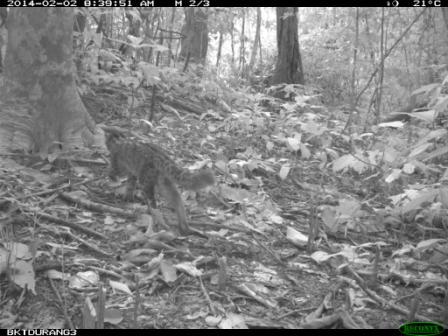 Since that chat, the plantation involved has agreed to take on "active conservation" so I won't name names as they figure out what needs to be done in that plantation. There were several reasons I went after that plantation out of the dozens of new plantations being developed by Roundtable for Sustainable Palm Oil( RSPO ) members.
The High Conservation Value (HCV ) assessment of the concession indicated that there was some two thousand hectares of good forests present. More importantly, the assessment showed the presence of several endangered animals including orangutans, sunbears and pangolins that lived in these forests. So, rather than leaving it up to the plantation to "monitor and manage " these forests, I asked them for details of their conservation plan. Needless to say, they did not have one.
This is what I call "passive conservation" which is the usual corporate approach when it comes to protecting forests that contain high levels of biodiversity. It's a simple approach of leaving these forests standing which looks good on corporate sustainability reports but really does not do much in terms of saving biodiversity. The "active conservation" I wanted to see happen in the plantation gets into the fine details of those forests : How many endangered species of flora and fauna are involved. In the case of big mammals like orangutans, will the reduced habitat be sufficient for their long term survival? How wide of a buffer should be provided between plantation and remaining forests? Is there a chance to link up remaining forests to protected forest areas?

Why should plantations adopt active conservation plans?
Simple answer to that is the situation is dire. Quoting Doug Cress from the Great Apes Survival Partership (GRASP-UNEP) at the recent United Nations Environmental Assembly last month,
"We are concerned that if the present trend continues unabated it could result in the extinction of some of the apes,"
Renowned primatologist and scientific director of Hutan-KOCP, Dr. Marc Acrenaz who has studied orangutans and their habitats in Sabah, north Borneo released the findings of a multi-year study recently. Shocked at what the study showed, he declared :
"This means the palm oil industry now has a very important role to play to sustain the long-term survival of orang utan populations living in Kinabatangan and other agricultural land in Sabah."
Conservation efforts by palm oil companies have been around for years. Most notable is the Sime Darby funding to protect the "Big 9," animal species they have identified as endangered or vulnerable. Sinar Mas group won the Indonesian Green Award in 2011 for their efforts to conserve the tengkawang tree(Shorea macrophylla ) by planting eighty eight hundred of this endangered tree in one of their plantations in Kapuas Hulu.
These are great efforts at conservation but they are isolated efforts in separate locations that may mean little to the overall conservation of Borneo's still rich biodiversity.
What is needed is a broad action across entire regions and we are staring to see some suggestions that this will happen soon.
Wilmar International, yes, that Wilmar, caused a buzz when it signed a Memorandum of Agreement with the University of Sarawak to manage conservation in its plantations in Sarawak. As one of the biggest buyers of palm oil grown in Sarawak, hopefully they can use their position to strong arm supplier plantations into the project as well. Camera trapping in one of their plantations has captured images of the very rare Marbled Cat within plantations. Further studies will hopefully reveal how the Marbled Cats are doing in a plantation landscape and what actions need to be done to improve their odds of survival.
Across the border in Sabah, the Malaysian Palm Oil Association(MPOA) is working with Sabah Forestry to restore the riparian reserves in the state. This is one of the key actions needed to "connect the fragmented forests" mentioned in Dr. Acrenaz's report. If both the MPOA and Sabah Forestry can hammer out an agreement on conservation in the state, it will mean good things for conservation in Sabah.
The Indonesian side of Borneo, commonly referred to as Kalimantan, has not had the benefit of similar pledges. As Karmele Llano Sanchez of International Animal Rescue Indonesia puts it,
"The huge influx of orangutans into rescue centres is a big source of concern for all conservation groups, organisations and individuals. If we don't act and do something now, soon it will be too late."
There is new hope for Kalimantan. There is a strong possibility that the Roundtable for Sustainable Palm Oil could merge with the Indonesian Sustainable Palm Oil scheme! The RSPO has frequently been criticised of being unable to stop deforestation but from my personal experience in using their standards to demand conservation actions, they do work. I met with two of their members in Singapore last month to discuss my pitch for active conservation at the plantation level. Both were receptive to the concept and the near future will show whether those were mere words to make a visitor feel good.
The same goes for all the announcements of greater conservation efforts mentioned above. A study on biodiversity in fragmented forests in Thailand showed how fast species can go extinct if they are not connected to a large landscape. As I explain it to palm oil companies, this is not a matter of wanting them to be better corporate citizens, it's a matter of needing them to get involved with conservation. To quote Dr. Luke Gibson the conservation biologist at the National University of Singapore who was part of the study on fragmented habitats in Thailand:
"Our results should be a warning, this is the trend that the world is going in."
We have to stop these trends!