The circus has come to town. That can only mean Consumer Electronics Show 2011 has hit Las Vegas. Despite not being a great lover of crowds, I happen to adore CES. It's Disneyland for Adults.
The eternal question most everyone gets who's going to CES is, "So, what did you see that's cool?!!" Now, admittedly, my definition of "cool" is far different from most. It's not the flashy whizbang (which I do love, mind you), but often the more lowkey products that function so simply and elegantly in a way that you actually use them and they improve how you work. And make life better. There was plenty of cool. Actually, there was plenty of everything.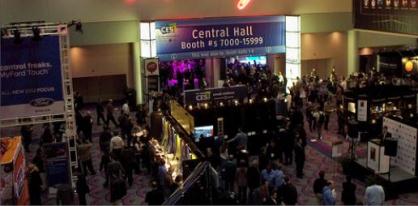 A word of warning. CES is massive. And though I can't even begin to do it justice, any overview of the extravaganza that was short would be doing it an injustice. So, go grab a sandwich, do some stretching exercises, and buckle your seatbelt. This is going to be long. No complaining that it's long - you've been told.
Time was when I most-loved the venues for the Big Guys - Microsoft, Panasonic, LG, Toshiba, and such - because their technology offered so much. But their "booths" have become so massive that it's become sensory overload and techo-babble. It's not just that there might be 50 different televisions within a single company, but the only way to distinguish between them and the competition is by using a language known to no human. ("The AR-1785U is brighter because our patented MaxiVu technology provides 1200 extra pixels with a compression rate of 85 MgHz from our VeriBrite overlay.")
Honestly, I don't have a clue what that means. And equally honestly, I look at one and say, "Wow, that looks great." But then, they all do. That's the point. The level of quality is so high, that the worst is seriously impressive. So, I now tend to traipse the outskirts of the MegaBooths as a tourist, and only occasionally brave my way inside them, mainly in order to get a sense of what is being offered overall, so that I can see the direction things are going in the industry.
And ultimately, that's what I find most interesting at CES, to find what "themes" predominate, because that shows where technology appears to be going in the years ahead.
The first, most notable theme this year was clearly 3D-TV. It got its feet wet last year, but now it's burst at the seams.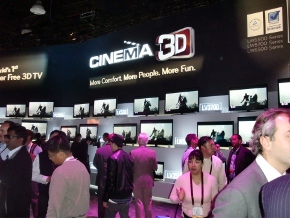 And I still think it's all very premature. For the same reasons as last year.
There was a story during CES how vendors were surprised that 3D-TV sales hadn't been strong in 2010, attributing it wishful, minor causes. But I think they're missing the larger point, and I found agreement among those I talked to. To be clear, the technology is seriously impressive. But briefly, the problem are these:
There is no standard with glasses. "Active shutter" can cost up to $100, and require charging. "Passive" however has bigger resolution issues. More to the point, if you have friends over to watch television, you likely won't have enough glasses for everyone. Now, imagine having 30 friends over. Any TV technology that risks being unusable on Super Bowl Sunday parties is starting from a deep hole.
Then there's the issue of barebones content. And most content available today isn't really TV at all, but rather theatrical movies. Will people care enough about watching TV programs in 3D? Sports might be nice, but that's a small starting point for a new technology.
Another problem is that last year, the public was required to switch to digital TV sets. It's not likely they're ready yet to make another big purchase - especially when it can cost $2,000, or even up to $3,000. In a bad economy. And people know sets will come down in price.
But those are all technical-based issues that can be addressed in time. There's a far bigger problem, and it's a social matter, which is harder to overcome. And that's - 3D is not how most people watch television. When people watch TV, they go to the bathroom, go to the kitchen, talk on the phone, chat with others in the room, switch channels, read books and more. That's exceedingly difficult while wearing 3D glasses. And it's a challenge the 3D-TV industry will have to figure how to overcome.
However, none of this is to say that there isn't a future for 3D. There's a very big one. It exists for watching movies and playing Wii-type games. And large screens work particularly well for these. (Mitsubishi was showing its massive 3D DLP Home Cinema, up to 92." The 73" model being displayed retails for $2,600.) The market also exists in a big way for computers, where 3D quality is extremely good, and it's a more personal experience.
Also, 3D without glasses is making good strides, but that's still quite a few years away.
Toshiba is developing a non-glasses 3D-TV that has an extremely crisp picture, though the 3D effect was just okay. The biggest issue is that the viewing range is basically in three distinct areas - move too much and everything becomes fuzzy. The company http://www.elocitynow.com eLocity has a far-less known name, but its 3D television impressively has almost none of these sight lines, which makes it one of my favorite "cool" products. (There was a very minor blur at some edges, but it wasn't especially problematic.) The image isn't overly crisp, but it was definitely respectable, as was the 3D. They hope to have the set out in the second or third quarter of the year.
Toshiba also is developing a notebook that has no-glasses 3D. Its web cam has a body sensor, and the system switches into 3D mode when it recognizes you being in range. The quality was just fair, but occasionally did leap out.
As for other notebooks, Fujitsu showed a Lifebook AH572 that has 3D which does require glasses. The image was very nice.
Not a television, but 3D-related, the aforementioned eLocity also has another one of my favorite "cool" products. It's an upcoming photo frame that shows pictures in 3D - but it's not pictures taken in 3D. It's simply everyday, home .jpg photos. Just load them into the frame, and the product automatically converts them to 3D. The image was surprisingly nice, especially when viewed from a distance.
But if you want to take real, original 3-D photos, Fujifilm has the fascinating FinePix Real 3DWS. A 3D image even appears in your LCD viewfinder. Afterwards, you can either view the pictures on a 3D-capable TV or computer monitor, or print the pictures out on special paper, where the images will appear as 3D without glasses. (On paper, the 3D effect was just fair.) You can also shoot videos in 3D. And the camera will take regular 2D pictures.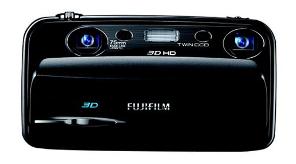 A second theme at the show was television-related, as well. For lack of a better term, we'll call it "Internet TV." This is where you either browse the Internet on your television, or conversely watch TV on your computer while browsing the Internet. It's the sort of thing that the...
Wait, let's step into Mr. Peabody's Way-Back Machine and return to three years ago.
That's when one of the major issues causing the Writers Guild to strike was studios insisting that they just didn't understand this Internet thing, it was just so futuristic they simply didn't have any idea if anyone could make money from it. As such, they didn't want to pay any residuals for showing TV on the Internet - none, zippo. Writers, meanwhile, knew that networks would simply put everything up on the Internet and say, "That's not TV, it's coming from the Internet, we don't have to pay you anything" Oh, no, companies insisted, that won't happen, it's too science-fiction, too far away. No money, zero.
At the time, a whole three years ago, I wrote how this was insanity. It wasn't that it "could" happen, but looking around the floor of CES 2008, it was happening right then.
Well...a mere three years later, it's exploded. It's not that the technology is here and will be mature in the future, it's mature and seamless right now. And omnipresent.
How omnipresent?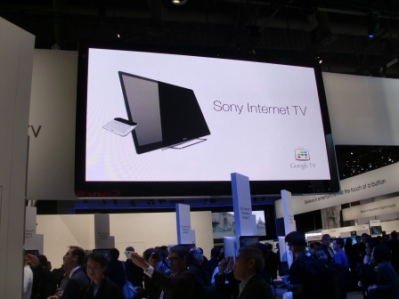 Sony Internet TV towered over the massive Sony booth area. Wait, you remember Sony, right? They're one of the AMPTP companies who insisted three years ago that they just didn't know if there was any marketable plan for making money on that Internet thingee. Please note: it takes much longer than three years to develop this. (To add more whimsy, the company boldly describes the product, "Sony's Internet TV is the first to harness two powerful platforms - television and the full Internet.")
To be clear, they're not even close to being first, not with products like Roku, Boxee, Apple TV, Google, Microsoft Mediaroom, Slingbox, [http://www.slingmedia.com/] Logitech Revue, Netflix, Yahoo Connected TV, and much more - most that have been around for years, add-on hardware and software that lets you blend TV and Internet so there's no distinction. But it's more than even that, because the leading companies are building sets with Internet TV built in as its very selling point. The beloved Sony, of course, and "Net TV" from Philips, Panasonic's "Internet-Enabled TV" and LG Smart TV, and on and on and on.
HBO has given up all pretense of subtlety, with its HBO Go service, promoting it high on billboards as - "It's HBO. On the Internet."
Internet TV is a rich, vibrant, mature technology that is here - and growing - and will make television and the Internet seamless. Even more than already today.
Actually, it goes further. Cydle has another of my favorite cool products. It takes the blending of TV and the Internet to the next level, turning the iPhone into a television. The i30a is a dock that fits around an iPhone/iPod touch and receives a regular ATSC broadcast signal, as well DTV for mobile TV. It then transfers the signal by either 3G or WiFi. A downloadable app provides menu options. (Very simply, mobile DTV is what lets you keep a signal while moving, in a car, for example. But ATSC is for watching when stationary. The number of available DTV stations is currently limited, but the technology is growing ) The limited demo I saw worked quite smoothly. It should be available in March.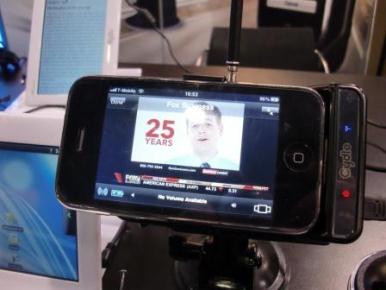 A similar product is iMovee's Mobeo, It doesn't come as a dock, but has a separate transmitter/antenna which is less elegant and convenient, but more versatile since it can be used with any smartphone or WiFi-enabled device. The Mobeo allows for recording shows, and battery life is four hours. It should retail for around $149, perhaps in June.
As for mobile TV, Cydle has another of my favorite cool products, for being very simple in concept and being something you'd use in your daily life. At first glance, it appears nothing more than an MP3 player, the size of a deck of cards. It has a touch screen, plays music and movies. Painfully normal - except that it also broadcasts live television. I've only seen the P29A in limited use, but the demo worked well. It's expected in March.
Another TV technology introduced a couple years ago has started to develop further, though I continue to hold my skepticism - hand gesture controls. No remote is needed and instead you wave your hands to fast-forward, pause and such. JVC has touted this, as is Toshiba in a joint venture with TCL. As bothersome as remotes can be, it seems more bothersome to learn every hand gesture - and what if a guest wants to control the TV? Or you have rambunctious children. The technology, however, does seem very applicable for computer games and Wii-based games.
The antithesis of TV watching may well be reading books, and that leads to the third of the most noteworthy themes at CES - ebooks. Actually, ebooks have become a cousin to tablets, so I'll include the two together. It requires a brief discussion:
The ebook is a basic, one-function device. But being technically capable of downloading apps, it made sense to expand into a tablet, that lets you also surf the Internet, check email, listen to music, write, or whatever features one wants to add. And the growing popularity of the iPad opened a new market. And therein lies the issue - does one just want to read books, or get what is in essence a computer? And what size? Bigger allows more to be done better, but it's far less portable. But if you want small, an iPhone/touch-type device does basically everything a small tablet does, and fits in your pocket. The point is that ebooks and tablets overlap, and are part of a convoluted, but massively growing world. Whether the reason is crystal clear, they are here, they are overwhelming, and some do stand out.
The Amazon Kindle is the quintessence of ebook readers: dedicated and easy to carry around. Barnes & Noble has introduced its touch-based Nook Color, more of a tablet, a bit bigger and heavier, though an ereader at heart. (Pandigital, well-known for its photo frames, has entered the fray and partnered with Barnes & Noble for its catalogue. Their line includes a plain 6" black-and-white ereader, as well as several color touch Novel tablets.)
Perhaps the leading tablet competitor at the moment of the iPad (though a distant second) is the Samsung Galaxy Tab, which runs on the Android operating system. At 7" and just under a pound, it's similar to Creative's Ziio, though seems to have a stronger app set and run a bit more intuitively.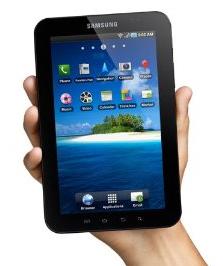 Easily the most different of all the ebook/tablets comes from enTourage, which is literally an ebook and tablet. The Pocket eDge (and larger eDge, intended more for the school market) is called a "dualbook," and it actually opens like a book, with two screens. On the left is the ereader that also allows for highlighting and handwritten notes. On the right, is a color tablet with apps. Weighing 1.3 pounds, it's WiFi-only, but with a 3G version to come.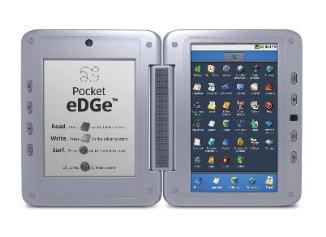 The Dell Inspiron Duo is a cousin in theory - a dual-purpose device, as well. However, it's a netbook that you can turn on an axis and convert into a tablet.
Samsung ratchets this idea up a notch if you're more interested in a full computer. Their Sliding PC-7 converts from a full notebook into a tablet by sliding the screen over the keyboard. Using flash-base SSD ("solid state drive") rather than a hard drive, it is extremely thin and can handle up to 64 gigabytes, weighing a mere 2.18 pounds. It will be available in March/April.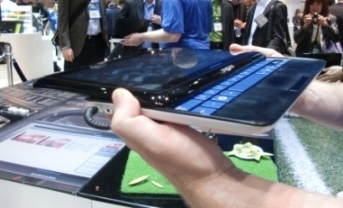 Samsung offers another notebook, its 9-Series, which is a full computer with a 13.3" screen. But it's a mere .68" thin and weighs 2.89 pounds, competing mostly with the MacBook Air. Its SSD drive can hold up to 128 gigabytes, along with four USB ports that are hidden and cleverly pop up. It comes at a price higher than many notebooks, around $1,500, but if you do a lot of moving around, it's a fascinating device.
Speaking of traveling, if you're away from home much, a recent device is coming to maturity, giving you access to your home computer. The core product is Pogoplug, but several other companies, while using Pogoplug underneath, offer their own unique features - the Seagate GoFlex Net Media and Buffalo Cloudstor, for two. Basically, these set up what's like a home network, but without any complexity. Not much more than plug it in and set up an online account. The result is that you can access a home external hard drive from anywhere in the world, from any computer, by logging into your personal account.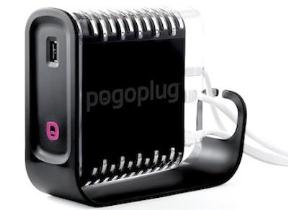 Other similar products exist, like myDitto that uses two "keys," one you plug into your USB drive and the other you keep with you. Or Iomega's iConnect.
A low-level companion product to this are online services Dropbox and SugarSync. Both offer free, but limited storage. You can access from any computer whatever files you've stored in their folders. The advantages are that they're free, with no hardware to install. The disadvantages are that their free storage is extremely limited, and your data is stored in "the cloud" (on someone else's server), rather than your own hard drive.
While you're on the road traveling, you might want to take your home office with you. Fujitsu, which makes very good ScanSnap scanners, has a new portable edition, the S1100. It's only 12 ounces, and not much bigger than the tube inside a roll of paper towels. A sheet feeder, it can scan directly to an editable Word file, and even into several "cloud-based" services like Google Docs and Evernote. It retails for $199.
As soon as you take a mobile device from home, the risk of loss increases. A couple products give you a fighting chance at getting them back. Lojack for Latops is a software-based recovery service. (It's not owned by Lojack, but the name is licensed.) The company not only helps track down the location of a missing notebook and will work with police to retrieve it, but you can also remotely wipe your hard drive clean or freeze your system. The Cobra PhoneTag is a more lowkey app installed on a mobile device which links with a dongle you'll likely keep on your keychain. It will assist finding either your missing handheld or keys, and if both become separated, you're notified immediately
Of course, a home office begins at home, and to a writer that often begins with a keyboard. Smartfish has an interesting twist (almost literally) on the problem of repetitive stress issues. Their "Engage keyboard with Ergo Motion" can be set to automatically tilt slightly at intervals, forcing the user to change wrist position. It's only available with one of those split-ergonomic keyboards, but they'll have a somewhat-similar standard version later this year. Keeping an eye on tilting, the company also has its Whirl mouse. It stays stationary, but is designed to duplicate mouse movements by tilting the device. It seems particularly appropriate in the mini/notebook version, where desktop space could be limited.
Two other portable products were of interest, notably for those who work on an iPad or even write on their iPhone/iPod touch. Verbatim will be coming out of with a Bluetooth Wireless Portable keyboard in February, which slides and folds up to pack in a smaller size, and will retail for $80. And Jorno will soon be releasing its Bluetooth portable keyboard for the iPad, iPhone or iPod touch, folding up neatly to the size of a couple of decks of cards. The keyboard is 85% the size of a standard and will retail at $99.

[Sidenote: the name "Bluetooth" is very familiar today, but most people probably have no idea where it came from. It has absolutely nothing to do with technology. The wireless technology was developed by a Scandinavian consortium under Ericsson, and "Bluetooth" is the Anglicized nickname for the Danish King Harald I, who united warring factions. And now you know!]
Wireless doesn't only remove conflicts, it also allows products to do things one never envisioned they were planned for.
For instance, two companies have turned iPhones or iPod touches into universal remote controls. The Voomote One uses a case that fits around your handheld, along with an app which allows you to configure controlled-devices. It retails for $70. Gear4's Unity Remote doesn't require attaching anything. Instead, it a separate, small receiver coordinates the signals. However, you must be in the vicinity of it to operate. It retails for $99.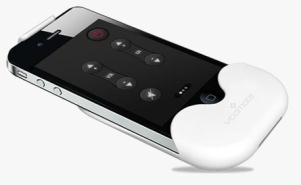 With any portable device, being able to play portable sound tends to be an issue. The Wowee One offers a very interesting product and a questionable name. A small speaker (the smallest is about a bar of soap), it offers fine, though ordinary sound when held in your hand, but - because it's designed to vibrate through a Gel Audio driver, the bass frequency is transferred into whatever surface it's placed on. As a result, when sitting on a table, for instance, the bass suddenly becomes deeply rich, and the overall sound vibrant - especially for a small speaker. As such it's probably not best for holding in your hand when walking, but excellent as an external speaker for your notebook. And although a single unit, it delivers stereo.
The Supertooth Buddy solves a problem for those who like to play music from their handheld in their car. The tiny speaker connects via Bluetooth, and then simply clips on to your automobile's visor. It should be available soon.
Don't worry, we're nearing the end.
For all the glitz and sensory overload whizbang at CES, it's nice to be reminded that even something as simple as a regular battery can be a favorite "cool" product. Yes, a battery. What was wonderful about these absolutely simple batteries, from EcoAlkaline, is that they have no mercury, no lead and no cadmium. They're certified "carbon neutral" by carbonfund.org. So, when you toss them away - and they're built to degrade - there is zero guilt because you're putting nothing poisonous into the ground. I haven't had a chance to check them out, but the company says that an independent testing firm showed the EcoAlkalines last longer than Energizer and equal with Duracell. The cost is a touch more than standard batteries, but very close, and the company offers some multipacks, as well, which brings the price down.
More green products come from IDAPT, which makes a line of "wireless" chargers. One particularly caught my eye, the upcoming i1 Eco. It's nothing more than a small portable charger, but what's nice is that it known to turn off when your device is fully charged, so there's no continuous trickle.
Finally, CES wouldn't be CES without at least one new product that you bizarrely would never believe would be electronic. And this year, the award goes to PixelOptics who makes - eyeglasses. But these are actually somewhat fascinating, albeit odd. The product, emPower!, is electronic-focusing eyewear, basically for people who would otherwise wear bifocals. A touch to the frame will change the focus of the lens for close up. Or in Auto mode, the lens will recognize when you lower your head (to read a book, for instance) and automatically change focus - and then return when you again raise your head.
What can I say? That's CES. It's a conglomeration of what you need, what you want, what is bizarre, ridiculous, pointless and wonderful. And for now, the circus has left town...

"The Writers Workbench" appears monthly on the website for the Writers Guild of America. To see this entire column, with complete graphics for most products mentioned in this article," please click here