If one is truly concerned about institutional decisions that result in life and death, the below is the kind of situation where one's attention should be. Not the government, to be sure, but at one of the crown jewels of the private health care industry. And if it's happening here, it's impossible to not think it's happening all over. And therein lies the lesson.
The Motion Picture and Television Fund has announced it's closing health care for the renowned Motion Picture Home. Calling the board of directors a Death Panel might be a bit hyperbolic, to be sure. But after the first 15 residents were transferred out of the facility, five of them died within weeks -- in some cases, days.
You see, a facility like this is beyond a mere clinic, it is their home. When anyone moves from their home, it's emotionally painful. For the elderly, however, especially the most in need, those requiring long-term personal care, many in their 80s and 90s, it's a deeply traumatic experience. One bordering on life-or-death.
Since its first day, the motto of the MPTF has been "We Take Care of Our Own." Who'd have thought that this would one day sound like an order from a Mafia capo.
A little history is in order.
The Motion Picture Relief Fund was founded in 1921, by such legends as Charlie Chaplin, Mary Pickford, D.W. Griffith and Douglas Fairbanks. It was designed to assist the neediest and became a community favorite charity. By 1941, with overflowing pride in the entertainment industry, ground was broken on its sprawling nursing home facility in Woodland Hills, California.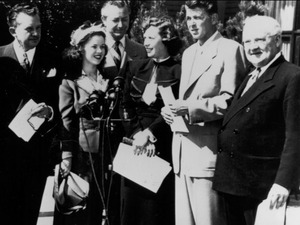 Courtesy of the Motion Picture and Television Fun
At the groundbreaking ceremonies, that fellow second from the right celebrating? That's Ronald Reagan. Second from the left is Shirley Temple. She later became U.S. Ambassador to the United Nations. He later became president of the Screen Actors Guild.
And the guy on the far left? You know on the Oscars, where they give out the Jean Hersholt Humanitarian Award? That's Jean Hersholt. And this is one of the main reasons. Building a health care nursing facility for the neediest was considered A Really Noble Humanitarian Thing.
They were all there celebrating that day because from that day on, people in the entertainment industry have known they always had a place that would take them in, when they had nowhere else to turn. After all, "We Take Care of Our Own." And the Motion Picture Home has done so through many economic challenges, through World War II, through the Great Depression, and survived.
But that's now changed.
"Pre-eviction" notices have been sent to residents of the Long Term Care facility. They are to be transferred where best they can, but the problem for these elderly residents is that the Home is a community and their anchor. Everyone living there has a connection to one another. At a time in their lives when such connections are dwindling, this is no small medication.
As Richard Stellar told NPR about his 92-year-old mother, Mary: before full dementia took over "she felt she was back at the movie studio where she worked as a secretary for so many years, and it made her really happy to be there."
So it was with the 79 Long Term Care residents, and the 26 residents of the Alzheimer's unit.
This was their village. It was guaranteed. "We Take Care of Our Own."
Until they were sent pre-eviction notices.
No issue is simple. Economic times are horrific. The MPTF has stated that they are facing an "annual financial deficit of $10 million for Long Term Care, and an expected increase in losses in coming years." So, it's clearly in a difficult situation.
But because no issue is simple, others have challenged many of the MPTF's assertions. This includes the Screen Actors Guild, the Teamsters, the group "Saving the Lives of Our Own" and others. (The Writers Guild is in the middle of an election, and it is certainly assumed they will be joining the concerned voices.)
Among these groups' arguments and claims:
Residents or their families pay almost130,000 annually for beds. If this full cost can't be met, Medi-Cal pays the difference.
Though the Long Term Care unit is designed for 195 residents, new admissions have been curtailed and only 79 people live there. That's14 million in lost revenue.
The MPTF owns its land and the facility, and recently bought new buildings for tens of millions of dollars.
Most charitable, non-profit, community-based health facilities run at loss. They make up the difference with fundraising and grants.
The Fund's CEO, David Tillman, has refused all offered fundraising efforts, saying that "No amount of donations or fund raising would change their decision to close" - and the MPTF has even declined donations targeted for Long Term Care.
Without question, economic times are bad. But it would seem that a fund that made it through the Great Depression and has as its motto, "We Take Care of Our Own" would find options. After all, if one studio alone can figure out a way to spend $100 million making "Land of the Lost," you'd think that industry-wide fund could figure out how to keep open a facility for those who actually would be lost without it.
In some ways, the issue is at the heart of the demand for health care change in America. When left to private industry or charity, the requirements are overwhelming the needs. Something is deeply amiss in health care when a community of our most needy are evicted from their health care homes, whatever the reasons.
But if one is truly insistent on finding Death Panels, they're not hard to find. All you have to do is look where they actually exist.
They might exist against good intentions and better efforts, but the result is the same. They exist.