A few weeks back, I got an email from my pal Bart Baker. Bart is a wonderful writer, who's written several screenplays (most notably, Live Wire, with Pierce Brosnan), as well as a ton of TV movies -- including a series of Mother of the Bride romantic comedies. He's also produced many of these. Last year, he wrote the wonderful -- and highly recommended -- novel Honeymoon with Harry.
(Disclaimer: I served as editor of the book, so I'm biased. But I'm still right. It's great. Having a 5-star rating on Amazon from 53 user reviews is evidence of that. Bart is a first-class professional ranter -- he doesn't have that many friends.) If you want to know more about the fascinating history behind the book -- and its journey through Hollywood with the film rights being sold to New Line Cinema, and people like Robert De Niro, Jack Nicholson and now Bradley Cooper being involved at various points -- I wrote an article about it here.)
Anyway, Bart moved back home to Missouri a couple years ago, where he still writes, teaches and rants. As great a writer as Bart is, he is (as I said) a world class ranter. You must understand, Bart looks like no other writer in Hollywood. Picture the character of Mr. Clean -- that's Bart. Seriously. He's even got the earring. He used to compete in bodybuilding contests. Writers are supposed to be pasty. Bart would walk in a producer's office, they'd be prepared to nitpick his script, and then hide.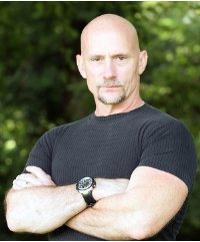 Contrary to his menacing appearance, Bart is actually among the warmest, sweetest, funniest, most nurturing guy around. But -- he rants. He's outspoken. He speaks truth to power. (Sometimes he shouts truth to power.) He doesn't care who you are, he'll be totally honest with you -- he simply is not intimidated by anyone. He is just brutally honest. In his Bartolian, outrageous way. But he's very thoughtful, and gives great consideration to what he says -- before he then rants. A rare trait. And he doesn't back off his opinions, yet he will go out of his way to be upfront and therefore fair with you. And he always wants to know your opinion in return. (An even more uncommon trait for someone so opinionated.) And that includes writing letters to public officials. Which leads to this:
As I said, Bart moved to Missouri. In fact, in a twist of fate that shows God's sense of humor, he lives in the district that had been represented by Todd Akin. Yes, that Todd Akin. (Though Akin no longer represents the district. Apparently it was God's will...) As you might imagine, that brought forth many fine rants.
Knowing that Bart lived in Missouri, I thought he'd be interested in something I had recently found out. That the nephew of a friend of mine, John Kander, was elected last November as the youngest Secretary of State in Missouri's history, at the age of 31. Jason Kander.
(There is a slew of nephews in that previously comment. Because my friend John Kander is the namesake and nephew of the Broadway legend who I wrote about the other day, the writer of the Broadway musicals Cabaret and Chicago, and the song, "New York, New York.")
Anyway, in our exchange, we got onto Missouri politics in general, since Jason Kander is a liberal Democrat in a pretty Red state, making his election all the more impressive. In discussing this, Bart got into some of the far-Right political issues in Missouri that bugged him -- and when Bart gets bugged, you just sit back and enjoy the E-ticket ride. Ultimately, he got around to telling me about an issue that he found particularly galling and went on a BartRant which included the tale of him writing a Missouri state representative, Rick Brattin (R-Harrisonville), not even his own. (See, I told you he puts his money where his mouth is.)
But better to let Bart pick up the tale in his own words. With his permission, I pass along the the appropriate part of his email to me. He wrote:
The state assembly is trying to pass a bill now to put "intelligent design" into text books as fact. I wrote a nice letter to the Republican who created the bill, who looks to be about 15 and from some farm in Bumbfuck, Missouri, and told him that I was glad he sponsored the bill so that I wouldn't just assume he was a dumb hillbilly, and said that I preferred he taught his ignorance to his own children and left mine out of it. I told him the Bible tells me to try and crush out all stupidity...it's in the verse right next to where "intelligent design" is mentioned. And that once someone had to tell me their idea was "intelligent," I pretty much knew it wasn't.

I asked for a response but I haven't heard back.
It will not surprise you that I love hearing from Bart. Especially when he's really pissed off at something. This isn't even Grade A BartRant. But mainly, I just admire a person who's willing to speak his opinions and -- and this is important -- is willing to put his name to them, even when going out of his way to talk to power. And who is open enough to always want to know your honest opinion in return, and asks you for it.
I think it probably serves him well as a professional writer, too. Unlike most writers who stare at the blank page, Bart dives in with a passion. And that passion comes out in his works that keep pouring out of him. And they do pour.
Only about three weeks ago, in fact, Bart was back in Los Angeles on one of his periodic "stay-in-touch with producers" visits. We were having lunch when his cell phone rang, and he excused himself. (He normally wouldn't take the call, but he recognized the number as being important.) A few minutes later, he came back to the table with a beaming smile. "I just sold a script!" The final details of the deal haven't been signed yet, but let's just say it's for a cable TV movie tied to an extremely popular song. So popular you'd know it, even if you don't follow music today. But the best news about all this were the words that followed. "Lunch is on me!"
In fact, lots more words have followed. The guy's on a roll. Bart just published his second novel, What Remains. It's pretty remarkable, as well. Again, I'm biased, having served as editor on an early draft, but he subsequently did his own thorough rewrite that it has its own life. But just like his first novel was so widely praised, I'm right about this one, too.
(Side note: My editing the early draft brought forth one of my favorite "Hollywood negotiations" when we argued about money. But it's not what you think. As a friend, I refused to take any. And Bart wouldn't give me the manuscript until I agreed to accept his check. The debate continued all the way through lunch. In the end -- hey, I'm a nice guy, but not an idiot.)
I'm sort of in awe of Bart's writing style. It's powerfully aggressive, but wild with humor and heart-breaking romantic tenderness. I don't have a clue how he does it. I know of few other writers who can do it. But he does all the time. What Remains falls right into that. A disgraced ladies man whose life crashes and burns has to move in with his gay brother. When the brother's life hits its own crisis and falls apart, the slacker is aghast to have responsibilities dumped onto him - forcing him to take a journey to the jungles of Colombia and complicated further when he falls in love with their mixed-race nanny with her own, unsuspected and dangerous problems. As they say, complications, hilarity, and serious angst ensue. How Bart gets hilarity out of this deeply emotional drama, and he does, that's his magic trick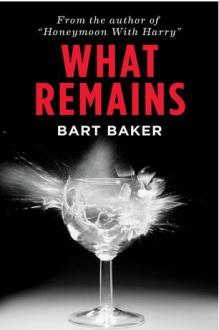 I keep looking forward to the next thing Bart Baker writes. I don't mean just novels or movies, I include rants. They're as good as the others. And the great thing about the rants is that I don't have to wait six months for them to come to fruition. If I'm feeling devoid of good Baker reading material, I can just send him an email and ask, "So, what do you think about...?," and sit back to wait for the reply to arrive.
*
To read more from Robert J. Elisberg about other matters from politics, entertainment, technology, humor, sports, and a few things in between, visit Elisberg Industries.