Several years back, before a Dodgers broadcast when Los Angeles was playing the Cubs in Chicago, the announcer Jerry Doggett was interviewing a former Dodgers pitcher, Jim Brewer, who was then pitching coach of the Northwestern University baseball team. Doggett made a bit of a snide quip about how not many Northwestern players were likely to make the major leagues, and Brewer quickly came back (with a little edge in his voice, along with a smile), "Maybe not, but they'll probably own the teams."
My beloved Northwestern has not had great success in men's athletics (their women's Lacrosse team is a powerhouse, though, and their softball team has done very well, too), though they've at least done better in recent years. But still, Northwestern and athletics don't tend to get a lot of attention.
So, it was quite attention-getting on Tuesday when Northwestern made the lead story on many sports pages around the country, and was the lead story on ESPN's show, Pardon the Interruption. That's because, "for the first time in the history of college sports," as the ESPN.com story starts out, "athletes are asking to be represented by a labor union." And those athletes are the football team of Northwestern University. The players took official steps to start the process of recognition with the National Labor Relations Board.
At hand is the reality that universities across the country make upwards of $5 billion off the work of student-athletes, and whether those athletes should be considered employees and be able to share in the revenue. But the players insist that money is not the sole issue, or even the central one. "A lot of people will think this is all about money; it's not," quarterback Kain Colter told the Chicago Tribune. "We're asking for a seat at the table to get our voice heard." Among those other areas of concern are "financial coverage for sports-related medical expenses, placing independent concussion experts on the sidelines during games, establishing an educational trust fund to help former players graduate and 'due process' before a coach could strip a player of his scholarship for a rules violation."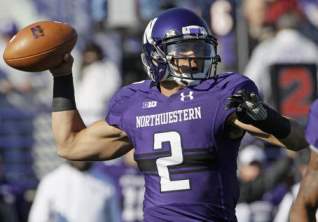 One of the reasons that Northwestern athletes were the first to take this step is because the school is a private university, and therefore governed by the NLRB. Public schools are governed by state laws.
The big sticking point, of course, is whether the players are "employees" and therefore have standing to form a union. It seems unlikely, though it certainly is an interesting situation. Also a major challenge facing the team is that not only does the attempt go against current law disallowing students pursuing an education to organize, but such a case would probably take years, at which point, many (if not most) of the players involved will have graduated.
Northwestern athletic director Jim Phillips released a statement where he actually supported some of the goals the students have put forth, however he drew the line at how the students were addressing the situation.
"Northwestern teaches our students to be leaders and independent thinkers who will make a positive impact," he said. "(This) action demonstrates that they are doing so.
"We agree that the health and academic issues being raised by our student-athletes and others are important ones that deserve further consideration. (But) Northwestern believes that our student-athletes are not employees and collective bargaining is therefore not the appropriate method to address these concerns."
It's certainly a major effort in a discussion that has been building over the recent years. And if nothing else comes from it -- hey, Northwestern athletics made the top story!
And if this story goes further, in at least some way -- and it certainly is opening the door for that -- the school may have established its place in college sports in a way that victories on the field never could.
*
To read more from Robert J. Elisberg about this or many other matters both large and tidbit small, see Elisberg Industries.