Whatever one thinks of Las Vegas 51 weeks out of the year (and it's a good bet you're right), for one week each year the city is home to Disneyland for adults. That means that the Consumer Electronics Show is in town, the most wonderful time of the year.
CES draws around 250,000 visitors. (This year it seemed a bit less because a lot of people got stranded due to the freezing weather that closed down airports). The show is not so much about innovation - though there's plenty of that - but rather the results of that innovation, what you'll be seeing on shelves and online for sale during the coming year.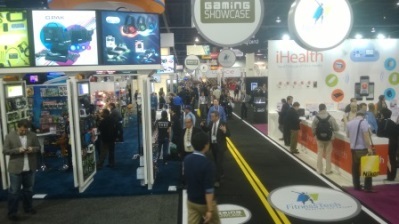 I've been attending CES for a long time, 15-20 years, and over that period I've come up with some personal rules for surviving the show.
The first is that I now generally avoid The Big Guys - companies like Sony, Panasonic, Toshiba, LG, Sanyo and such. Their exhibits are so massive with sensory overload that it's almost scary. The issue is they tend to have 10 versions of the same product that it's near-impossible to differentiate between them, even with a scorecard. Calling something the UPX1265A-25P doesn't help. And tossing in corporate buzzwords, like "with our own proprietary Mega-Vision HaleoPixel Ventric technology," is just mumbo-jumbo that makes it worse. Moreover one Big Company's product is pretty close to any of the other Big Company's equivalent model.
The second Elisberg Rule is that I generally avoid exhibits for cell phones, TVs and cameras. The reason is that there are oceans of them to the point that they blend into one another, but also the quality of all these today is so high that even if you ended up getting the worst by mistake, you'd still probably have a pretty good product. Yes, I exaggerate, but not much. Only when some camera or TV leaps out as utterly special in some way do I occasionally make note. More to the point, with these products I always say the best way to buy one is to ask friends, "So, what do you have?" And then go to a store and look at price.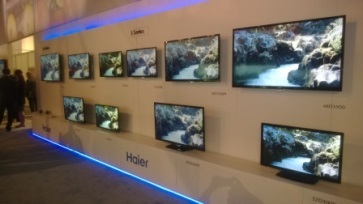 By the way, the only product that seems to cover more ground space at CES than any of these above-mentioned products is mobile phone and tablet cases. It's so expansive that when a year ago some companies started promoting phone cases that had different scents, I knew we had entered Wonderland.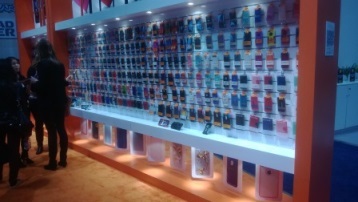 Instead, I wander through the exhibit halls and try to find trends of how technology is developing, while looking for more standout, standalone products. Related to this, the question I always get asked the most each year is, "So, what cool things did you see??!" For most people, that usually means something whizbang. But to me, the truly cool products are the ones that elegantly simplify products that people use all the time, and make them far easily to operate. It could be the simplest product in the world, but if it makes your life easier - that's cool.
And so, we head off into the Consumer Electronics Show floor. A word of caution: if it isn't clear by now, this article will be long. Really long. (No, seriously, I mean it. Stretch your legs first, that's how long.) So, no complaining. You've been warned. It's long. Pull up a chair, relax, and dive in.
It was a bit hard to spot a tech theme this year, but a few threads did stand out. Wearable and wireless were two, and not-so coincidentally are related. Health-based products grew, as well, particularly for those who want to check themselves when exercising. (Which ties back to "wearable.")
Though not the most prevalent wearable product, the most attention-getting remains the Smart Watch. Samsung's $300 Galaxy Gear (which I find problematic in use, though not in concept) didn't get the attention it did when being introduced last fall at IFA Berlin, though in fairness it's not alone in the field. In fact, despite the hype, several other smartwatches had come first, like Sony. And there were new entries like Yifang Digital's NextONE Smartwatch, and the Martian Navigator, that receives text notifications and lets you access features by voice (accessing either Siri or Google Now, depending on the phone its connected to). Casio, which has long-made watches, not surprisingly has somewhat useful products - though I say "somewhat" because they don't market them as smartwatches. Yet their Sports Gear line provides phone and email alerts, and gives exercise data. There's no camera, but it only costs $100, runs on a 2-year battery (not needing to be charged every night like the Galaxy Gear), connects via Bluetooth to any iOs or Android phone and looks like a real, wearable watch.
Even the odd Google Glasses has wearable competition now. A company named Vuzik promoted their own smart glasses -- and people wearing them looked like creepy Star Trek Borgs just as did Google's. I spoke to one woman who had been testing Google Glasses all day, and she found some interesting capabilities, but overall said it seemed empty to her, and something more for future development. She also noted that she was the only female she'd seen wearing them. And felt like a total geek, the very opposite of "cool" that most new-adopters generally pursue.
How extensive has wearable technology gotten? RunPhones has a mesh headband for joggers that has hidden, built-in, wireless headphones. And BearTek announced the first wireless ski gloves. ("The latest revolution in wearable technology," the company notes) The gloves let you control a phone, portable speaker or GoPro camera via Bluetooth by tapping with your covered fingers.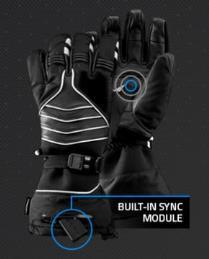 I was also intrigued by the growing field of wireless charging. The standard for this is known as Qi, which is pronounced "chee." It's not a field that I've previous paid attention to, though the direction it's headed is far more interesting. Right now, to wirelessly charge a device it must be Qi-compatible and you need to place it exactly on the proper spot of its charging pad. But the Qi Consortium is growing, with 200 companies involved (including Toshiba, Sony, Energizer, Panasonic). What's upcoming is that if you're just in range of the wireless charger, your device will be charged. Imagine if stores and restaurants -- that today provide "hot spots" -- offered wireless charging. Merely being inside shopping or eating would automatically charge your Qi-compatible phone. Or a portable wireless charger could be left in your briefcase, purse or backpack, constantly keeping your device fully charged. The Qi technology isn't there yet, but the prototypes are.
(By the way, Blue Flame Gear has an interesting twist on a wireless charger for the iPhone 5. It's a magnetic dock that you hang on the wall. Just slip your iPhone into the Blue Flame case and then slap it onto the wall.)
Beyond this, in less pronounced ways, the wireless field overlapped numerous other areas, some unexpected. For instance, iDevices makes the iGrill Mini, where temperature probes let you cook on an outdoor grill without having to stand over hot flames via Bluetooth and an app. Though of course for some people it's those hot flames that are half the fun...
(Grilling seems to be a big deal for high tech. Go figure. The high-end Lynx Grills introduced its Voice-Enabled Smart Grill. There's an Internet connection, you answer some questions about what's to be cooked, and the grill handles time and temperature. At the moment, it's uncertain if polite decorum requires asking, "Siri, will you be joining us for dinner?")
But as the world has gotten far more mobile, the array of wireless product keeps expanding. The thing is, the more mobile you get, the bigger the drain on keeping those devices charged. I was fascinated therefore to see how prominent portable chargers have become. As I've explained in the past, I happen to love portable chargers for some semi-inexplicable reason. But the world apparently is catching up to me... For so simple a product, it's interesting to see what clever innovation has been brought to them. Yes, they're "just chargers," but this is good, fascinating technology - and technology that is actually useful.
One of the new advances is "smart charging." Have you ever wondered why some devices charge slowly, or why it's slower to charge when connected to your computer? That's because chargers have to be optimized and there's no cross-platform standard, so the same voltage is sent to all devices, regardless of its need. But "smart charging" resolves that. It identifies each device that it's connected to and provides the maximum, proper voltage required, bringing about the fastest charge no matter what the brand, up to 75% faster. Anker, for instance, using what they call Smart IQ, has their sleek Astro Pro2 model which holds a seriously impressive 20,000 mAh, (able to provide about a dozen smartphone charges), can charge three devices at once, and has an LED display for $80.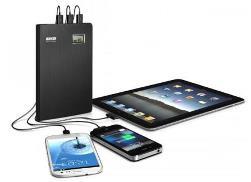 Thinium has the Recharge upcoming, with a built-in wall plug and either a pop-out microUSB or Lightning plug. Many products have that today, but what stood out was how incredibly tiny it is.
myCharge, one of my fave companies that pioneered built-in plugs, has a new charger that resolves a problem for mobile phone users - people happy with the phone case they own, yet wanting to charge and talk at the same time. The company's Talk & Charge is thin, sleek and designed with a built-in cord positioned to allow you to "sandwich" the charger and phone together and easily hold as you talk.
Lepow's Pie charger piggybacks two units, so if one is depleted you can charge it separately while still having charging access to its companion.
I was particularly taken by Lenmar's Portable Power Pack for Laptops. Laptop chargers are rare because of the power needed, and those that do exist tend to be bulky. I was boggled by how small this was, about the size of big hot plate. It won't give a full charge, but at 16,500 mAh will provide a solid 4 hours. It comes with adapter plugs for your laptop's charger. It can also charge a mobile phone, though doesn't have a 2.1 amp port for tablets. Retail price is $99.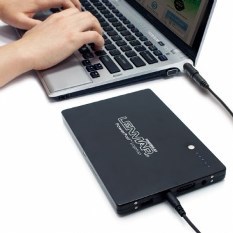 A terrific environmentally-conscious company, Goal Zero, takes a wonderfully different direction when it comes to charging laptops - indeed charging any device that requires a wall plug. (Your clock-radio, for instance) Their new Sherpa 100 when used with the added Goal Zero invertor turns the Sherpa into basically a portable wall outlet. No converter plugs are needed - and of course most products don't even have adapters. Simply plug a regular wall cord into it, wherever you are, almost whatever the household device, and you have power. It's not cheap -- $450 for the device and converter, but the smaller, lighter Sherpa 50 is $250. And it's a godsend for camping. The Sherpa itself can be powered by solar panels, as well as plug in or USB.
Going from the grand to the basic, Eton (another green, solar-based company) offers a simple solution for people afraid of ever running out of power for the cell phone. Their Boost Turbine is a charger that you power up by turning a generator handle. One minute cranking provides enough power for four minutes of talk time.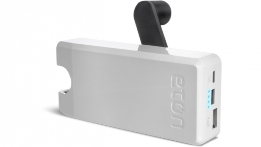 Moving away from batteries and charging, one of the other areas of the mobile world that seemed to expand this year was portable speakers, as more people are no longer satisfied with listening to their music alone through earbuds. While the definition of "portable" is a bit flexible, I'm talking here about actually-small speakers that you can comfortably carry with you in a pocket or purse. Though sound quality is obviously critical, the issue is no longer limited to that, since so many do a good job these days (considering the size), but the innovation of design.
For instance, the Jam Plus speaker, which is the size of a coffee cup, offers a clever twist. When you pair it with another similar speaker via Bluetooth, and then flip a switch on the bottom for Right or Left, you then have true stereo.
But back to the original point of portability. Several companies have taken that to extremes. Zagg is a very good accessories company, and its upcoming Tadpole Mini Speaker is the size of a car fob (that remote device that unlocks your car) and hangs from your keychain. I can't swear to its high sound quality, but I can swear to its tiny size, which is the point. And as for tiny size, Bōm has a "speaker band" - a speaker built into a wristband that streams your music via Bluetooth. It's a high-quality company, though I'm not sure how holding your wrist in a comfortable listening position would work. Finally, the wonderful X-Mini (another of my fave companies) which pioneered the golf ball-sized quality speakers (oft-copied today) is releasing its smallest speaker yet, the Me, which they call a personal speaker, meant just for one person, not to fill room. It's the size of a couple of thumbs, and what sound I could hear on the booming show floor was quite good for the miniscule size, with respectable volume. It's not Bluetooth wireless, but connects with a cord. (Though that's some of the reason for the respectable sound, since Bluetooth uses compression which degrades audio a bit.)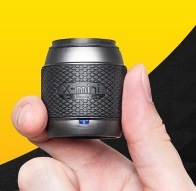 What I also noticed, oddly, if somewhat humorously, is that there appears to be a growing market for waterproof speakers. At first this struck me strange, except for scuba divers, but then I realized it's for listening to music in the shower. And also using as a speakerphone, so you don't have to jump out when the phone rings. Among them Braven, a very good portable speaker company, has a couple of models upcoming, as does Scosche with its three, rugged boomBOTTLEs (which can sit in a meter of water for 30 minutes).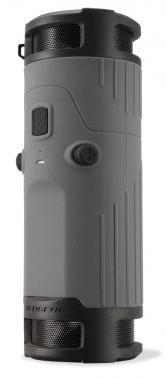 Moving away from tiny, the interesting company GGMM has a desktop speaker worth noting, the m-Freedom, that wirelessly transmits from iOS, Android or Windows with an app. No big deal - expect it doesn't use Bluetooth but a Wi-Fi hot spot. (You don't need a Wi-Fi connection, it comes built-in.) As noted above, this is important because wireless Bluetooth degrades audio, but a Wi-Fi connection won't., so there's no loss of sound.
Sound brings us naturally to the massive, albeit convoluted world of mobile phones. Whatever is the latest and greatest Smartphone is one issue, and worthy of another time, but a few interesting accessories that expand their capabilities stood out.
For iPhone 5 users, the TYPO keyboard case fits around the phone and also provides a physical keyboard. It's a clever idea with a terrible name. I mean seriously, is "typo" the first thing you want to come to mind when selling how great your typing product is?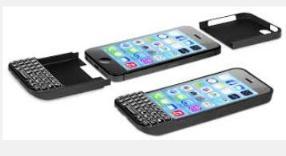 Quite a few companies are introducing Flash drives that overcome a challenge of transferring content to Smartphones, without being tethered to your computer. The i-Flashdrive from Photofast is one such device. It's basically a Flash drive that has the standard USB connector on one end - but a microUSB or Lightning connector on the other. Plug it into your Smartphone, and with the free app, access everything on the Flash drive.
A company from Taiwan, Ace Cad, has an interesting and very simple safety device for using your mobile phone in a car, the Ace Dialer iSD. It's an auto speed dialer that pairs to your phone via Bluetooth and attaches to the drivers wheel for safe access. Program in the numbers you most-often use for one touch dialing. It's compatible with Android and Blackberry phones.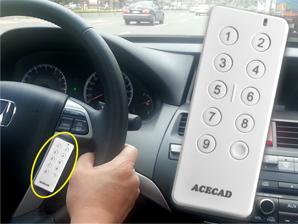 A few products took mobile phones and merged them with landlines, helping relieve the headache of overlapping phone numbers. The Panasonic KX-PRW120 is a cordless phone that uses their "Smartphone Connect" feature that allows you to make and receive landline calls on your smartphone. Similarly, the Invoxia (below) from Swiss Voice lets you to receive your landline calls on your mobile phone.
Using a mobile phone is the foundation to what was a couple of my favorite products at the show. The Doorbot and Skybell (below) which are those "cool" devices for me, very simply create a two-way video system for your home. No wiring is necessary - just screw the product panel outside your front door. When a visitor presses the button, it sends a live video feed mobile phone. Then, the camera and mic on the panel lets you communicate (wherever you are) with whoever is at the door. Both products allow night viewing. The Doorbot has a fixed wide-angle lens. The Skybell lets you control the camera, has a motion sensor, and also see in front of your door at any time, whether or not the button is pushed. At the moment, there are iOS and Android apps, and they each retail for $199.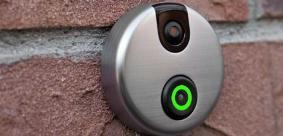 Once inside that house, tech has long been rearing its head. For years, we've had the ability to control appliances remotely, plugging them into a device that in turn gets plugged into a wall socket. Now, some of those appliances themselves are becoming "smart," even something as lowly as the lightbulb. Belkin's WeMo home automation line includes light switches, motion detectors, slow cookers, baby sensors and now smart LED lightbulbs. (Given that a lightbulb going off above one's head has long been the staple image of having a great idea, it's time that they themselves finally got smart!) Screw the 60-watt bulb into any lamp and control it with an iOS or Android app to turn it on or off, dim or schedule from anywhere.
The simple light bulb just isn't that simple anymore. Consider Lighting Science, a wide-ranging company that has a couple of new bulbs designed to make you more productive, based on research that NASA has begun using. (Seriously.) The body needs melatonin to help sleep, but the blue spectrum in standard light blocks the body from making it effectively. Lightning Science "Good Night" bulbs screens out that blue light, allowing the body to naturally produce melatonin and go to sleep easier. Similarly, another bulb, "Awake and Alert" enhances the blue light to do the reverse and use in the morning in order to be more refreshed.
(As long as we're talking about appliances, I wanted to mention one for the future, which I first saw at IFA Berlin last fall. This version is from Westinghouse. On the surface, it looks like an elegant electric stove. However, the controls are touch-icons built into that surface, rather than front knobs. Remarkably, there's no risk of burning oneself though, because it uses an induction technology where only metal can be heated. To the hand, it's cool to the touch. Where this has been extended is that now there is WiFi built into the stove top, almost as a giant touch monitor - you can access email, the Internet, recipes, and more, and if things get messy, you just wipe it off. And then going a step even further, this stovetop can be built into a table where you can cook and eat at the same place. Hey, if your kids can now play video games and watch YouTube on the table, it might get them stick around...)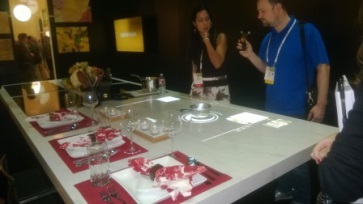 Home appliances are all well and good, and home is where the heart is, but it's also where the office is for many today. And even here there are small areas where tech keeps advancing.
Take the lowly USB Flash drive. Last year when I reviewed them, the faster version USB 3.0 was trying (and is still trying) to become the standard. SuperTalent at the time had a 3.0 drive that was crushingly fast, blowing away the others. But it was big and quite wide and might not squeeze into all systems. This year the company has a new USB 3.0 Flash drive that they say is even faster still, the Express Dram. (For techies, it writes to a high-speed virtual drive RAM Disk.) And best of all, it's normal size. SuperTalent also now makes the first 3.0 Pico Flash drives I've seen - these are tiny drives the size of your thumbnail.
Even portable, external drives for those who want to back up or take their storage on the road have found ways to make improvements. Seagate's Backup Plus now comes in a massive 4-terrabyte size. (For the math challenged, not long ago 250 gigabyte was huge for such small, portable drives. This has 12 times that capacity!) It's actually made with two 2-TB drives, which allows things to be faster, and writes at a lightning 220 MB/sec.
And printers made a noteworthy leap at the show this year - though not your standard home printer. No, I'm talking about those bizarre 3D printers. Quite a few are now on the growing, though expensive market. Companies like Sculpteo, FormLabs, and Makerbot, and many others. The one seen below from daVinci (looking like a popcorn machine) was able to print the plastic castle in a bit under 5 hours. No, they're not fast, but they'll no doubt get faster and are coming.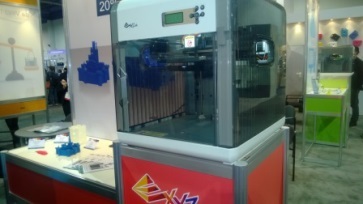 How far - and bizarre - is this field growing? At an event for Eureka Park (the area for entrepreneurs looking for investors), one of the finalists in a competition for best of show was a 3D device from AI0 Robotics. Their 3D Zeus device could (are you ready?) -- print, scan, copy...and fax. Yes, that's right, it could fax a 3D copy it had printed to another Zeus. No complicated set-up was needed, which is often the case with 3D printers. This was out of the box, press a button. Their target cost is $1,999 with a hope of being to market in April, though right now that's just a hope.
Okay, this might be a good time to have an intermission. Take a break, get some hydration in your system, stretch a bit. I'll wait until you're ready...
Okay, you're back. The good news is that we're now well-past the halfway mark!
When were last together, you'll recall we were speaking of 3D. Interestingly, I saw very little at the show this year of 3D-TV with glasses that had been so heavily promoted by major companies only two years ago. As I wrote at the time, it seemed a technology with some real problems. But glassless 3D-TV seemed more realistic, if distant. Well, that distance keeps getting closer. A few companies are now promoting their glassless 3D products, like IZON. But it's still Stream TV Networks whose Ultra-D technology most impresses me.
Ultra-D not only has remarkable clarity and 3D "pop" (which the user can adjust, even down to 2D), but most importantly it solves the content issue - it can convert 2D to 3D real time. Further, it solves the 4K problem, as well. 4K is the coming standard, with four times the resolution of today's 1080p high-definition - the problem is that there is almost no content available for it. But Ultra-D can (again) convert in real-time standard high-definition content to 4K-compatible. The big 3D-TV news out of CES was that not only has Stream TV Networks increased its partnerships with TV manufactures like Hisense, Haier, Konka and Pegatron (manufacturer of the iPhone), but they signed a deal with Toshiba. This is particularly noteworthy since a year ago, Toshiba was promoting demo models of its own glassless 3D-TVs, but they put that aside to license Ultra-D instead. There's no official date when any of these sets will hit the market, but some are in mass production now, so it should be reasonably soon. And coming, too, are other Ultra-D glassless 3D products, including tablets.
In fact, there was a glassless 3D tablet at the show, though of a completely different nature. It comes from EyeFly 3D and works with the iPad, iPhone and iPod touch. Basically, it layers a film over the screen, acting somewhat like the 3D glasses you'd wear at a movie theater, though you can see through it fine. One of the more common uses is playing 3D video taken with GoPro sport cameras. But it can also convert 2D photos to 3D using a free app - and I believe it can convert 2D video to 3D, though reps there said different things. The iPhone product is available now for $27, with the iPad Air and Mini upcoming for $60. (Because of technical issues, they said getting it to work with Android tablets is challenging.)
Though I said earlier that I tend to avoid TV exhibits at CES, a few things did stand out. The first is how mature the integration of TV and the Internet is today, something only a few years ago the studios and networks insisted was SO far away when the Writers Guild went on strike over the issue. The two technologies are blended so closely, for browsing, email, YouTube, schedules, augmenting TV content with added information and so much more that it's now almost seamless to the point of being one experience.
Also, the aforementioned 4K sets are beginning to crop up - though for all their hoopla, they really are pretty useless at the moment. As mentioned, there simply isn't the content for it. (Think of it like owning the world's great Blu-Ray player - but it's1985 , and Blu-Ray hasn't been invented yet. No matter how great the player, there's nothing to watch on it.
What is increasing in TVs, as well, are "curved" TV. Apparently these create a richer view experience, though it does seem to defeat the whole point of thin-screen TVs.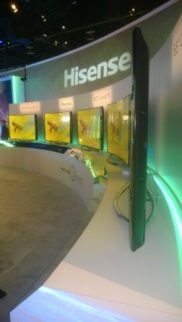 One TV technology did leap out and impress me to the point of being "cool." It's Panasonic's Info Bar, still not ready for the market, but soon. Most such gizmos, while technically impressive, don't grab my interest as overly useful or are cluttered. This was different. Six people can "register" with the Info Bar, and it has a built-in camera that uses Face Recognition to see if you're one of the six. When you come within range, the Info Bar pops up on the bottom of the screen. (You can set it for how long you want it to display - from seconds to permanent.) It then provides useful information configured for that viewer which you've configured for yourself. Email, weather, news and "My Stream" - which provides links to video-on-demand, favorite Internet sites, and also recommended content based on your viewing usage, your own selected favorite material, and search. You can control it by remote or with a Voice Assistant.

I was intrigued too by an upcoming TV tablet from Azpen. It's a standard Android tablet, but also has a tuner for over-the-air Analog television and digital broadcasts. (Obviously it can't get cable shows, since you would need to connect...well, a cable.
Tablets in general, it should not come as a shock, were sprouting like wildflowers around the show. It's hard to image that there's such a huge market for so many small brands, but the world is a big place, and many of the devices are admittedly on the low end. But still, they fit a niche.
On the higher end, a few stood out. Prior to CES, I've been testing a Lenovo Miix 2 8" Windows tablet and have liked it, though found on-screen typing for serious work a challenge - at the show, however, I was introduced to their new protective case with a built-in keyboard, and was highly pleased how good it was. Not for chubby fingers nor the fastest touch-typing, but it was very usable. What I'm even more intrigued by is the company's soon-to-release 10" model. The keyboard/cover was impressive, it has a faster, more powerful processor, JBL stereo speakers, two USB ports and all for an estimated $449. I look forward to giving it a more full test. You can see it below here slightly-separated from the keyboard.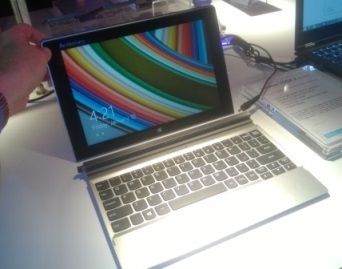 Lenovo, Sony and ASUS all showed incredibly thin and light Windows 8 laptops with touch screens. The Sony Vaio Flip C and Lenovo Yoga Pro (thin, though not as thin as their Think Pad X1) both can twist the screen all the way back flat 360-degrees, so that they convert to become a tablet.
Not to worry, for those weary among you, the end is in sight. There's a bit more to go - though a few of the more offbeat areas of the show.
Health-related products isn't what one usually associates with high-tech consumer electronics. But as I noted at the start, it's now one of the huge arenas of CES. Some of the health products are offbeat, to be clear: Reign by Jaybird, for instance, is one of those wearable products that apparently determines how much sleep you need.
But another, the Dance Dance Revolution from Qardio (in conjunction with Activate4Kids United Healthcare), looks like an odd-bit of silliness, but's is actually a sort of clever way to make a game of exercise, creating a dancing competition that gives points depending on how well you do and get to the next, more difficult level.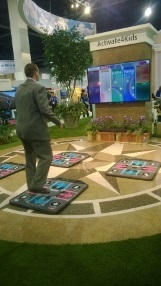 A couple of products even stood out as quite impressive and were recipients of innovation design awards at the show.
LOSTnFOUND from guard2me is worn as a watch, and acts as a watch, but more than that it's a mobile locating device particularly intended for Alzheimer or early Dementia patients.
And Reebok and MC10inc have developed a product, Checklight, to address the growing concern with head injuries in contact sports. It's a skull cap with motion sensors built-in to provide "actionable" impact data to assess the athlete.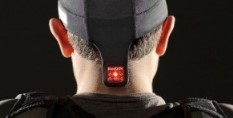 Of course, if you want to be in the best of spa-level health, Panasonic has its Real Pro V massage chair. It's a throne that would make Captain Kirk proud to sit in, and the good news is that it's now on sale for $1,000 off. The bad news is that it's $6,999.
Moving a bit more into the far-more offbeat area, we come now to robots. Yes, robots are a growing field now. And yes, most are in their infancy or a little silly, but they're just the early steps.
FURo (which stands for Future Robot) from Korea featured its Smart Service Robot. This is a "customizable communication coordinator." Basically, it's a touchscreen with consumer options designed in the shape of a person, sort of, that spins and turns and moves around the room.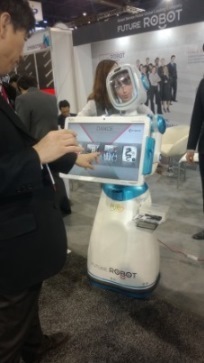 An odd robot came from the Yujin Robot also out of Korea, though in fairness the company makes a lot of sophisticated robotic products, and this this one -- their Waiterbot -- was intended as an early prototype to demonstrate the potential of what it can do, and is meant for hospitals, restaurants, hotels and such. Basically, it's a delivery unit. A touchscreen lets you give it orders (in my case, I asked for a cola), and its pre-programming gives it a route to follow, retrieve the item and return with it.
And that brings us to the Truly Odd.
Every year at CES there are products that leave you scratching your head. Sometimes laughing warmly at the thought process, but more often wondering what in God's name were they thinking??!
There was other oddity that we'll end with, though it both had positive things about them.
In honorable mention, we have the Navia from a French company Induct. And what is a Navia, you ask? It's a driverless electric tram. Yes, fill up that tram and send it off without a driver? What could possibly go wrong? I asked the rep if the Navia had a sensor in case anything got in front of it, like perhaps, oh, a little child? Not surprisingly, yes, it does. Whatever the trams costs, I suspect the insurance will be more. Quipping aside, I'm told by my friend John Quain, who writes about automobiles, among other things, for the New York Times that this is a very serious field, and driverless vehicles are, in fact, a coming thing. One wonders if they might be passengerless, as well.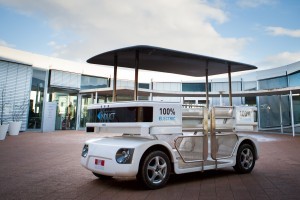 But the finalists this year at CES were (the envelope please) -
A product called "mobile QWERTY," an ergonomic handheld keyboard for use with Smartphone. The keyboard is split with the phone in between. Okay, fine in description...except that in reality, it has a bizarre keyboard layout that I couldn't even begin to understand. The letters were in proper QWERTY order, it's just that each row was placed somewhere that seemed to be decided by a drunken executive.
In a close second place came a product from 94fifty. It was a Bluetooth-enabled (I'm serious about this. Really) - basketball. They promote it as "The first smart sensor basketball." That's very impressive. Mind you, I'm not planning to wait around for the second. Apparently this will diagnose the frequency and quality of key basketball skills. Like, perhaps, if you make a shot, it will beep and let you know.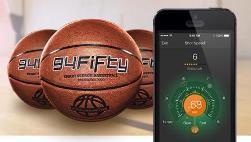 But the winner was igrow, a high-tech hair growth system. You apply their special conditioner and then use their helmet. And girls, it's for you, too!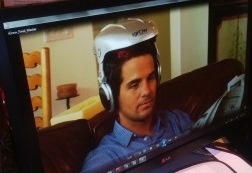 And with that, we can collapse until CES next year.
And thank you for making it through...
*
This article originally appeared on the website for the Writers Guild of America. To see a few additional graphics, click here.
To read more from Robert J. Elisberg about technology or many other matters both large and tidbit small, from politics to sports to entertainment, see Elisberg Industries.