Fa la la, and all that. During the year, these columns have offered a menageries of electronics. As the holidays near (or pass, depending on when you read this...), we've culled through the piles (as well as some last-minute items that pushed their way in) and come up with some suggestions for the electronically-needy among your loved ones. While we've left out some favorite items, these here are what are probably the best that fit into a gift-price range.
Golla Frisco Cabin Laptop Bag
Kingston Wi-Drive
myCharge Hub 6000 Portable Charger
X-Mini Max Capsule Stereo Speakers
A-Solar Titan Laptop Charger AM-600
Energizer Portable Fusion Lights
Logitech Harmony Touch Remote
Lenovo Yoga Tablet
Powerex MH-C891D Eight-Cell 1-Hour Charger
One of my missions in life is to find a laptop bag that fits all of my demanding requirements. The Golla Frisco doesn't match them -- but it's come the closest so far, and has become my bag of choice at the moment. Alas, this particular model is not only not sold in the U.S, but Golla doesn't seem to have it on their own website right now. But -- thanks to the Internet, you can buy the Frisco on Amazon -- just Amazon UK, where it sells for 71 Euros, which comes to $92. You'll pay a little more for shipping, but hey, that's life. At least you can get it.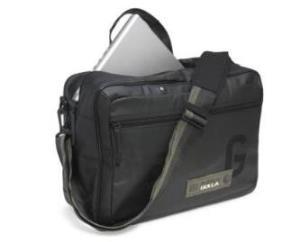 Golla is a very nice company out of Finland that makes a huge range of cases for laptops, phones, cameras and more. The main compartment of the Frisco is impressively spacious, a major plus, though it only has two big pockets and one zippered pocket. The pockets are open, no Velcro to close them which is my preference, in case of jostling. But at least there's the big, zippered pocket. There are no pen holders, but you can just clip them over the edge of a pocket.
There two big zippered pockets, front and back, and the bag has two hidden pockets at the top, one on either side, both closable with Velcro. Oh, joy! (In fact, they're among my favorite features on the bag. I find these great to use when going through an airport line -- you can take out your wallet, watch, pens, and notepads and stuff them in there, and then just grab them easily after you make it through the x-ray) .
One of the limitations of handheld devices and particularly the iPad and other tablets is their small capacity. You may find yourself without enough space to copy all the music files, photos videos, data and more that you'd like to carry around. The Wi-Drive is a portable, solid-state drive that can connect to a handheld device via Wi-Fi. The most notable thing about this portable Wif-Fi drive is that, being Solid State, there are no moving parts...and it's therefore incredibly small and light. Stick it in your shirt pocket, and you're set. It comes in three flavors --- holding 32 GB, 64GB and one for 128 GB. At the time of writing, the 32 GB Wi-Drive can be found for $70. The 64 GB model was available for $75 (a great deal), and at the high end, the 128 GB Wi-Drive could be found for $130.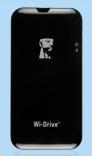 myCHARGE HUB 6000 PORTABLE CHARGER
For several years now, myCharge has been making some of my favorite portable chargers. What makes them special is that they not only include built-in plugs, so that you don't have to carry adapter cords around, but many models even have an AC wall-plug built in. Their new line carries on that tradition impressively. Among the many, one handles big capacity and small size the best.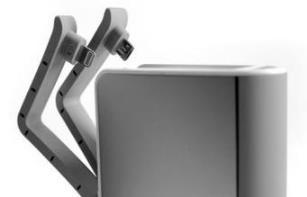 The Hub 6000 is about the size of a fat deck of cards, and easily fits in a jacket. It's not the smallest or lightest kid on the block, but it's plenty small and portable, most especially for everything it does. With 6,000 mAh, it can charge a Smartphone an impressive four times, with up to 27 hours of talk time. It has built-in Apple Lightning and Micro-USB cables, and also a USB port to charge plug a third device (or one that uses a standalone mini-USB cable). Moreover, it also has the aforementioned built-in wall plug, something the smaller models don't include. The Hub 6000 retails for $100. At the time of writing, I didn't find much of a discount online, just $95.
X-MINI MAX CAPSULE STEREO SPEAKERS
X-Mini is another small company I've liked for a long while. They originally had wonderful golf ball-sized portable "capsule" speaker (whose design has since been oft-copied) that had seriously impressive sound and volume (not so easily copied...). They've added a couple new models to their always-growing line, and while both were excellent, one stood out. The Max.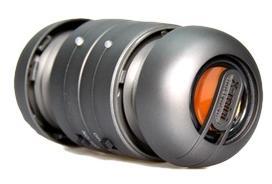 The Max is the upgrade of X-Mini's stereo capsule speaker. This new incarnation is much smaller and will even fit in your pocket. When closed, it's only slightly over 3-inches tall (and 2-inches wide). The two speakers each have a flat bottom and connect with a light magnetic attraction. Pull them apart, and then connect them with the included cable. Like all X-Mini speakers, you twist them out to expand for better bass. The Max uses their new ceramic tweeter, which gives impressive sound. It's nothing that you'll get from a large speaker setup -- hey, this is a pocket-sized stereo. Good bass, crisp treble, but not for high-end audiophiles. Suffice it to say that there was clear separation and a very good stereo effect.
Previously, I strongly preferred the mono X-Mini speakers to their stereo model. That's because the sound was so good, even in mono, and they were so small that it was easier to use than hooking up the much larger stereo unit. And the new, mono Uno model almost was my choice for this holiday list. But now, the Max is significantly smaller than before and has much improved sound that I think it's highly worth considering as your speaker of choice.
The Max retails for $80, though at the time of writing for $55. Actually, I even found it online in one place for a bizarrely remarkable $33, a steal. (Important note: don't confuse the Max with the earlier version that confusingly is the Max II.)
A-SOLAR TITAN LAPTOP CHARGER AM-600
A-Solar's Titan not only addresses a charging need I've tried to find for a while, but does it with solar power (as well as AC). That need is the ability to charge a laptop when you're on a long airplane flight -- or anywhere for that matter. When the Titan is fully charged, it should give your laptop an extra five hours of power.
The Titan can also charge two mobile devices simultaneously. Indeed, it's powerful enough to charge a laptop and a tablet at the same time. It has a good-sized and powerful 2.5 watt solar panel which charges the device's large, 13,200 mAH internal battery. (For comparison sake, charging a smartphone uses about 1,500 mAH.) Like all A-Solar products right now, it's only available in Europe, but you can purchase it online. It retails for 139 Euros, which is the equivalent of $180. But it can found at the time of writing on Amazon UK] for the equivalent of $151.
ENERGIZER PORTABLE FUSION LIGHTS
The Energizer portable lights showed up late in the year, so I haven't had a chance to write up the reviews for them yet. However, I'm so impressed with the entire line that I wanted to at least mention them here. Yes, they're just flashlights and lanterns, but they do some unique things wonderfully. I became even more taken with them when I was stuck in a long blackout, and put them to full test.

Using LED and "Fusion" technology, these lights deliver particular powerful beams in both directional and area flood lighting, and you're able to dim the lights, as well, when you don't need as much brightness which saves on the battery life. All that turns what would otherwise be a basic flashlight into a particularly nice, uncommon device. As for Pop Up lantern, it can compress to a tiny 4-inches for convenient packing in camping gear, while delivering 360-degree area lighting. (As a lantern, it's area light only, not directional.) But it's the Foldable Lantern that blew me away during the blackout. It provided up to a powerful 300 lumens, and depending on how you fold it offers either full-area or intense directional lighting, both of which brightened the dark room notably. There's more to mention (for instance the Folding Lantern can run on either four or eight AA batteries), but that will have to suffice until the more-detailed reviews are completed. The prices for each device range online at the time of writing from $17 to $25.
This is another of those last-minute products that I haven't posted a review for yet. Actually, I received the product earlier in the year and done a full test, and even had written the review, but was holding it for later. However, just weeks ago the company released a firmware upgrade and took what was a very good remote, but problematic, and made it quite wonderful.

The Harmony Touch is an update to Logitech's Harmony One remote. The biggest differences are that it uses touch screen and swiping commands, is highly configurable, and has a better design for holding. It worked well, but there were some things a bit too inconvenient. However, this is one of the best firmware upgrades I've come across for any product, and the device is now terrific. Which is why I've decided to include it here in the gift column. It's not inexpensive -- the retail price is $249, though at the time of writing it could be found online for $198. I'll have a detailed review in a few months, but for now you can click on the link above to see what the company has to say.
I haven't posted a review of Lenovo's Yoga tablet yet in this column, but one came in late in the year, and I look a look at it on my own website. It's an Android device that has some intriguing, indeed unique things about it, which is rare for a tablet these days. Most notably, it has a remarkable 18-hour battery life. (That number, of course, is under ideal conditions.) It comes in both 8" and 10" models. The price retails at $249 for the smaller until, but what jumps out is its extremely low retail price for the 10" tablet, of $299. Though this is more than the other gift items here, that price point for a 10" device convinced me to include it.
Also, very noticeably unlike other tablets, the Yoga has a rounded "handle" on the side. This makes for a better, more comfortable grasp, and it also can fold down to a tilt stand position for typing, or as a full stand for watching movies. That said, I'm not 100 percent sold on the handle. It does make it easier to hold the tablet, though it adds some weight -- and in fairness I believe that's where the batteries are installed that allow the long-life. But then, some people may love the benefits of the handle... and it's hard not to appreciate it if that's what allows the 18 hours of battery life.)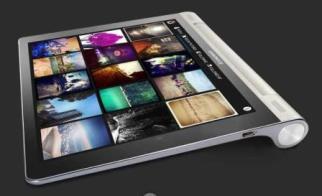 The specs are good, not great. It has 1 MB RAM and 16 GB capacity, though with an microSD port, you can add storage. The Yoga doesn't have the highest resolution, nor is it the most powerful, but the display is very crisp, photos were sharp, video ran smoothly, text high was readable (though this isn't Retina Display level) and if not fast, the unit is very responsive. The sound through two front speakers was surprisingly respectable -- a bit thin, of course, but quite crisp. A bluetooth keyboard which doubles as a screen cover is available for the 10" model, and retails for $70.
POWEREX MH-C801D EIGHT-CELL 1-HOUR CHARGER
Though this isn't what is traditionally thought of as a Fun Holiday Gift, if you have a lot of electronics, you're going to need a whole mess o' batteries. And if someone lives for electronics, they might just love this. The Powerex MH-C801D (which also goes by the name Maha) is an impressive device in a field where you might think things should be pretty basic. Most notably, it comes with eight slots which can charge eight NiMH (Nickel Metal Hydride) or NiCad (Nickel Cadmium) batteries independently of one another, either AA or AAA. This is no small thing: most chargers will recharge only one battery size at a time. Further, they often require at least two batteries charging before the device will start. This latter is a particular problem, since a weaker battery will affect the charge of the other, because they share a single circuit. (Besides, you might only have one battery to charge.) The Powerex can charge one battery at a time, and it can also charge different combinations of sizes, different start times, and mixed brands all at the same time. That's because each slot is on its own circuit.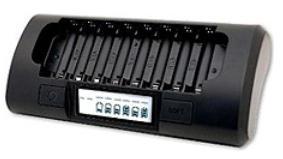 The Powerex MH-C801D costs more than basic units you can commonly find. It retails for $100 at the time of writing, though can be found for $65 online. However, if you do more than just rare recharging of batteries, its many features may be well worth the added cost in the long run.
*
Robert J. Elisberg's comic novel, A Christmas Carol 2: The Return of Scrooge, just reached #1 on Amazon's bestseller list for Humor/Parody. It is available in paperback or Kindle ebook edition.