Technology today has widely expanded the concept of one's office. While the home base will always allow for certain advantages, the ability to take your office on the road has become a godsend for many. This month we look at a variety of devices that help bring some of the comforts of home to the portable office when traveling.
Golla Frisco Cabin Laptop Bag
GMM Streamliner Power Bank
myCharge Portable Chargers
X-Mini Uno Portable Speakers
Dell XPS Convertible Ultrabook
One of my missions in life is to find a laptop bag that fits all of my demanding requirements. The core of these is a lot of inside pockets, Velcro-covered pockets, outside pockets (I like pockets, if you haven't noticed), pen slots, deep enough for books, thin enough carrying, and in a perfect world, TSA-approved for airports. The Golla Frisco doesn't match that - but it's come the closest so far, and has become my bag of choice at the moment.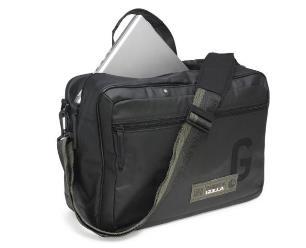 There's a good and bad to this. I've just told you the good. The bad is that this particular model is not only not sold in the U.S, but Golla doesn't seem to have it on their own website right now. But there's another good - thanks to the Internet, you can buy something just as easily overseas as you can on Amazon. In fact, you can buy the Frisco on Amazon - just Amazon UK. You'll pay a little more for shipping, but hey, that's life. At least you can get it.
(Or if you know someone going to England, you can always order it online and shipped to where they're staying. As a laptop bag, they could simply use it as their carry-on when they return and then give it to you, free of shipping.)
Anyway, back to the bag. Golla is a very nice company out of Finland that makes a huge range of cases for laptops, phones, cameras and more. Their website is worth checking out for their wide products, many of which are sold in the U.S. (You might even find something there similar to this Frisco bag that catches your interest.)
The main compartment of the Frisco is impressively spacious, a major plus, though it only has two big pockets and one zippered pocket. The pockets are open, no Velcro to close them which is my preference, in case of jostling. But at least there's the big, zippered pocket. (The zipper, oddly, is slightly blocked by a sewn-on Golla label, so it takes a little bit of maneuvering, though it's simple to do, just odd placement.) There are no pen holders, which even the Golla rep I spoke with thought was surprising, but you can just clip them over the edge of a pocket. Also inside, there is fairly good padding in its separate, laptop compartment.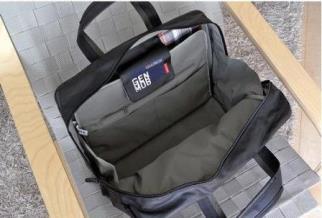 On the outside, there are two big zippered pockets, front and back. The one in the front has several small, inside pockets, which I like, ideal for sliding in a phone, MP3 player, digital camera or such. Again, unfortunately, they're all open, and I'd love to have seen something that could close at least one of them. The back pocket is quite big for easy access to large documents
Happily, I do get my Velcro fix in a couple of places. There are two hidden pockets at the top, one on either side, both closable with Velcro. Oh, joy! (In fact, they're among my favorite features on the bag. I find these great to use when going through an airport line - you can take out your wallet, watch, pens, and notepads and stuff them in there, and then just grab them easily after you make it through the x-ray.) That said, the Frisco bag isn't TSA approved, so you have to pull out your laptop, rather than fold down the compartment.
The bag itself is a blue-gray polyester on the outside, with cotton padding in the laptop compartment. It's 17 x 12.2 x 6.7 inches, and fits comfortable under an airplane seat.
As I said, the Golla doesn't meet my ideal needs - but no bag has yet, and it comes closest. It's a spacious, light, well-designed bag that offers a lot, and I look forward to them adding some nice touches in the future, like more small pockets inside, and...well, you know, more Velcro. But for now, you can find it at Amazon UK, where it sells for 71 Euros, which comes to $92 .
GGMM is a company you've likely never heard of. However, in China, they're the top seller of Apple accessories, though they manufacture much more - and that's why they're trying now to break into the U.S. market. I stumbled upon them by accident at the past Consumer Electronics Show, and their wide range of products were notably well-designed.
Their Streamliner Power Bank is a standard power charger - it holds 6000mAh, which is a lot of juice, enough to basically recharge a Smartphone four times, and there are two USB ports, so you can charge two devices at the same time.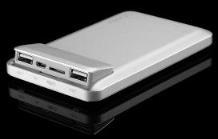 However, there are a few nice touches that GGMM offers. One is the design. Unlike all other such devices I've seen, the Streamliner hides away its ports. Instead, you flip up a slot and everything appears. This provides a bit extra dust protection (though that's never been all that much an issue with other products. Still, it's a nice touch). It also gives nice, elegant design-lines. When you flip the cover up, lights go on to tell you how much charge remains.
What you also notice is another addition - there is a slot for a micro-SD card, which means the Streamliner doubles as a card reader for micro-SD cards. Connect the device to your laptop, and you now have an extra drive. This is probably its major asset that sets the device apart from other chargers. It also comes with a leather pouch and a micro-USB cord to connect the unit for recharging. The pouch isn't fully necessary, but if you want to carry the cord with you, it does make things much more convenient. What also leaps out is how small and light the Streamliner is, particularly for 6000 mAh battery.
GGMM products aren't widely available in the U.S., though they can be purchased online, and the company has a sales office outside of San Francisco. The Streamliner retails for $99.
For several years now, myCharge has been making some of my favorite portable chargers. What makes them special is that they not only include built-in plugs, so that you don't have to carry adapter cords around, but many models even have an AC wall-plug built in. Their new line carries on that tradition impressively, albeit with one caveat which I'll get to later.
I tested several new models, and rather than review each separately, I'll bunch them all together, but single out the differences.
To start with, there is the Hub Series. All will work with Smartphones and more power-consuming tablets. In brief -

Hub 3000
This is a very lightweight, pocket-sized device that holds a solid 3000 mAh of power. It will provide approximately two charges for a Smartphone or up to 13 hours talk time. There are built-in Apple Lightning and Micro-USB cables, and even a USB port to charge a extra device, though no wall plug. (It's too small for that.) It retails $70.
Note that all myCharge devices once upon a time used to also include a built-in Mini-USB cable, but none do anymore. It's not as widely used these days, so it's not a huge loss, though I do miss it. However, if needed, you can at least plug one into a USB slot.
Hub 6000
Hub 9000
Both are similar to one another, except for size and capacity. In addition to the built-in Apple Lightning and Micro-USB cables, and USB port, they also do have the aforementioned built-in wall plug.
The Hub 6000 is about the size of a fat deck of cards, and easily fits in a jacket. With 6,000 mAh, it can charge a Smartphone four times, with up to 27 hours of talk time. It retails for $100. At the time of writing, I didn't find much of a discount online, just $95.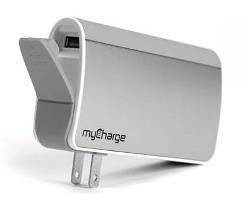 The Hub 9000 is the bulkiest, though still thoroughly portable for a briefcase. (5" tall and an inch thick, at 10 ounces.) At 9,000 mAh, it provides a substantive six charges for a Smartphone and up to 39 hours of talk time. The retail price is $130.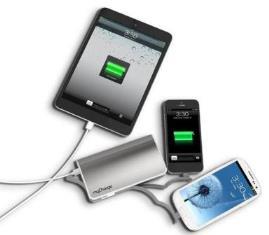 The Jolt Series is for Smartphones only, and is not intended for tablets -
Jolt 2000M
Jolt 2000D
These are near-identical. The difference is that the 2000D (the only one I tested) has built-in Apple Lightning and Micro-USB cables, while the M offers two micro-USB cables. (There's no USB port or wall plug on either.)
What separates the Jolt line is the carabiner clip, which will hook on anything, and makes the devices ideal for hikers with backpacks. As such they're also very light, though hold slightly low capacity. They are 2000 mAh, which provides about 1-1/2 charges for a Smartphone, and up to 9 hours talk time. They're light and thin, though tall, so they're not ideal for sticking in a shirt pocket, though fit a pants pocket fine. The Jolt 2000M retails for $50, while the D-model has a retail price of $60, though could be found online for $40.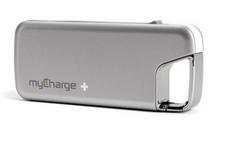 As for the devices themselves: I'll start by saying that preferences depend on your need. That said, I think of all I tested, the Hub 6000 is a great balance of features. Though not tiny and light, it's small enough to be highly portable, has great capacity, and with the addition of the wall plug and extra USB port to go with its two built-in plugs, it's magnificently versatile. The built-in cords and plug are just other-worldly convenient. I should add that myCharge chargers are elegantly designed, as well.
If you're on the road a lot or need to regularly charge a lot of devices or some power-sucking device (like a tablet), the USB 9000 is wonderful for tossing in your suitcase and having plenty of power before even needing to recharge it. Oddly, for a portable, I also have found that just keeping it at my desk handy for snapping a device to it for quick charging is extremely convenient, and being so high-capacity, it doesn't need charging itself very often.
The Jolt line is excellent if you're a camper and space is limited (and weight is critical). But for most people's general use, I think the Hub line is far superior, in both capacity and versatility.
This is where the caveat comes in.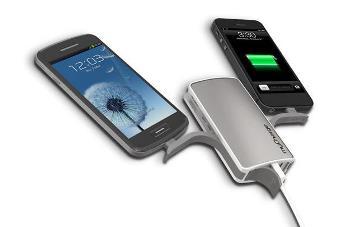 As I said, I've long loved the many devices I've tested from myCharge. Even when they had their line of luggage (with built-in chargers), they were beautifully made. myCharge products have been among the best made and best-designed I've come across. That's why it's unfortunate to come across a glitch with the Hub 3000. To be fair, it's not that the product is bad - in all other ways I loved it - but it appears to have had a defective first-run on the product line. Such are the problems sometimes with reviewing products early.
In all other regards, as I said, I was loving the Hub 3000 - it's so light, small and powerful, and remarkably convenient with the two built-in plugs and a USB port (albeit no wall charger). But it went dead on me. And when a replacement was sent, the same thing happened. Given myCharge's excellent company history, and the quality of the other devices, it seems clear to me that this isn't a bad product, but one that probably had a "new model" bad production run. For all I know, by the time you read this, that's been fixed, and a new run is coming off the assembly line. If it is, it can be a great, little device - one that I was loving. But check first, and make sure of the return policy, if there still is an issue. I'll keep in touch with the company and let you know any updates in subsequent columns.
X-MINI PORTABLE CAPSULE SPEAKERS
X-Mini is another small company I've liked for a long while. I came across them by accident at CES several years ago in an out-of-the-way area, and have been impressed with them ever since. They had wonderful golf ball-sized portable "capsule" speaker (whose design has since been oft-copied) that had seriously impressive sound and volume (not so easily copied...). Over the years, they've somehow been able to come up with a continuing stream of innovative new devices based on that. And now, they have two more. The Uno and the Max. I'll give a brief overview of each here and then a joint reaction and comparison.
X-Mini speakers have always been well-made, but the Uno is especially sturdy, and feels like a rock - it's a touch heavier, though it's only four ounces. In fact, the bottom has been weighted to keep from bouncing around which is not uncommon for small devices churning out heavy bass. It's has a fairly powerful 2.5 output and provides about 20 hours of playing time. (A full charge of the Lithium-ion battery takes about 2-1/2 hours. A charging cable included. It's now micro-USB, which has become more standard.)
To get the best sound from the Uno, you twist open the top, which allows for a richer base. To be clear, terrific as the sound is, you'll never get the sound of a high-end, luggable device or home stereo. This fits in your pocket, for goodness sake! But for that, the audio is crisp and clear, with no muddiness, and can fill a room. There is a solid bass, though it won't ever rattle your teeth like big speakers will. The treble was a touch on the thin side, but good, never even close to tinny. It's all very pleasing. And remarkable for something so small. This is thanks to the new ceramic tweeter (rather than the more traditional aluminum ones), which provides for a wider and more sustainable frequency range. There's also a volume control wheel on the speaker to augment the volume you'd normally adjust from the music player it's attached to.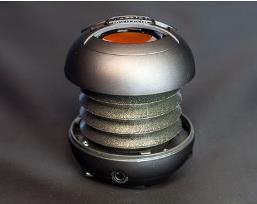 The speaker cord is stowed away underneath the Uno. It's what plugs into the earphone jack of your music player. (All X-Mini speakers can be "daisy-chained" by connecting any earphone jack into a port, to provide greater sound.) I've always preferred the basic gunmetal black, but X-Mini has spruced things up a bit with half a dozen colors now available. It also comes with a carrying pouch and retails for $50, though I've seen it online for just $34 at the time of writing.
The Max is the upgrade of X-Mini's stereo capsule speaker. The previous incarnation was small - but too big to fit comfortably in your pocket, but this new, updated version will. When closed, it's only slightly over 3-inches tall (and 2-inches wide). The two speakers each have a flat bottom and connect with a light magnetic attraction. Pull them apart to use.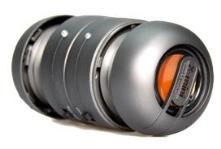 The stereo Max is only 5.5 ounces. It has a two-watt output (slightly less than the Uno) and has an identical 18 hour playing-time. Charge time is the same 2-1/2 hours.
After pulling the two units apart, you connect them with the included cable. (The volume control for the Max sits on this cord.) And then plug the stowed cable from either speaker into the earphone jack of your sound source. Also, like the Uno, you twist them out to expand for better bass.
The Max also uses the new ceramic tweeter that comes with the Uno. I was quite impressed with the sound here. Again, it's nothing that you'll get from a large speaker setup - again, this is a pocket-sized stereo, after all. Good bass, crisp treble, but nothing for high-end audiophiles. More on the comparison between the Max and Uno below, but suffice it to say that there was clear separation and a very good stereo effect. And noticeably improved from the first X-mini stereo device, which even then was perfectly fine.
When pulled apart, each individual unit is quite small - smaller then a Uno. You can also use the Max as two, separate mono speakers, each having their own earphone plug. The sound was quite good, though separately not at the level of the Uno.
The Max also comes in six colors. There's a carrying pouch, and it retails for $80, though at the time of writing for $55. Actually, I even found it online in one place for a bizarrely remarkable $33, though I don't know how long that will last. If you do find that price, though, it's a steal. (Important note: don't confuse the Max with the earlier version that confusingly is the Max II.)
Comparison
The Uno is the best-made X-Mini capsule speaker I've tested thus far, which is saying a lot. Wonderfully constructed, and terrific sound. That said, if you already have an earlier model, it's not worth upgrading. Honestly, the earlier models were quite wonderful, even if not as good. That's why I think getting the older X-Mini II for just $19 might be a better deal.
Also, the one (and only) downside of the Uno is that if you want wireless, it's not Bluetooth compatible. For that, the X-Mini Kai would be your choice. (It retails for $100, but sells online at the time of writing for $55.) But if you want something to plug in, which tends to give slightly better acoustics, not being Bluetooth is a non-issue.
Which brings us to the Max. Once upon a time, I strongly preferred the mono X-Mini speakers to their stereo model. That's because the sound was so good, even in mono, and they were so small that it was easier to use than hooking up the much larger stereo unit. But now, the Max is significantly smaller and has much improved sound (and easy to set up) that I think it's highly worth considering as your speaker of choice.
I still like the simplicity of a mono unit to carry around with ease. But for travel, for instance, or for use in a more permanent setting, I'd probably now go with the Max. I found its stereo audio even more appealing than the excellent Uno. And at the time of writing, it was incredibly inexpensive. Plus, you can use it as two mono units. (One note about this - though you can use it as two separate mono speakers, they weren't nearly as good that way as the mono Uno. Splitting the Max into two mono speakers is great as a back-up or when needed for some reason. But if you want something mono, I think it's preferable to get a mono unit, whether the Uno or even the older Mini II. I personally don't think the Max as the way to get two mono speakers, since the alternatives are better, and can be as inexpensive.)
My one non-tech quibble with X-mini devices has always been that their User Guide is written in type so small that using a microscope only barely helps. Fortunately, there's not a huge need for reading the User Guide, though some. Other than that, X-Mini again has impressively expanded its line.
DELL XPS 12 CONVERTIBLE ULTRABOOK
With the introduction of touch-based Windows 8, this has brought about a new class of computers, known by a variety of names, most commonly "convertibles." These are Windows notebook computers that can be flipped, switched or turned to double as Windows tablets.
While there's a growing menagerie of these, we're just going to look at one, but it will give you an idea of how they all tend to work as a group. This also requires a caveat or perhaps a mea culpa - or some other Latin words, take your choice. Ipso facto, perhaps. I had intended to review this Dell XPS 12 earlier in the year, but life, other products, IFA Berlin and a variety of factors got in the way. As a result, the model I tested is no more - in the words of Monty Python, it has ceased to be, it is an ex-parrot. The version it's been replaced by is still called the XPS 12, but it's been upgraded in a few ways, most notably that it now uses the Intel "Haswell" processor, which among other thing provides much more battery life. Also, it comes installed with the new, widely-praised Windows 8.1 update. The core of the notebook has stayed the same, however, so I'll go forth, as long as you know the current model is nearly the same, but better.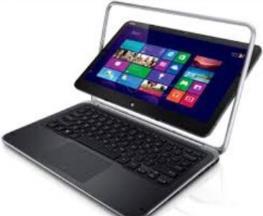 A generic note, as well. I'm a fan of Windows tablets, and the XPS 12 gives a glimpse into why. When you are using it in its tablet configuration, it is still a full-fledged, powerful notebook. I completely understand the huge popularity of iPads and Android tablets. They're quite wonderful devices. But they're mainly "content" devices, for connecting to the Internet, getting email, watching movies and such. Windows tablets are productivity devices, that allow you to do work on them. They let you run Microsoft Office, as well as (importantly) Outlook. And any full Windows programs you have can be installed. Additionally, Windows tablets have USB ports, which means you can plug any USB peripheral in - like a printer, which expands their productivity. Yes, there are current limitations, most notably far-fewer apps, but today there are now over 100,000 and more keep coming...plus you have access to every Windows program, something not possible with iPads and Android tablets. Again, to be clear, I'm impressed with these others, and understand their popularity. I'm just a fan of Windows tablets.
And all that at last out of the way, we dive into the Dell XPS 12.
The "12" in the name is the size of the monitor. It's not big by notebook standards, but quite-big enough, and my preferred size to the larger models in the line. That's because the XPS is intended to double as a tablet, and - while it's far-thicker and much heavier than pure tablets - it's thin on its own merits and fully portable at 3.3 pounds, something not as much the case with the bigger devices.

Before going any further, we have to address the feature that leaps out, what makes this a convertible in the first place. The flip hinge. What looks like a normal laptop cover isn't. Push on the top of the screen, and it flips out - turn it 180-degrees, and screen reverses itself and fits back into the hinge. Close the top, and you now have a touch-tablet. While in pictures it might look like a flimsy hinge, it's very solidly made (in fact, as is the whole computer itself). Converting the screen works easily and cleverly.
The XPS is about 12.5" x 8.5" x .7" and has a sharp, crisp 12.5" HD WLED monitor made of highly-durable Corning Gorilla ® Glass and up to 1920x1080p resolution. The touchscreen monitor has capacitive 10-finger control.
If you can put up with a few more, important specs - it comes with up to 8 GB of memory, and the aforementioned powerful, fourth generation Intel i7 processor, known by its code name, "Haswell." (I tested it with the third gen i7. Battery life should now be doubled, up to eight hours, depending on use.) Importantly, given that this is a productivity device, the XPS has a full-sized keyboard - it uses chiclet-style keys, not my favorite, but I found it extremely easy to type with. Your mileage will vary.
I was very impressed with the XPS 12. It's solidly built, and the twisting conversion process (from notebook to tablet) was easy and smooth. Make no mistake, this will never replace the simple portability of a pure tablet, it's much too heavy for that, but having the ability to use it as a tablet when preferable was a treat.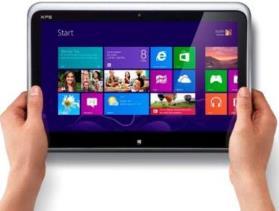 You also get substantive capacity, either with a 128 or 256 gigabyte SSD hard drive. So, unless you're mad storage hungry, there's no issue with loading all your pictures, music and videos. And the XPS 12 is powerful enough to come close to being a desktop replacement. (And that's said before using the upgraded processor.) I ran it with half a dozen programs open, and everything was smooth as could be. The touch feature was responsive, and after using it for a while I often found myself reaching over to touch commands on the monitor even when in notebook mode with the keyboard handy.
The built-in speakers were okay - nothing special, but fine for basic use. I had a little problem with the wireless Wi-Fi in a unit from the initial product run, but that's more of a Windows issue that Microsoft has largely resolved. (It's also Bluetooth enabled.) I wish there were more USB ports, though on the positive side, a) it does have USB ports, b) there are two of them, and c) they're the new, fast USB 3.0. The webcam is 1.3 MP.
For many people, a regular Windows 8.1 touch-screen notebook will suffice (and be notably less expensive than a convertible). But the ability to have a full-featured, powerful, desktop-replacement notebook that can double as an equally powerful Windows tablet when needed is a bonus that might well justify the cost for some. Depending on configuration, prices range from $1,000 to $1,600.
*
Robert J. Elisberg's comic novel, A Christmas Carol 2: The Return of Scrooge, just reached #1 on Amazon's bestseller list for Humor/Parody. It is available in paperback or Kindle ebook edition.