Every year in January, I write about how I consider the Consumer Electronics Show in Las Vegas to be Disneyland for Adults. The tech version of Christmas, with piles of goodies underneath a gargantuan tree, and visions of sugarplums dancing through my head.
Back in 1940, the writer/director Preston Sturges made a wonderful film, Christmas in July. Well, August is close enough, and six weeks ago I attended IFA Berlin, which is basically the European version of CES. Or vice-versa. But Christmas in the summer, nonetheless.
To some degree, when you've seen one mega-humungous tech trade show, you've seen them all, and there's a lot of familiarity and comfort amid. Many of the same 1,400 exhibitors from over 50 countries, similar products, standard booths, and wearying (albeit fun) exhaustion amid a whirling zoo of crowds under the Big Top.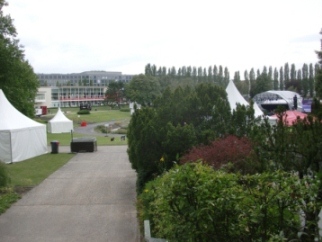 Oh, sure, there are differences. Most notably, it's being surrounded by signs for things like, "Unterhaltungselektronik". (Consumer electronics, of course.) And "Nachhaltigkeit" (Eco sustainability.)
What's more odd, though, is to see that in German, the words for Smart Phone, Tablet and Ultrabook are...well, Smart Phone, Tablet and Ultrabook. But then, that's much of the way of the world today, and far beyond simply new tech terms. Mostly, it does make one appreciate how thoughtful the rest of the well-educated world is, graciously learning English just to make American travelers feel so much more comfortable.
The show is spread out far more than at CES, covering 27 exhibition halls surrounding the ICC Messe Berlin Fairgrounds. And at times you feel like you need a GPS to make your way around, since doors don't always open where you thought they should, and paths and orderly numeric directions are more convoluted than you'd expect.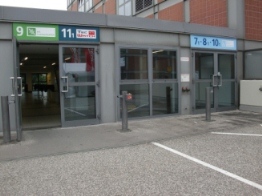 There appears to be a much more focus on home appliances - smart refrigerators, smart coffee machines (Kaffeevollautomaten) and smart homes in general are of great interest here. But what's also interesting is to see the variety of consumer devices that either haven't yet reached the U.S. shores. While January's CES tends to show the direction the tech industry is heading for the year, IFA Berlin gives an innovative sense of what's developing and could be next.
A word of warning. IFA Berlin is huge - and therefore so, too, will be this article. Seriously. If you don't like such things, run now for the hills. Otherwise, grab a sandwich and a comfortable chair. No complaining, you've been warned.
Also know that not only aren't all products at IFA Berlin available in the U.S. yet - many may not ever be. But they show the direction of what's being developed - and most will sell
anywhere through their website. (Besides which, the very point of the World Wide Web is that people anywhere in the whole "World" thing can read this...)
Which brings us to the show. And one thing that became immensely clear is that although Microsoft wasn't here as an official exhibitor, Windows 8 nonetheless was a major presence. A lot of companies are making a significant push with Windows 8 tablets, all which were "convertible," made with detachable keyboards - some included, others optional. The tablets are small and light with good specs, but also a USB port thereby allowing you to attach, among other things (importantly), a printer. I can't judge Windows 8, of course, and now is not the time for a long discussion of it - the very short version is that there will be two flavors of the operating system: 1) the Pro version is a dual system that works on both keyboard-only desktops and notebooks, as well as touch tablets, and lets users install any regular Windows program, and 2) the RT version is solely for touch-based tablets, though significantly it also comes with Microsoft Office installed, making RT-tablets more than just communications and entertainment devices, but also "productivity-based."
IFA Berlin was the first time that RT-tablets have been seen hands-on by the public, and at first glance they were impressive. Windows 8 isn't the dark morass that some have tried to paint it. There's a learning curve, but it runs very fast and sleek, and a lot of it is intuitive. Certainly there are issues, but that's for the future to discover. What's not uncertain is that manufacturers are clearly making a massive push with the tablets. (RT-based tablets and Pro devices will both be released October on October 26.) Without seeing and knowing more, Both versions of Windows 8 tablets look striking - small, light, well-designed and productive with keyboards to run either some (or in the case of Pro, all) regular Windows programs, and the ability to actually print directly.

The much-anticipated Microsoft Surface RT-tablet was not on display here, but many others were.
Dell has a new product that at first glance is a basic 12 inch "notebook," the XPS Duo 12, running the desktop Pro version of Window 8. But if you "flip" the screen, and fold it down, it turns into a tablet. Though it's definitely bigger and thicker than the iPad or Android tablets, it was surprisingly quite thin, regardless. But then, it's not just a tablet when closed, it's an actual, full-featured notebook running regular Windows 8.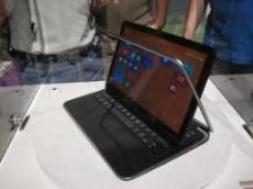 Dell also will be releasing the XPS 10, which is a pure 10" tablet running Windows-RT. It comes with a detachable keyboard that easily slides into a slot on the tablet. The keyboard doubles as a cover. The company states it will have a long, 20-hour battery life.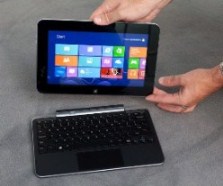 Similar to this was the Samsung RT tablet, although its keyboard was optional. But it works the same: the standalone tablet slide into a slot on the keyboard, making it a "convertible." However, it also comes with their S-pen for more accurate maneuvering through the system.
Toshiba has a slight twist on the aforementioned Dell XPS Duo, with their Satellite U920T convertible. This, too, runs on the full-featured Windows 8 Pro operating system, so you can run any Windows program on it. And looks like a regular ultralight notebook, with a 12" touch-screen and a 128 GB SSD internal drive (though a larger drive is available). But - if you slide the screen down, it becomes a Windows touch tablet. It's bigger than an iPad, but is surprisingly thin, and weighs in at about three pounds. And ultimately, it's a "real" full-fledged computer, as well as a tablet.
Most companies were not giving prices yet on their devices, all waiting to see what Microsoft sells its Surface tablet for, but Toshiba is the exception. It said that it will sell the base configuration 920T in Europe for 950 Euros. No word on what it will sell for in the U.S., but that comes to around $1,200.
Along with like-convertibles from Lenovo (which introduced an especially-thin Windows 8 Pro ultrabook, the Thinkpad X1 Carbon), Asus, Acer and other companies, if the Windows software lives up to the hardware, which remains an "if," it could be notable change for the tablet market, and an issue particularly for Android. It's a big question, of course, although the tablet RT version appears to have fewer questions about the learning curve compared to Windows Pro.
Tablets aside, there were a couple of computer-related products that caught my eye.
One, from Yifgang Digital addresses an issue for people who want the touch-capabilities of Windows 8, but don't have a desktop or laptop with a touch screen. The Smart Touch 8 is a device that clips on the side of a monitor and has a cord that plugs into a USB port - your monitor is then converted into a touch screen, which you can access with a Smart Pen. The company says that the product will be sold in the U.S. by Targus.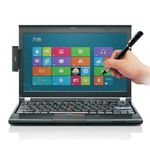 The other comes from Parallels. Simply put, you load their intriguing program on a Mac, and it will let you install Windows and run all Windows applications. But that doesn't do it justice. No reboot is required to switch between Mac and Windows operating systems - they run smoothly together, side-by-side. In fact, using Parallels, you can run Mountain Lion, Snow Leopard, Windows 7, even Windows 8 and more...all at the same time. All seamlessly. Further, you can move all your Windows applications and files onto a Mac. It's not a new product - they already have over 3 million users, but version 8 was introduced at the show (it was running Windows 8), and they additionally have some new features upcoming.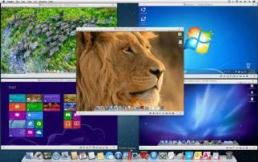 In addition to the computer universe of tablets and Windows 8, one of the biggest alternate universes at IFA was that of television. Sorry, Smart TVs. For decades television was known as the "boob tube" or the idiot box - now, however, it's apparently become intelligent. One thing it's most definitely become is massive. Long ago, I even gave up writing about televisions at trade shows. You walk into an exhibit of TVs, and it's terrifying, like having an ocean swallow you. Worse, the only way to distinguish between them is by using a language known to no human. ("The AR-1785U is brighter because our patented MaxiVu technology provides 1200 extra pixels with a compression rate of 85 MgHz from our VeriBrite overlay."). A single company may have 50 different models. The reality is that even the most moderate among them provides a very good picture these days.
But what defines the growing field is how TV and the Internet have now blended into one.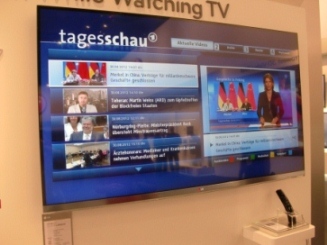 LG has a model that's Wi-Fi ready, allows for Video-on-Demand, social networking direct access, a Home Dashboard of options, Wi-Fi access to your iPhone or iPad, and the ability to access program services provided by broadcasters (like supplementary information related to what you're watching), plus news, weather, and on and on and on and on. Philips's own Smart TV did much of the same, as well as had an "auto-payment" feature for video-on-demand that simplifies the process. It's not that the TV and Internet have blended, but rather they've morphed into something richer and deeper.
So, you remember the Writers Guild strike four years ago which the studio and network conglomerates forced by offering, literally, "zero" for streaming and downloading and watching TV online...all because they said, gee, they didn't know if there was actually a future for making money in this new-fangled Internet thingee. I believe the proper response then and now is - Hahahahahahahahahahahahahahahaha!!!!! In just four years, look at what this overwhelming blended world has become. And you know that this kind of technology doesn't pop up overnight, let alone in four years, but takes a great many years far in advance to conceptualize, design, research, test and develop (Apple says it took three years just to make their new, simple, freaking earbuds!) - and all the while the companies were lying about it and claiming wide-eyed ignorance.
While the world of Smart TVs is so massive that it's easy to get lost in it and even have your soul gloss over - the innovation of 3D-TV remains fascinating because it a potential industry-changer.
Behemoths like Panasonic, Samsung, Sony, Toshiba, and LG and more are all heavily pushing 3D-TV. And have been pushing it hard for the past several years. It's everywhere at trade shows, and it's in your face (almost literally...)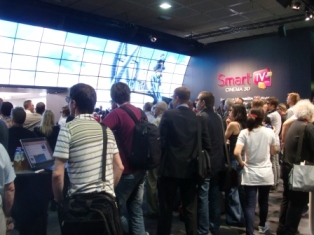 To begin with, 3D-TV looks absolutely terrific. The image is vibrant, crisp, rich - and deep with noticeable "pop." The technology works wonderfully. However, since I first saw it, I've had serious, practical questions about whether it will succeed, which I've discussed at length elsewhere. Because companies are making such a huge push for 3D-TV, maybe their forceful efforts will win the day, but over time I've spoken with other tech writers (far more techie than I am), and they agree with my perception. Where 3D-TV does have a future, I think, is on big home theater screens where interactive games are played, as well as more intimate computer monitors.
But there's an "on the other hand." It's 3D-TV without glasses.
One of my very favorite, little-known companies is Stream TV Networks, which has developed a technology called Ultra-D. I came across them two years ago by accident, when they were promoting tablets at CES. But even then, they were already making 3D-TV without glasses that actually worked. Their technology got seriously better last year - striking quality that could be viewed from a wide range around a room...and could convert normal 2D-TV broadcasts into 3D - in realtime, as you watch, with little degradation of quality. To be clear, no glassless 3D can come close to 3D with glasses, but Ultra-D does a terrific job...and can even let you adjust how much 3D quality you want (- more "pop" is less crisp, less "pop" is more clear). The company is additionally announcing two things. The first is that they can convert HD resolution into usable 4K, which is a potential standard of unprecedented high quality, with 4-times greater resolution. And the second is that they finally have licensed their Ultra-D technology to two partner companies: Pegatron (which makes devices for third-party companies, like the iPhone) and Hisense, which is a massive Chinese company that's making an entry into the U.S. market.
No other glassless 3D TV I've seen comes anywhere close. Toshiba introduced a model (the 55ZL2, if I can read my notes correctly...), but although the picture was crisp, the 3D quality was just fair, plus it employs a user sensor which greatly limits the viewing range, and it's quite expensive.
(This would be a good point to offer a bathroom break. We're a bit past the halfway point, so you might want to stretch a bit, or perhaps take a nap. Back again? Okay, let's go on...)
Also on the TV spectrum, but at the complete opposite end are a couple of innovative products from a European company, Elgato. Though they have a presence in the U.S., the company was showing some interesting "mobile TV" devices that aren't yet available here, though the first may arrive next year. Mobile TV is a growing protocol that, at present, only has limited stations accessible in the U.S. The EyeTV Mobile plugs into an iPhone or iPad, and will let you watch mobile TV with a downloadable app and a Wi-Fi or 3G connection. The Tivizen TV Tuner is a standalone device, that creates a hot spot you connect to like any Wi-Fi network, and becomes a portable mobile TV receiver. It will stream to an iPhone, iPod, Android or PC, connected with an app. Currently, it's for the international market only.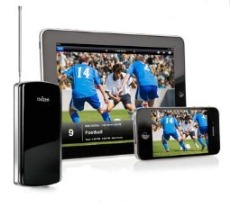 Speaking of Apple, they had a small presence at IFA (amidst those waiting for the iPhone 5...), but it was a very basic accessory that was eye-catching.
Lifeproof makes some remarkable cases for protecting the iPhone 4, 4S, 5 and iPad. (iPod touches are upcoming.) Built to military specifications for drop proof, this is one of the few products I've seen that appears to live up to that claim. An iPad was dropped from 4 feet, and kept on working. (A protected iPhone is rated for 6-1/2 feet.) The case adds a little thickness, but is basically unobtrusive. Plus, it's waterproof down to 6 feet. Their additional accessory, called the "Lifeproof Lifejacket," is definitely bulky - it's only something you'd use if you needed serious protection depending on your work or travel conditions. But boy, does it protect. An iPhone was flung high up in the air, and fell 15-feet. Mind you, I can do that, too, with my handheld - though it would crash into little pieces. This kept right on running. And if it falls in water, it would float. Actually, that doesn't do it justice - using both the Lifeproof case and Lifejacket, they are rated crash-proof if dropped from a 5-story building.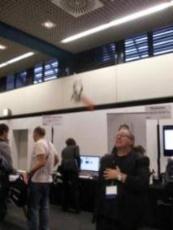 Another product, Wrapsol, also deals with protecting your handheld device, though in an even simpler way (just a film over the screen), yet it's equally impressive. Testing it is nothing I'd want to try on my own handheld - or even that of my worst enemy, but a video on their website shows the remarkable level of protection.
With the mass of technology overflowing at IFA, it's to be expected that companies are looking for a way to make everything work together. The Homeplug Alliance is an international consortium hoping to set a standard for the future. The technology uses a home's electrical wiring to create a network. In the simplest terms, rather than requiring Ethernet cables and routers throughout a house, certified devices would connect wirelessly when simply plugged into your home's electrical sockets. It's an adventurous undertaking, with worldwide sponsors such as Cisco, Qualcomm, Broadcom, and STMicroelectronics.

On a far simpler networking level, iConnect allows people to control their homes with an iPhone. Adapters are plugged into a house's sockets, and appliances are then plugged into the adapters. With a "gateway" and downloaded apps, you then have control over your appliances. At the moment, the product from the Dutch company eSaver is only available in Europe.

Even on the mobile level, there are some interesting options for connectivity. The Hyper iUSBport connects to any USB storage device (like an external hard drive or Flash drive) and makes the content available wirelessly on an any WiFi-enabled device (like an iPhone, tablet or notebook). You can stream movies, music, photos or documents to up to 8 different devices (just 3 devices for movies), and no Internet or computer is required.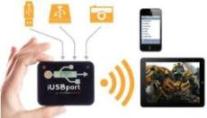 (The same company introduced an impressive portable charger, the HyperJuice2. It not only can power two iPads at the same time - but additionally a MacBook. It only will work with a MacBook, not other kinds of laptops.)
Okay, I admit it, I like portable chargers. I can't really explain it, but it has to do with how well and elegantly they're designed.
Some are as clean as the simple lines and extreme light weight of Mophie chargers, or the high usability (and light weight) of the Intenso Mobypack chargers that have connecting cords built-in. (Alas, they're only sold in Europe.)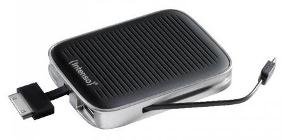 But then there are the unique, hybrid solar chargers from the Dutch company, A-Solar. (Hybrid in that they can charge by solar power or AC.) They don't have a distributor in the U.S., but are well-worth knowing about, to see where creativity can lead. I've tested some very good hybrid solar chargers in the past, and (without having tested these) what stood out was that creativity - and how light they were in comparison to other devices. The company has solar chargers that not only can charge handheld devices - but had interior compartments for charging batteries, as well. Their newest product, the AM-112 Platinum Plus, uses a "smart cell" that the company says will charge the battery more than twice as fast as normal solar cells. Another product, the Solar Power Dock, is a basic, electric charging dock for an iPhone/iPad - but you can remove the solar battery and take it with you on the road. The dock also has a USB port for charging other devices, and it will sync with iTunes. (I believe it will also clean windows and tune your car's engine, though I couldn't get the company to admit it.) A-Solar also makes a range of bags (backpacks, tablet cases and city bags) that have solar panels on the outside to charge your devices being carried inside.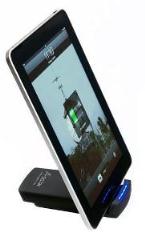 Speaking of solar and design, Eton always has an extensive line of interesting products. The FRX3
is a particularly well-crafted all-in-one unit, suited for emergencies or camping: an AM/FM/weather band radio with an LED flashlight and USB charger - powered not only by solar, but has a hand-generating crank (in case you don't even have the sun handy), as well as DC or even battery power. So, it's got pretty much all the bases covered. Oh, and it can glow in the dark...
Indeed, simplicity and elegance of design pops up throughout IFA, and is always a pleasure to find, even in the most basic of products. For instance, something as small as the lowly cable can stand out - specifically because when simplicity and elegance are combined with something one actually uses, it becomes as cool as the most whiz-bang tech innovation. That's why I admired Innergie's Magic Cable Trio. It was nothing more than a single cable that has three separate plugs (a USB-mini, USB-micro, and Apple connector) that snap into one another. (Note that the new iPhone 5 now uses a smaller connector, though Apple sells an adapter, so the Magic Cable will work with it.)

By the way, all tech shows have their oddities, and from the simplicity of a cable to outlandish design came one of the oddest at IFA. The Sonic Chair, gives new meaning to surround sound. They call it an "acoustic island." Basically it's speakers in a lounge chair. But what a chair. One model even has an iPad built-in. Admittedly, this is likely intended more for business use (and is also available for rental), rather than most people's home, at least until the cost drops, since the price tag is a tad hefty, at $13,000.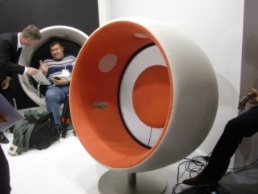 Amid all the high tech folderol swarming around I would be remiss if I overlooked the lowly, albeit beloved pen.
The aforementioned company, Yifang Digital makes a wide range of interesting Smart Pen products, which let you handwrite notes, drawings or whatever you want, which then get saved and converted to digital for later use on your computer. Their products, however, don't appear to be available in the U.S at this time.
Taking a different tact, but in the same digital handwriting universe, is the Boogie Board Rip from Improv Electronics. It's basic, like a digital version of the old Magic Slate you might have had as a kid - but this lets you write up to 200 quick handwritten notes (such as grocery lists) which it will save as pdf files. You can also send them to Evernote or as Email.
Pens and handwriting I can deal with. Earlier, though, I mentioned that TVs were a technology at trade shows that swarm a person with an avalanche of products, most of high quality, so massively so that I tend to rush past the exhibits and hope I survive. There are two other fields for which I feel the same - phones and cameras. However, two did manage to grab attention, both from Samsung.
(Don't worry, we're nearing the end...)
Samsung's Galaxy Note II is the latest incarnation of the company's part-Smart phone, part-tablet. It's bigger than most phones, though fits reasonably comfortably in the hand. And though the screen is significantly smaller than any tablet, it's usably quite large. Among the new features are improved multi-tasking even when watching a video, faster quad-core processor chip which was very responsive, the ability to move a Picture-in-Picture around the screen easily, and an enhanced S-pen for better control. Also, the new Air View lets you scroll through a video while hovering the "S-Pen" over the device, letting you search for specific scenes. It's due out this month.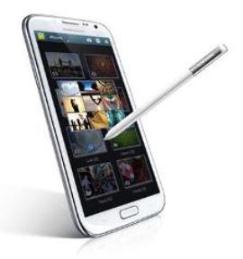 Additionally, the company's Galaxy Camera goes in its own new direction, sort of merging a quality camera with an Android tablet. (It's more like the screen of a Smartphone, but calling it that might give the impression that you can make calls from the camera, which you can't - though there is 3G/4G and WiFi connectivity, along with Skype capability.) With a large 4.8" Super Clear touch back-display, there are numerous apps and a browser. Whether anyone would actually want to use this like a tablet is unlikely (even with it including games, like Angry Birds). However, what all this is mainly intended for is easy in-camera editing and a better ability to manage your photos and get them off the camera onto Facebook, Instagram, Twitter, the Cloud and email, without having to sync your camera to a computer. No release date was announced at the show.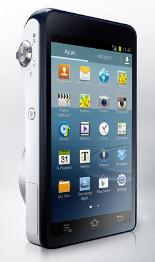 Which brings us to the home stretch.
As mentioned, IFA Berlin has more of a focus on home appliances than CES. Caffitaly System showed you how to make "Perfect coffee." Philips introduced a Smart Vacuum and outerspace-like iron, Samsung explained that they had developed not just a wondrous washing machine, but "A Revolution in Washing." And Ford Motor Company will be delivering its voice-activated Sync system in England next year, basically an operating system for the car developed with Microsoft.
But even something as simple as a house fan could leap out. Alas, it's not for sale in the U.S., because I'd have bought one on the spot. The Japanese company Balmuda demonstrated their
"natural breeze" GreenFan 2. I can't tell you why it works (it has something to do with dual layer blades and air diffusion over a flat surface...), but it delivered the coolest and quietest air I've ever come across. I stood in front of it so long that I think other show visitors thought I was part of the exhibit.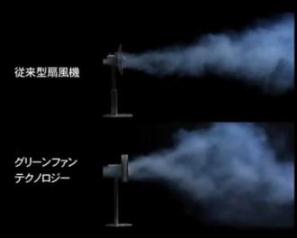 How far has technology gone in the home? Another on our list of oddities is Koubachi's Plant Sensor. Stick a sensor in your plant's pot and follow its "full care support" needs on your computer or iPhone with an app - measuring moisture, light, temperature and much more. Yes, it might seem a bit much for some, but then I'm sure there are plenty of people like me who has been known to kill a cactus. (No, I'm not joking.) Or for whom home gardening is a near-religion.
Finally - one of the intriguing home products I saw was Philips's HomeCooker, from their Jamie Oliver-designed line. (He did a cooking demo at the press conference. When the mic didn't work right away, he noted that it wasn't made by Philips...) What the Home Cooker is...well, think of a food processer for the stovetop. It's an all-in-one device that will steam food, boil, fry and blend. You don't actually use it on a stovetop - it's electric, of course, and includes a timer and can also be used as a slow cooker. There's even an optional, food-processor-like chopping attachment that can help you become a "Chef of the Future," not unlike the classic Jackie Gleason sketch on "The Honeymooners."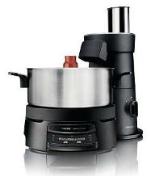 And then...and then - well, that's just a small part of IFA. The show continued to overflow with 27 maniacal exhibit halls, 1,400 exhibitors, 228,000 visitors, unrelenting noise, crushing elbows, pounding music, an ever-growing wave of product upon more product, and total immersive sensory overload...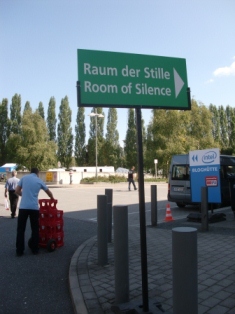 "The Writers Workbench" appears monthly on the website for the Writers Guild of America. To see this entire column, with complete product graphics and additional "TWW Notes," please click here