Yes, it's that time again, when I review (sorry, I mean when I am lucky enough to review) portable chargers. Okay, yes, I know I reviewed portable chargers back in May - but those were specifically solar chargers, a unique category unto themselves. And when given the opportunity to review more portable chargers, a category I love for reasons inexplicable to Man, I'll jump at it. The best explanation I can come up with is that I find their multi-tasking design in such a compact package a joy to behold. And that's largely what I'm focusing on this month. Rather than just another long article on portable chargers, I figured that since this is my second charger column this year, I'd take a look instead at just a few devices that really are trying to create something quite different.
Cobra JumPack
Naztech Power Bank with Qi Wireless
Braven BRV-Bank
Mophie Powerstation Plus
Practical Power Pronto5
TYLT FLYP-DUO
TYLT Y-CHARGE [QUIK]
As I've readily acknowledged, I have the odd appreciation of portable charging. I find the devices are so often well-designed for multi-purpose use, and the Cobra JumPack is an ideal example of that. At first glance, it's nothing more than a solid, 7500 mAh portable charger, a bit heftier than most at 10.5 ounces, and good for about five charges of a mobile phone. But that's not the story - it's that the device can be used to jump start your car battery, in an emergency.
No, really. It comes with a pair of jumper cables.
While not providing the power of a major charger, those tend to be very big, very bulky and have to be kept in your car's trunk. This JumPack, though, can be kept in your glove compartment. (It's only about 5x3x1".) And if it starts your car, who cares if it doesn't provide enough juice to start a bus? Further, it can also be used to charge your mobile phone or tablet, since it charges with 2.1 amps, not just the 1 amp that's most common for portable chargers which only have enough power for mobile phones. And it also has a built-in LED flashlight (hold the on button for three seconds), which offers three levels, including a strobe and SOS on-off flash.
You can charge the JumPack with either the included wall charger that has a proprietary connection, or with an included 12V cigarette lighter adapter, which is very convenient. However, I'm not a fan of proprietary connectors. If you lose their charger, you're out of luck. I much prefer devices that use a micro-USB plug.
The JumPack is very similar to device, the JUMPR, which I reviewed last year from a startup company, Junopower. The JUMPR is a bit thinner and lighter, and costs $30 less, though it doesn't have the SOS and strobe features, just a standard flashlight. And the JUMPR also uses a preferable micro-USB connector for recharging. (This is a growing field. A company called Weego has a similar device, too, though I haven't tested it yet -- they're upgrading it and that new version has been pushed back until next year.)
At the time of writing, the Cobra JumPack retails for $129. It's the kind of very significant device that, I think, can be a real life saver (almost literally) and kept so conveniently in your glove compartment - let alone carried around for regular charging. That said, I prefer the Junopower JUMPR, not just for the size and cost, but mainly because it uses a standard micro-USB plug. However, Cobra is a major company and might be easier to find the JumPack, which is still an extremely nice device on its own.
NAZTECH POWER BANK with QI WIRELESS
As I noted above, my odd love of portable chargers tends to be based on how functionally they seem to be designed. A new one from Nazetch fits in well with this concept, too. It has Qi wireless charging built in. (Qi - pronounced "chi" - is the growing standard for wireless charging, and when done well, I've grown to like it quite a lot.)
One of the things that has been essential to me for a good charger is to have built-in cables, no longer having to rely on the bother of carrying around cords. The Naztech Power Bank ratchets this up by not even requiring the simplicity of built-in cables - you simply hold your Qi-enabled device up to the charger, and it will charge. (There also are two USB ports, so you can charge additional devices with it, albeit with cables.)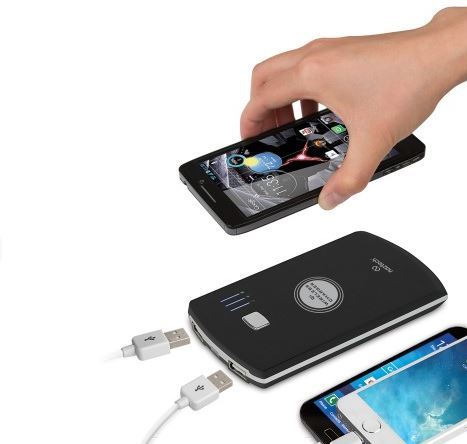 It's great in theory and works okay in practice, and is fairly light. The problems are that 1) it's only 2800 mAh, which is fine, though just slightly under two charges, 2) there are smaller devices with more power, and 3) I don't think cordless Qi works as well in a portable charger as a corded one does. Qi wireless charging seems better for a "stable" environment, like having the charger sitting on your desk or on a living room table, since there is a "charging point" the phone has to be aligned with. On the other hand, if you want to talk on your phone while charging wirelessly with this Naztech, you have to hold it very carefully or else it can slide around and off the charging point. With a portable charger that has a built-in cord (like those from TYLT and myCharge), it's really just as convenient, and will always stay connected while talking. However, the Naztech Power Bank with Qi Wireless is an admirable effort that works reasonably well (occasionally I had a little difficulty matching up with the wireless Qi spot), and also has the added benefit of being able to use it as a standalone Qi wireless charger that you can also leave on a tabletop. Or use with a separate cord. It's just not my choice, unless I was specifically looking for a portable wireless charger, of which there aren't many. At the time of writing, it retails for $60, but could be found for $55.
In most ways, the Braven BRV-BANK is a fascinating device. While I love the multifunction capabilities of chargers, there still tend to be limitations on what those innovations will be, because ultimately you're still just creating a power bank. But among other things, the BRV-BANK does something rare: it impressively creates new features for a basic product where innovation is a driving force. In many ways, the BRV-BANK does most everything well. It's an extremely well-constructed unit that's designed with great creativity. So much great thought went into this. In fact, for all the wonderful features, I only have one quibble - but it's a huge one. I'll get to it later. First, all the many things it does well.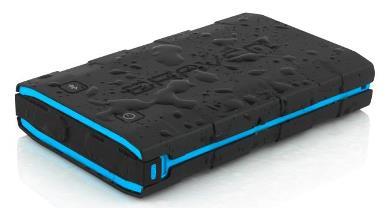 The BRV-BANK is the first-ever Bluetooth-enabled power bank. And it is incredibly rugged, with a water resistant, impact-protective rubber exterior (fully covered against dust) - even the included charging cable is made to be sturdy, being especially thick and with sealed ends.
All of that is uncommon for a portable charger, but it's the other innovations that are unique. It comes with an inventive flashlight attachment, a high-pitched alarm to ward off bears (really!), and a Find-Me feature if you misplace the device, and 6000 mAh of power (enough to charge a mobile phone four times, or even a tablet. (One USB port is 1 amp, the other is 2.4 amps, which allows for charging tablets which are more power-hungry.)
The aforementioned Bluetooth feature uses a downloaded app which allows you to control and check on aspects of the device. For instance, you can activate either of the two charging ports, or see how much power is left in either of them. An SOS button will initiate Morse code (!) with the included flashlight attachment. It's here too that you find "Bear Mode," which emits a loud sound if moved, and activate the Find Me feature.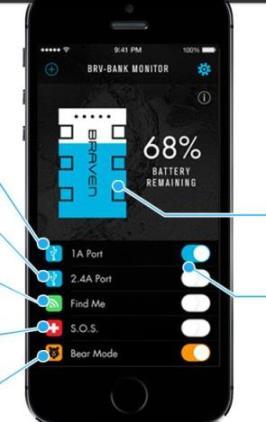 It's all incredibly well-built and thoughtfully designed, and the most emergency-oriented power bank I've come across, with features I've never seen.
The one quibble is I'm not quite sure who this is meant for.
To be clear, if you've been reading this and are thrilled that it fits your needs, then you don't have to read any further. The retail cost at the time of writing is $100 (oddly it's more on Amazon).
It's not really for basic home use, since the ruggedness and Morse code and other emergency features aren't needed there. It's not really for normal day use or even regular travel, since marauding bears and SOS aren't general requirements. Further, I've never yet dropped a portable charger and had one break. (It could happen, I'm just saying it's not a major concern for power banks.)
Clearly, the main intent is the wilderness market, and it has some great features for that. Yet even there, I have questions. When backpacking, light weight is of primary concern, but this is a hefty 10 ounces. Also, though 6,000 mAh is a lot of power for home use, if you're in the backwoods for a couple of weeks, that charge could be gone fast. Far better to get a lightweight solar charger. Could Bear Mode and Morse Code come in handy? Sure, but I'd think if you're someone whose camping needs are so deep as to make such things important, you probably have covered yourself with that long before getting a charger. The one feature that I do find especially valuable for wilderness use is that it's waterproof and protects against dirt.
I want to be clear: the Braven BRV-BANK is a beautifully made power bank and incredibly thoughtful, filled with fascinating features, and designed for emergency use. But I find many of the features more impressive-sounding than useful for most people, even for outdoor camping. But if after reading what it has to offer you do have a need for these unique features - and I don't remotely discount that (particularly the waterproofing)-- then happily it's here for you.
In most ways, the Mophie is a standard portable charger, without special features like the others reviewed here. But what separates the Powerstation Plus from most basic chargers is its design, always a strong point for the style-minded company.
Each model comes with a built-in standard USB plug, as well as either a built-in micro-USB plug or Apple Lightning plus. What makes the design so sleek is that the unit has a flip-up aluminum cover that completely hides the cords, along with an aluminum plate on the bottom.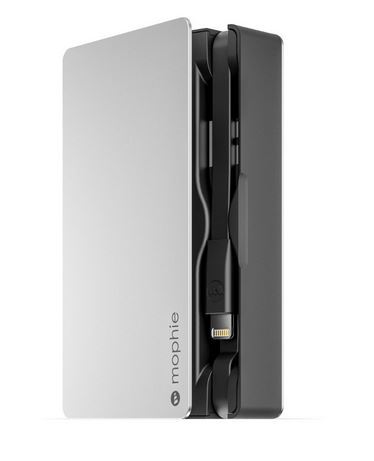 It looks extremely stylish and if that's important to you, the Mophie is worth considering. My issue is that it adds a bit of weight, compared to other competing devices. Not a lot of weight, but since the point of portable chargers is the ease of carrying them around in a pocket or purse, it works against that.
Style also adds a bit to the price. The Powerstation Plus comes in four models, from 3,000 milli-amps (the one tested here), which provides almost 2 full charges of a Smartphone, up to 12,000 mAh. The physical size of each, of course, differs, but they all very-reasonably small - the tested 2X is about have the size of a pack of cigarettes. Each model, though, was more expensive than several very good, comparable portable chargers from competing companies. At the time of writing, for instance, this Mophie 2X model (with 3,000 mAH) retailed for $80, and could be found online for $50. However, the similar and excellent (and lighter) TYLT Energi 3K retails at $60 and was available online for $33. And myCharge's terrific, light Talk & Charge, which carries more power with 4,000 mAh, retails for $70 and sells online at $28. Again, to be clear, the Mophie looks great, and is a very good charger, so style might be the feature that pushes it to the front of the line for some, who also like that the built-in cables are hidden away.
Practical Power is a very interesting, extremely creative company that focuses on uncommon portable power options. They're best-known for their PowerPot, which got them on "Shark Tank," and a partner in Mark Cuban, a campground cooking pot that generates electricity when boiling water from which you can charge portable devices. Their latest product, which should be on the market by the time you read this, or soon, is the Pronto 5 - a unique charger with a fascinating concept. My only question is if the concept (which works well) matches need.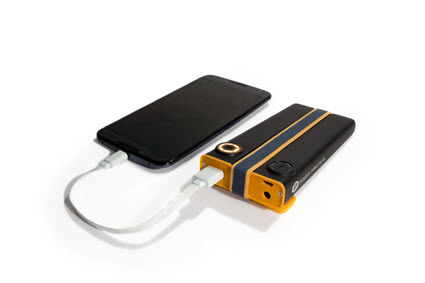 The concept is that there are people who tend to forget to charge their portable charger before leaving home and either have to go out chargerless, or wait around for several hours. The Pronto5 will charge fully in only an hour - but far more importantly, in only about 15 minutes it will charge enough to hold a single charge for a mobile phone. So, if you're in a rush, but can spare 15 minutes while washing up in the morning, or are between flights at the airport, you can at least have power for a single recharge of your mobile phone. (When fully-charged, which takes only an hour, it will hold 4,500 mAh, enough power for three mobile phone recharges. The Pronto5 is also powerful enough to also charge a tablet or digital camera.)
Keep in mind that the fast-charge feature is for charging the device itself only. Charging your phone will take about the same amount of time, perhaps a bit faster. This isn't a negative, just a clarification.

The Pronto5 works, and it works quite well. But -
The 7" long Pronto5 is bigger and much heavier than other comparable chargers, at 8 ounces. (The myCharge Talk 'n Charge is just four ounces, half the thickness and shorter.) And while you can charge the device with any microUSB cable, if you want to get the special fast-charge speed, you need to use the bulky proprietary charger. That's fine if you keep it at home or drop it in your travel luggage, but it's not something you'll like carry around with you on your daily rounds. (In fairness, that's not the intent of the fast-charge feature.) Also, there are no built-in charging cords, something I find helpful and getting more prevalent these days - you have to carry your own cords.
Moreover, I'm not sure how significant a problem it is for most people that their charger is out of power in the morning. It's more an issue between flights, though - but that means you have to remember to carry the bulky charger with you in your carry-on luggage.
To be clear, the Pronto5 is a wonderfully designed and very solidly-built device. There are two clear displays for charging status, and a protective cover with a hold-on strap. It has a unique, impressive fast-charge feature which works as promised. And if you're someone who often does find yourself without enough power in your portable charger in the morning or you travel a lot and are regularly in need of quick charging, the Pronto5 will likely be a godsend. And make no mistake, this is no small thing. For most others, though, I think there are better, smaller, well-designed, less-expensive alternatives.
At the time of writing, it will retail for $80. It might be able to be found for less online once it hits the market. The company also will be releasing the larger Pronto12, with 13,500 mAh, enough for about eight charges of a mobile phone.
As long as we're dealing with charging this month, it seems as good a place as any to quickly mention a couple of new products that are sort of related from the excellent TYLT company. A while back, I wrote about their Syncable-Duo, a convenient charging/sync cable and has both an Apple Lightning and micro-USB plug that snap into one another. They just made it even more convenient with the FLYP-DUO. At first glance, it looks exactly the same - but there's one big difference: the USB plug at the other end is now "reversible." What this means is that you can plug it into any USB port from either direction. There's no "right" side, so you can't jam it in incorrectly and break it. Very nice. Since it retails at the same $25-30 price (depending on length, 1 or 3.3 feet) as its predecessor, this is the one to get if you're looking for a well-built cord like this that serves double-duty.
The other product from TYLT is their new Y-CHARGE [QUIK]. This is a basic car charger that you plug into your cigarette lighter - but since you might have a menagerie of people in your car with devices to charge, this is split and looks like a "Y", so you can charge two phones or tablets at the same time. The 4.8 Amp charger (2.4 Amp per port, enough for tablets) also uses smart technology that can charge up to 75% faster. It retails for $39. By the way, if you have an Apple and an Android/Microsoft device, you could charge both in your car with the Y-CHARGE paired with the above FLYP-DUO.
*
"The Writers Workbench" appears monthly on the website for the Writers Guild of America. To see this entire column, with complete product graphics and additional "TWW Notes," please click here
*
To read more from Robert J. Elisberg about this or many other matters both large and tidbit small, see Elisberg Industries.