Many years ago, I got what, at the time, I thought was an amazingly cool product. It was a portable speaker so small I could carry it in my pocket, not much bigger than my thumb. And it was cool, though I didn't use it much. That's because the sound quality was, how shall I put it?, lacking. Thin, tinny and as loud as a whisper. It worked, and for the time was quite special, but it just didn't work even remotely well.
Times have changed. Now, portable speakers offer impressive quality. The devices are bigger -- easy to carry in a briefcase, purse or suitcase -- but still highly portable, and with rich, vibrant sound. But there is also a range of speakers that are almost as small as those old tinny speakers (stick in your pocket small, and some even thumb-small again), but with sound quality that's actually listenable, and beyond. Not hi-fidelity level, and nothing to impress an audiophile, but... real speaker quality.
This month, we look at the smallest of the world of portable speakers, and try to see what the trade-offs are among them.
Matrix Audio Qube²
X-Mini Kai 2
X-Mini We
iFrogz Tadpole
Bonus: myCharge Talk and Charge
Though the Qube² isn't the smallest of the Matrix line - that honor goes to the standard Qube - it may be the most interesting. That's because it's still extremely small, yet is a stereo speaker. Know that with something this small, audio "separation" is more theoretical than real, but it nonetheless allows for a particularly rich, clear sound.

There are two 3-watt speakers which are not just crisp, but provide impressively loud sound. The audio is standout -- clear, without much distortion, though it's mostly mid-range, without much to offer on the deep bass and high treble ends. Sound is a touch thin, but still quite good for something this tiny. Also, the unit is Bluetooth enabled - that degrades sounds a bit (on any Bluetooth speaker), but of course helps in portability with a range of around 30 feet. A short cable is provided to connect the speaker to your music player, if you'd prefer slightly improved sound. (The cable is shorter than ideal, though a) that makes things more portable, and b) it's easy to find a longer micro-USB cable, in fact most people probably have a spare one around the house.)
The Qube² is beautifully made and solidly constructed. It's 3.5x1.5x1.5 - tiny enough to stick in your pocket (which is impressive for a "stereo" device), though it's solid construction does add to the weight, so it comes in at 6.5 ounces, slightly heavier than might be comfortable in your pocket. It's rated to provide up to 8 hour, and comes with a carrying pouch. My only quibble is that there is no volume control on the speaker, which would be better for a Bluetooth speaker that's intended to be carried around separate from the music player. At the time of writer, it retails for $80, but could be found for $60.
X-Mini has long been one of my favorite portable speaker companies, since I discovered them by accident several years ago at CES, when they were starting out and only had one product to their name. They've since expanded greatly, and subsequently have more competition, though they're probably the most innovative such-company around. Their latest is the Kai 2 speaker, which expands on their introduction of ceramic drivers, this time for their Kai line, which includes a Bluetooth connection and a noise cancellation microphone for making phone calls.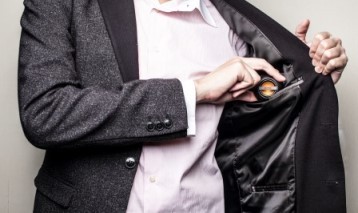 The speaker is about half the size between a golf ball and tennis ball. It would fit in your pants pocket, though would be tight. But it's an easy fit for a jacket pocket. It's very light, however, just four ounces. The Kai 2 is 2" tall with a 2.5" diameter when closed. To use it, you twist the unit with expands it aby another half inch or so and lets the sound come through richer.
With the ceramic drivers that the Kai 2 uses, a cleaner sound is possible. The sound is extremely clear and crisp, perhaps a touch more than the Qube². It sits in mid-range, also without deep bass or high treble. The volume is good, with an output of 2.5 watts, though not nearly as loud as the earlier Kai and the Qube².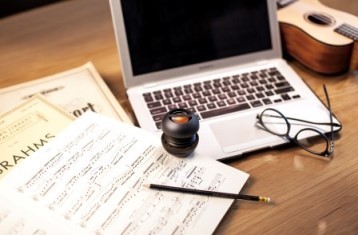 Beyond the size, sound quality (more on that in a moment) and noise cancellation mic, the Kai 2 can also impressively serve as a wireless dongle. What this means is you can plug the Kai 2 into your home stereo, for example, and turn that into a wireless device, streaming the audio from your music player from up to about 30 feet away.
One other thing I especially like about the Kai 2, similar to many X-Mini products -- it has a built-in connector plug. As noted, using Bluetooth degrades sound a bit. So, if you want the best sound, you need a cable. With the Kai 2, there's no need to carry a spare one around. Also, there is a volume control on the device, along with a controller for jumping through music selections. Battery life is rated at a strong 18 hours, though just 10 hours when using Bluetooth.
Surprisingly, there's no carrying sack, which all previous X-Mini products have had. It's not critical, but good the connector cable which is used for charging the speaker. At the time of writing, the Kai 2 retails for $60.
As I noted above, X-Mini has been a leader in innovation of small, portable speakers. And their new "We" speaker is a perfect case in point. Indeed, it's one of the poster children for this article, especially tiny speakers. It's almost literally the size of your thumb - I say "almost" because some of you might have a particularly tiny thumb. And unlike once-upon-a-time, you don't get something useless just because it's so small -- the sound for a speaker this tiny is impressive. And definitively listenable.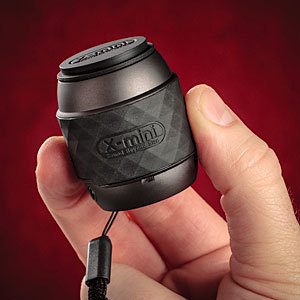 X-Mini has a similar item, the "Me." The different is that that requires a cable attachment to your music player. The "We," however, can be played with a Bluetooth connection (as well as using a cable for better sound.) Bluetooth playback is 4-5 hours with a wireless range of around 30 feet.
The output is only 1.5 watts, but this is so small you shouldn't expect more. And while the sound isn't booming loud, it has good volume and is clear and crisp. There's not a lot of bass, but does okay with treble. Obviously this isn't for audiophiles. It's a speaker the size of your thumb, for goodness sake! But to get sound this listenable in something this minuscule is seriously impressive. It's not just that you could stick it in your pocket, it's so small and under 2 ounces you could forget it's in there. It comes with a lanyard for wearing around your neck.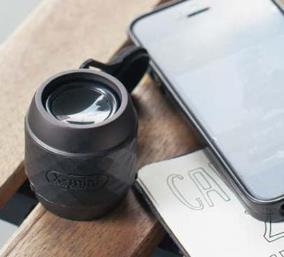 The "We" retails for $40 at the time of writing, but could be found for $29. The aforementioned "Me" - which is not Bluetooth" - is $25.
When it comes to usable tiny speakers, which ultimately is the very point here, the iFrogz Tadpole wins on size, hands down. This is so small that you could put it on your keychain and almost not know it was there. To be sure, the sound is thin, but it's not tinny. There's very little bass and mediocre treble, but it's remarkably loud, and shockingly is thoroughly listenable. This isn't intended as an audio experience, but as something that will allow you to have a speaker that is portable in the truest sense of the word, always have with you. You won't be happy listening to it for an extended period of time (though you could do so), but for a song or three it actually and seriously works.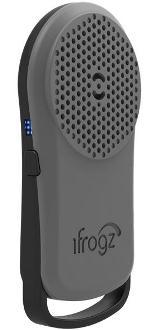 There's no cable line connection available here or earphone jack, it's Bluetooth only. The rechargeable battery is rated to last only 2-3 hours, though as I said it's best for short playback anywhere. And it only as a 1 watt output, but it's easily loud enough for playing to a group nearby. The Tadpole is laughably just .7 ounces - so when I say you can carry it on your keychain (2"x1.5"x.5"), I mean it. It also comes with a carabiner clip.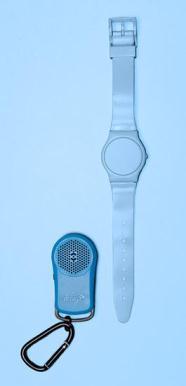 At the time of writing, it retails $20, but could be found for $14. Given how small the X-Mini We is, its sound quality is solidly better than the Tadpole for extended play, making it preferable for my taste in the ultra-small category. But if you want something that's so miniscule you not only can but would carry it everywhere, and provide you a real, usable speaker -- and for such a low price -- the Tadpole is well-worth considering.
BONUS: myCHARGE TALK and CHARGE
Okay, admittedly, even a cursory glance makes clear that this is not a portable speaker. However, I recently did a review of portable chargers, and another one crossed my desk right after the fact, and it was so good that I wanted to mention it -- the myCharge Talk & Charge. It's a remarkably thin and light device, about the size of an iPhone, designed specifically for easy charging while you're using your phone. (Though of course you can use it for any charging.) Lay the phone on the charger, plug in the built-in cord, and you're set to talk and...well, charge. The company makes two devices -- one with a micro-USB plug and the other with an Apple Lightning plug. Both retail for $60 at the time of writing. The micro-USB model has 4,000 mAh battery, good for over two full charges, the Lightning unit is 3,000 mAh, I can't stress enough how thin and light this is, a terrific charger.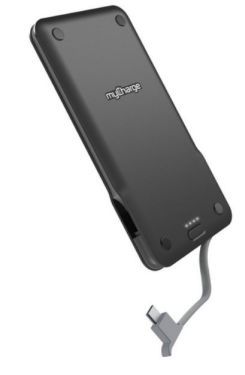 "The Writers Workbench" appears monthly on the website for the Writers Guild of America. To see this entire column, with complete product graphics and additional "TWW Notes," please click here.
______________
To read more from Robert J. Elisberg about this or many other matters both large and tidbit small, see Elisberg Industries.