After a tremendous, word-of-mouth build-up, the Fire Island Pines Arts Project produced the first ever Frank O'Hara Fire Island Poetry Festival on Saturday, July 12 featuring fifteen poets and artists, including Paul Muldoon, the Pulitzer Prize-winning Irish literary star, Eileen Myles, a rock star of a poet, and the great Edmund White, the most beloved and popular gay male literary writer alive today.
With nearly 300 people jammed into the Pines' Whyte Hall, many of them kids in their twenties who had reverentially trekked out from Manhattan, like hungry fans going to a rock concert, just for the day, the event celebrated the legacy and the incendiary poems of Frank O'Hara, now one of the most revered American poets of the twentieth century and a growing cultural icon, who tragically died on this narrow barrier reef island forty-eight years ago in July of 1966. For their journey on this beautifully clear but sweltering Saturday afternoon, they were not disappointed, treated to over a dozen readings of vintage O'Hara poems, as well as new poems written by the likes of Saeed Jones, author of Prelude to Bruise and the editor of Buzzfeed LGBT, Dorothea Lasky, whose flat-out outrageous recitation of her new poem, "Porn," from her forthcoming book, ROME, sparked a rousing ovation, and moderator, Adam Fitzgerald, regarded as one of the most acclaimed young poets on the new New York scene.
For me, the festival also triggered a flood of memories that I thought had been buried with my youth. As a twenty-five year-old not so young man, I fell in love with Edmund White, now a robust 73, while reading his 1980 documentary work, States of Desire, which detailed White's sensational account of his personal, sexual escapades and his unforgettable immersion in the pre-AIDS, gay scenes of late 1970s urban America. His travails, trials, tribulations and prolific tricking mirrored my own; his explicit professorial approbation of this lifestyle validated my own.
Eager to celebrate the occasion in the spirit it was created, my husband Georgij, and I, along with our two American Bullies, hosted a couple of young writers, Zachary Pace, a participating poet, and his boyfriend, Eric Dean Wilson, for the entire weekend of the Festival in proper Pines style. On Sunday morning we served these two dudes coffee in bed.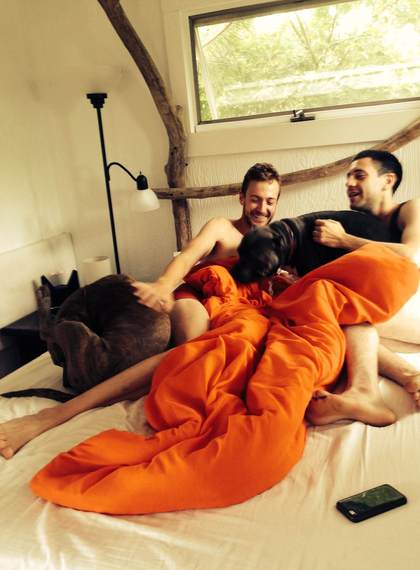 Photo attribution: Robert Feldman
I felt I was getting a bird's eye of the literary process when Zach related to me how Edmund had written his highly erotic but moving gay '60s novel, Jack Holmes and His Friend, first published in 2012, in longhand on paper, and had dictated it to Zach, who then typed and created an electronic version of the manuscript. Subsequently Michael Carroll, Edmund's long-time partner, reviewed Zach's work to insure its accuracy.
Meeting my same-sex literary love mentor Edmund White for the first time in the flesh in the Pines at a pre-festival cocktail party was transcendental. Literally, it blew my mind. Our conversations included a discussion of White's novel, The Married Man, one of the most profound works of gay fiction I have ever read. As I suspected, Austin Smith, the protagonist of this 2000 novel, was indeed, Ed related, highly autobiographical. Edmund furthermore confirmed that virtually every essential detail of the defiled but truly loving relationship between a Frenchman and his American-born lover, then living in Paris, was gospel truth down to his lover's horrific death at a clinic in Morocco.
I still cannot believe that White, a hero to so many thousands of readers, was so incredibly disarming and charming. But in addition to spending time with White, the best part for me about the Poetry Festival was the gathering of so many highly acclaimed creative artists, gay, lesbian and straight poets - from the very old (Kirby Congdon, an 88 year-old read a poem about a "Discus Thrower") to the very young, up-and-coming poets barely in their mid-twenties of every background - who chose to celebrate the excitement of poetry in the most beautiful island in the world, our collective gay Fire Island Pines home.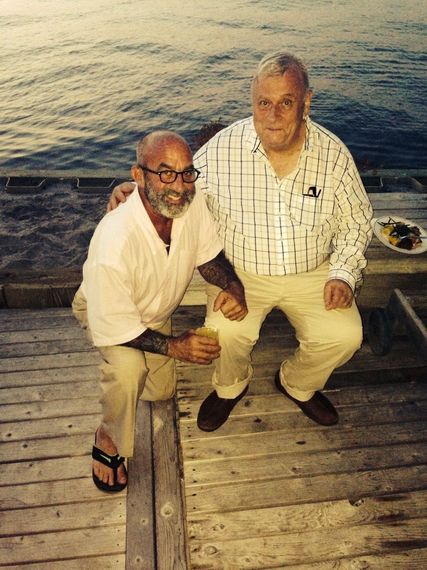 Photo attribution: Georgij Nikonov
"I'd rather come back with a few transcendent memories than an album of snapshots." -- Edmund White from Jack Holmes and His Friend.