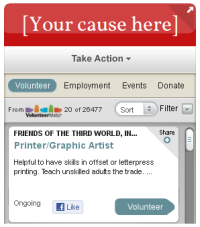 Cause-related marketing has been around for some time now, but that does not mean it is a well-oiled machine yet. Consider the following three scenarios in one cause engagement example:
Ainesh, communications manager at the nonprofit LitKids, is in charge of promoting programs that recruit college students to help at-risk kids with education and literacy. They have a large Facebook audience, but she struggles to keep the page updated with volunteer listings, job postings and literacy-related news amid her other priorities.
Joanne, a college student, used to volunteer for LitKids as a freshman and sophomore but now she's turning all her attention to graduating. Still, she wants to share the work of the organization with her group of 800 friends on Facebook.
Margarita, the owner of a growing flower shop, wants to give back. Recalling her own struggles as a kid and the tutors she met through LitKids, she'd like to find a way to encourage her Facebook fans, her customer base, and even her suppliers and corporate clients to get involved at LitKids.
We have three people, each with a stake in an organization and each struggling with the same problem: It takes time and skills to engage people in giving back.
Applying Technology to Solve Real Problems

One of our partners recently launched a national program that addresses all of these dilemmas, and I'm sharing it here as an example of one of the most promising new directions in cause-related marketing I've seen recently.
The new program, called &you, was developed by Johnson & Johnson. It provides an easy solution for Ainesh, Joanne and Margarita: They can each go online, fill out a quick form and get a free widget that's easy to place on any website, Facebook page or blog. The widget displays different ways to give time or money to LitKids, plus any open job listings and even some news about literacy for at-risk youth. And any of the more than 1.4 million nonprofits across the U.S. can use this tool to engage supporters.
This is applied technology at its best -- solving technical problems for organizations that are making a difference in our communities. Just as a rising tide raises all boats, so too can the entire nonprofit sector take advantage of this investment in infrastructure to build capacity and get more work done.
Cause-Related Marketing That's Agnostic About Causes?
Yes, and it's about time. &you is powered by Johnson & Johnson in partnership with VolunteerMatch, Idealist, GuideStar, Network for Good, and Do Something. These five platform partners are all leaders in helping broad audiences of U.S. nonprofits engage supporters. The idea is that by aggregating all this information and organizations, &you reduces administrative work for NGOs and expands their capability to connect with more people.
By building systems that support the work of all of America's 1.4 million nonprofits, Johnson & Johnson is providing much broader pathways for deeper engagement in a number of ways:
More ways to engage online -- Nonprofits can use technology to engage supporters on a whole continuum of actions, ranging from light and easy things (like sharing a news story or donating a few dollars) to deep engagement (such as volunteering your skills or even taking a job at a nonprofit).
A marketplace approach based on personal passions -- Individuals love to exercise personal choice, especially when supporting causes. By providing customizable tools, each person can add a personal touch to their support for a cause -- therefore offering them a stake in the company's cause effort.
A bigger audience -- Platform-based cause-related programs like &you can channel everyone's desire to make a difference, regardless of what issue or cause resonates most with them.
These benefits are powerful for cash-strapped nonprofits. Most cause-related marketing programs come and go within a couple of years as priorities, budgets and trends shift. But when a company builds out a cause program that empowers nonprofits to help themselves -- that's a program that can stick it out for the long haul.
I see this as one of the next phases in cause-related marketing, as companies look beyond transactional partnerships with specific organizations and instead align their brands with capacity building for all nonprofits -- i.e., the entire sector of social change.
What do you think are the big trends ahead for cause-related marketing when it comes to volunteering? I'd love to hear your thoughts.