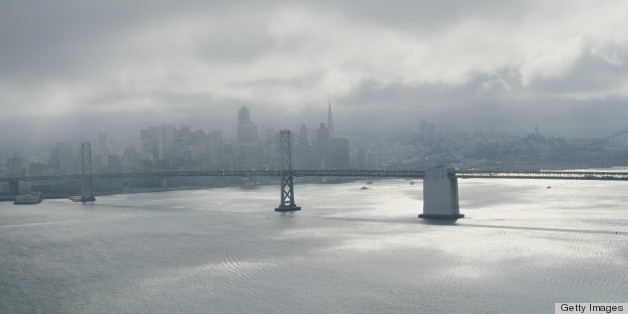 On my last morning in San Francisco, I'm brunching with an old friend at Chez Maman on Potrero Hill. We have not seen each other in years. A middle-aged couple sits next to us at one of the tiny restaurant's two outdoor tables. Just before the couple departs, the woman quotes her own indignant reply to her employer, "I'm not a junior programmer." The rest of their conversation is lost on me. As soon as they leave, a couple waiting patiently on the sidewalk takes their place.
The new arrivals reek of first date. She is a rather unattractive, peculiarly horsey Asian woman, and he is a tall, impossibly gorgeous Aussie hunk. He has sleep in his eyes, bed hair and a skin-tight cotton T-shirt over jeans. As they peruse the menu, he asks his date questions about what the French words on the menu mean, and she interprets for him. Otherwise, she has no apparent conversational skills. He punts and fumbles, then resigns himself to observations about weather. He seems dim but malleable. No matter. With that face and body, he will not be required to have a single original thought for at least a dozen years.
San Francisco was home for most of my adult life, but when I left in 2005, I was no longer enchanted with the place. I realize now how much it has changed since I first moved there in 1974. The Genentech patent attorney who purchased my last home just sold it for $2.3 million; one-bedroom apartments now rent for $3,000 per month. In 2013 San Francisco speaks Google and Twitter. People once moved to San Francisco to have a life, or to party; now they move here to have a career. The San Francisco I fell in love with was a place of welcoming bonhomie and a sense of community. It was politically correct before the concept of political correctness existed. Now the cool, gray city of love is undeniably cold. It has become a hard place.
The ever-present homeless are ignored, and median incomes skew toward the upper end of upper middle class. Young, smart, confident techies, as brittle as an iPhone, constitute San Francisco's new ruling class; they are the robber barons of ingenuity. They invent devices and programs; they think about things people have not thought about before and bring them to life. It is a seductive proposition, but not as interesting from the outside looking in. As they stroll through streets I once haunted, their young faces are strangely banal. They have dogs and babies; they sip coffee in cafés; they drive nice cars. Often, with an implied sense of moral superiority, they bicycle to work. Their faces are not nearly as interesting as those of the wizened residents who languish at bus stops clutching MUNI Fast Passes. Although tattered and round at heel, those faces have stories to tell.
As tables turn at Chez Maman, my friend and I talk of art, movies, investments and foreign travel. We spend some time talking about my last book, and even more time talking about Golden Gays, the Canadian reality show I appear in, which was filmed on location in Palm Springs. But most of our time is spent sharing the life lessons we have learned in the decades since we last sat opposite each other at a restaurant. Relatively seamlessly, we have picked up where we left off. I am lucky to have friends here who have known me for over 25 years. On this particularly sunny afternoon a cool breeze floats softly over the hill, lifting the paper napkin from my lap and tossing it onto the sidewalk.
On this, my first San Francisco visit in three years, I discover that I still know how to navigate my way around the city without a GPS. I know where to find free parking, and from 31 years of practice, I understand what streets to avoid. But I am not prepared for the epidemic of potholes. The western end of town remains a gloomy fog belt; Golden Gate Park still radiates a forlorn charm; and the Castro is dingy and uninviting. Haight Street is cleaner than I recall, now crammed with vintage clothing stores retailing period articles at contemporary prices. A few would-be hippies skateboard down the street, seemingly unaware they are a half-century too late and employing the wrong mode of transportation.
But everywhere there is the beauty of architecture perched on hills strung together by an evolving demographic. The city's neighborhoods are peculiar to each other in every sense -- specific unto themselves. San Francisco is a city that still seduces. It casts a spell. Some surrender to its lure, as I once did, and find it impossible to move on. They mainline. Some people will die there; others will extract themselves. In either case, they are soon replaced. Yet the spirit of the place remains curiously inviolate. It morphs to accommodate the zeitgeist but does not change its essential nature: that of alma mater. San Francisco ultimately shapes the consciousness of its inhabitants as much as it yields to them. And in that sense it will always be with me.