Co-authored by Ret. Brigadier General Nolen Bivens, U.S. Army
It was supposed to be the war to end all wars. In the early 20th century, World War I ravaged the globe, resulting in more than 37 million casualties. It remains the fifth-deadliest conflict in world history. But it didn't end warfare. Since World War I concluded, the United States has been involved in more than 25 conflicts, sending throngs of American men and women to the battlefield. Millions of these brave service members did not return from the front. Millions more, however, did.
Today, there are more than 22 million veterans in America, and since the end of World War I, our nation has paused every November 11 to honor the sacrifices our veterans have made to ensure the continued safety and security of our nation and our freedom. And the arts have been there after every conflict not only to comfort and commemorate our returning service members, but also to help them reintegrate into civilian life and cope with the aftereffects of their service throughout their lifetime.
Since 2001, more than 2 million service members have returned home from the wars in Iraq and Afghanistan. The nature of these conflicts is unprecedented in the history of America's all-volunteer force. Over the course of these wars, America's military service men and women have endured extended and multiple deployments, exposure to nontraditional combat and shortened time at home between deployments. The number of service members returning home who suffer from both physical and psychological traumas, including post-traumatic stress, loss of a limb, brain injuries and depression, has dramatically increased. The lives of their families and caregivers, in turn, are forever changed by the reality of a lifetime now committed to supporting their loved ones through the healing process.
Medical treatment alone cannot resolve these challenges. As such, the arts increasingly play a crucial role in helping our nation's injured service men and women and their families to not only rehabilitate, but also to flourish. Why? The arts help people to express themselves, and the ability to communicate and share their experiences is a critical factor in the successful transition of service members and veterans into civilian life. Studies reveal that service members and veterans who have opportunities to share their stories cope better with the most serious effects of today's conflicts, including post-traumatic stress, traumatic brain injury and major depression. Arts engagement reduces depression and anxiety and improves sleep behavior, impulse control and concentration.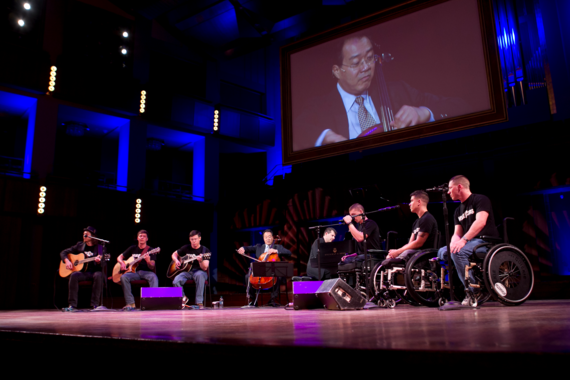 Musicorps performs with Yo-Yo Ma at The Nancy Hanks Lecture in April, 2013.
The wounded service members from Musicorps based at Walter Reed National Military Medical Center who performed and sang with Yo-Yo Ma at The Americans for the Arts Nancy Hanks Lecture on Arts & Public Policy this past spring embodied the value of the arts in healing in a stunning performance. In addition to Musicorps, extensive and highly successful arts-based therapeutic and treatment programs exist at Walter Reed and other outstanding military treatment facilities across the country; moreover, creative arts therapists are working in all artistic disciplines to use the power of the arts in veterans' hospitals and community facilities. Yet, the reality is that our troops spend a fraction of time at these facilities before returning home to a lifetime of healing and, for some, ongoing care. Thankfully, when these service members return home to their communities, the arts are there to greet and serve them.
Arts groups across the country and throughout a wide artistic spectrum are answering the call to serve our military, veterans and their families. From groups such as Combat Paper and the Veterans Writing Project, which employ visual arts and creative writing to help our service members and veterans deal with the aftermath of combat, to A Backpack Journalist, LLC, which uses writing, photojournalism and digital media to help military kids learn creative ways of expressing themselves to others, to projects such as Blue Star Museums and Arts in the Armed Forces that open the doors of cultural institutions and performances for thousands of military families across the country, while simultaneously building bridges of understanding between military and civilian communities. The overwhelming positive response to these programs on the local level highlights the deep need for these kinds of resources to be broadly accessible and supported nationwide.
Recognizing that the present moment offers an unparalleled opportunity to incorporate the arts into the military standard of care, Americans for the Arts and Walter Reed National Military Medical Center launched the
in 2012 in partnership with a
of military, civilian and nonprofit agencies. Since the launch, more than 500 thought leaders, practitioners, and decision-makers from the military, government, corporations, foundations and nonprofits have gathered to create an action plan for advancing the arts in health, healing and healthcare for military service members, veterans, their families and caregivers. The result is the new report,
. It outlines a three-prong strategy for reaching the Initiative's goal:
Research--Support a broad research agenda to increase information about the benefits of arts and health programming in the military and establish a central depository to house research findings and encourage access.
Practice--Provide a primary resource center where arts, health and military practitioners alike can learn about available programs across the country and identify potential partners with whom they can collaborate and offer the training and demonstrate the program models that enable these groups to successfully work together for the benefit of all our troops, their families and their caregivers.
Policy--Develop policies to ensure that every service member, veteran and family member has access to the arts by encouraging strategic partnerships and collaborative work between the military and government agencies, private sector partners, and community organizations.
When effectively employed in communities, the arts offer lifelong opportunities for service members, veterans and their families not only to address, but also to transcend the traumatic experience. Today, on Veterans Day, of all days, it is imperative that we ramp up our efforts to extend access to arts resources and therapies throughout the military life cycle and ensure that they are available in the communities our veterans call home.
Today, we remember those who are part of our history and those who are presently serving to protect our future. The members of our all-volunteer armed forces serve a cause greater than themselves -- protecting their fellow citizens and giving them opportunity for greater security and prosperity. And, for that we are eternally grateful to them and their families.