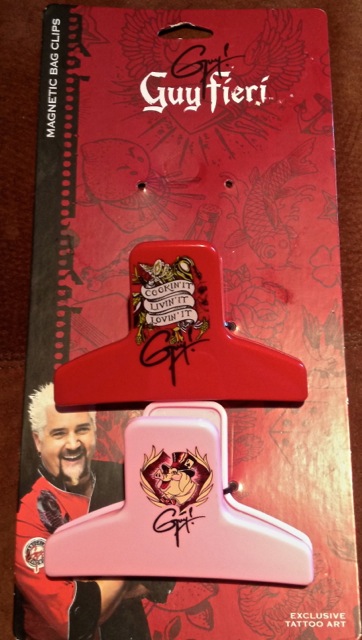 GUY FIERI, have you really designed each piece in your Out of Bounds products collection with "real deal quality and performance that delivers?" Are you really "stoked to share the same tools of the trade" that you use in your house and your restaurant?" Do you actually use your Magnetic Bag Clips at the now infamous Guy's American Kitchen & Bar? Do they live up to your expectations?
And were they really "exclusively crafted" to your specifications as you claim in your promotional video?
Did panic grip your soul as you stared into the whirling hypno-wheel of "culinary/lifestyle products that are full of both function and style?"
When you saw the Exclusive Tattoo Art imprinted on your multicolored, plastic Magnetic Bag Clips, did your mind touch the void for a minute? And can it really be that "all the clips have assorted tattoo patterns drawn by your personal tattoo artist?"
Were you struck by how very far from home your product was produced? Are you aware of the working conditions in the Chinese factory in which they were made? Is it possible that your Magnetic Bag Clips were actually produced by child labor?
Did you discern any potential for danger that these clips might cause if they got into the wrong hands? Had you considered for even a moment that they could be used as pretty nasty nipple clips?
Did you even write that copy on the package that has your signature assigned to it? If so, what exactly about your Magnetic Bag Clips makes them (a) "rock" (b) "look cool" (c) "feel great in your hands" or (d) "makes cookin' up real deal meals even easier", in any meaningful sense?
Has anyone ever mentioned that your bear no resemblance at all to Emily Dickinson?
When you have a second, Mr. Fieri, would you see what happened to the missing third clip that was supposed to have come on the package?
Who decided on the color scheme of the clips that glow like nuclear waste? Is the entire package just a very cheap piece of conceptual art? And why does the pink one taste like fish? Is this how you roll in Flavor Town?
Hey, are you concerned that the egregious discounting of your Magnetic Bag Clips at Home Goods might harm the Guy Fieri brand image? What is going on at that online shop of yours, really?
Tell me, though, how much would you like to clip a pair of these things onto Pete Wells's testicles?
Thanks.
Guy Fieri's Magnetic Bag Clips
Meh
AVAILABLE Here
ATMOSPHERE Fine, if you like red, gray and pink
SERVICE One clip missing
SOUND LEVEL Loud clipping sound
RECOMMENDED For bags of Doritos, potato chips, but not nipples
PRICES $7.95, but egregiously discounted at Home Goods
RESERVATIONS Made in China