I remember when I first wanted to get into television. I had absolutely no idea how to go about doing it. I quickly realized that just talking about my TV dreams wasn't enough to make it happen. After all, getting into television doesn't just materialize magically. As I'm sure you can imagine, it's a very competitive business. It's the type of field where people who are in it aren't always so willing to help future, potential competition get their first foot in the door. But for anyone who is considering the exciting world of television, they're in luck! TV veterans Amy Rosenblum and Jane Hanson have teamed up to create a media training and management company called The Media Masters.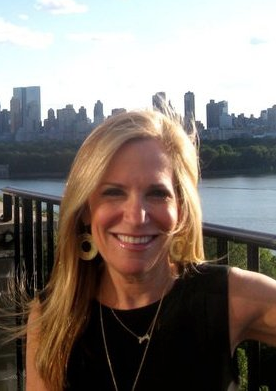 Amy Rosenblum
Amy Rosenblum, one half of the Media Masters team, is a skinny (hate her for that -- just kidding!), New York City, blonde ball of energy, who's very charming, but equally direct. She will tell it to you straight (for better or for worse), but that's what makes her so lovable. Her extensive work history in the TV business is beyond impressive. She was executive producer for The Sally Jessy Raphael Show, the executive producer for Maury, senior producer for Joan Rivers, as well as the senior producer for the 8-o'clock hour of The Today Show. In fact, Amy is the one who found and brought me over to Today.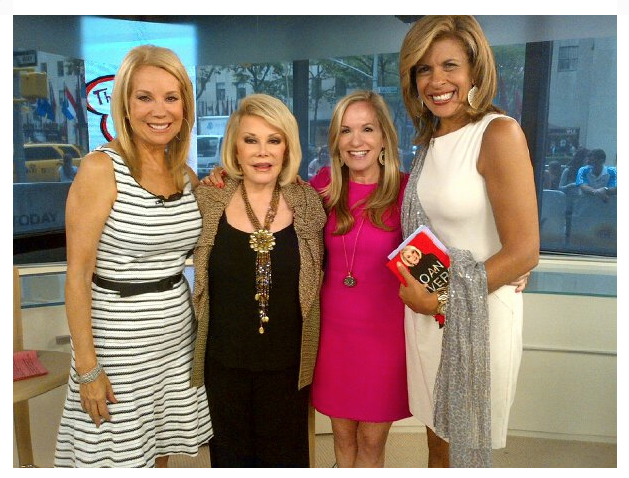 Kathie Lee Gifford, Joan Rivers, Amy Rosenblum and Hoda Kotb
She has an intuitive gift and knack for finding and nurturing talent. She also has a sixth sense for finding people who have that charismatic, star quality. She was the first one to figure out Hoda and Kathie Lee would make a great team for the 10-o'clock hour of The Today Show; and boy was she right! This successful match was completely her brilliant brainchild. "I just knew they would be great together, and the rest is history," she said. Amy's love for her work, plus her experience and passion for the business, makes her the ideal mentor for newbies and executives alike who want to make it in the challenging world of media. "I love the idea of managing people's careers. That's what I bring to this partnership." And when Amy gets her people on the air and they do well, she's like a proud mother bragging about a successful child.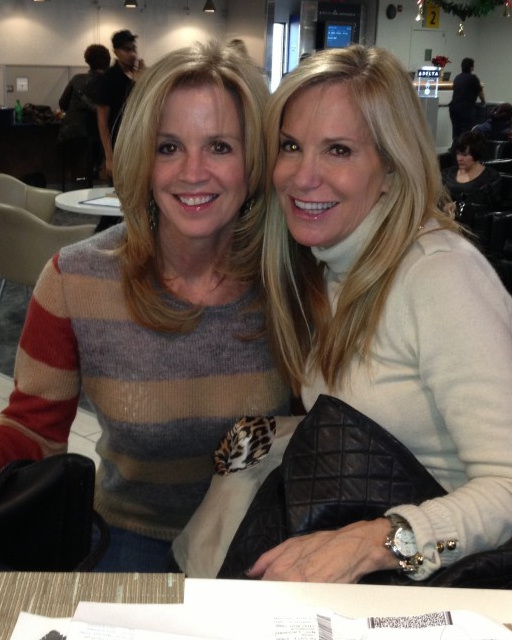 Jane Hanson and Amy Rosenblum
Jane Hanson is the other half of this power house team. She's an award winning TV journalist who has spent over 30 years in the broadcast field. You may also recognize her as the face of NBC news, as their anchor from 1988 to 2003. She also became the station's main anchor for the local news, while simultaneously hosting a program called, Jane's New York. It's Jane's job, for the Media Masters to train the clients to talk effortlessly yet powerfully in front of the camera. With her nurturing and supportive style, it's a job she clearly was born to do.
During our quick get together, at an Upper East Side, Madison Avenue diner, Amy talked about when she first met, Jane. "I always knew I wanted to be friends with her." Jane smiled modestly as Amy continued to go down memory lane. "Well, it's true. I use to call her every morning to find out what the ratings were for NBC, when I was the Executive Producer of The Sally Jessy Raphael Show." The feeling was clearly mutual. The two found a way to work together again when Amy was the Executive producer for LXTV, and she invited Jane to permanently co-host the show. Jane and Amy quickly realized they not only had a successful friendship, but the seedlings of a successful business partnership, too.
Since opening up the Media Masters, they have worked and trained everyone from CEOs of pharmaceutical companies, beauty brands and financial institutions to fashion designers, reality stars, people in the publishing business and people like me when I first started out, who just want to get into TV. Amy and Jane pride themselves on giving their clients individualized attention and helping them say what they need to say in a media savvy way.
When I spoke with them over lunch, it became really clear how invested they both were in their clients' success. They want their clients to have a victorious experience and to thrive. And if anyone can help people navigate through the tough world of TV, these two gals can! They have the experience, talent and connections to take those who dream of working in the media and turn those dreams into a tangible reality.