On a recent Sunday in The New York Times, I was quoted in an article written by Ruth La Ferla, about stylish women from ages 60 to 100. The article included photographs of 3 women who were pale, wore red lipstick, hats and bold accessories.
That brought to mind an article from O Magazine where Ellen Barkin lists 10 rules for life after 50. Ellen Barkin has always been one of my favorite actresses and I always thought of her as a pretty cool woman, so it was really surprising to read about her fashion don'ts after 50.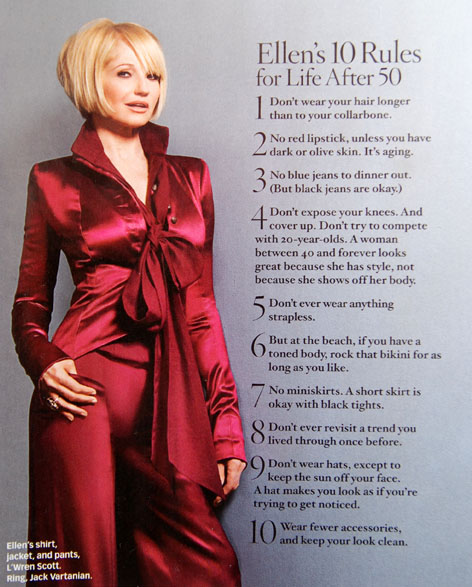 According to Ms. Barkin these women are over the expiration date of good taste. They managed to break at least four of her outdated rules simultaneously. At least they fared better than I ... out of her 10 rules; I have broken almost every one of them.
Personal style is a great form of self-expression and one doesn't need money to achieve one's goals. My favorite hobby is perusing flea markets and thrift shops. Shoppers beware; I once had to open an antique store just to clear out my apartment! Style is instinctual, not a set of rules.
When I worked in the fashion office of I. Magnin, in the 70's, I was lucky to work with visiting fashion editor, Mary Russell. Mary is the former fashion editor for Elle and Vogue and worked under Diana Vreeland at Vogue. Diana Vreeland was the most important style icon of our time and would have been horrified by the Barkin rules. She started her career as a fashion editor at Harpers Bazaar and then Vogue. Her most important and successful career change came at age 69 when she was hired to be the curator of the Costume Institute at the Metropolitan Museum.
In Lisa Immordino Vreeland's book, Diana Vreeland: The Eye Has to Travel, she describes Richard Avedon's eulogy at Ms. Vreeland's funeral: "Diana lived for imagination ruled by discipline and created a totally new profession. She invented the fashion editor. Before her, it was society ladies who put hats on other society ladies," he reportedly said. That is how it was at I. Magnin. Everyone who worked in the fashion office, except for me, was part of San Francisco's society. Mary Russell offers a great quote: "Women look best and feel best when their clothes are not the uniform of the moment but part of themselves." When I was working in fashion I paid attention to what was in and what was out. Now, I like being oblivious, it's liberating and creative. What dictates my purchases now comes from me.
Today, one great visual example of Mary's statement is Iris Apfel, 91, the face of Mac Cosmetics, often described as a "geriatric glamazon" and a self-described "geriatric starlet." Another rule breaker, Ms. Apfel has more one-liners than Henny Youngman, and a wardrobe rivaled by none, from which she generously donated 900 pieces to the Peabody Essex Museum. Watch and listen closely to this video from her exhibit a few years ago at the Museum. "It ain't what you do, but the way that you do it."- Iris Apfel
I was visiting my 87-year-old mother a few weeks ago, and she was rocking her newly grown-out white hair. "Your father wants me to grow my hair long," she told me. Great, I said, and asked her how she felt about that. She just looked at me and said incredulously, "I can't grow my hair long, I'm too old!" I looked at her and responded, "There is no such thing as too old."
60 is looking younger everyday. Ms. Barkin, rules are made to be broken.
EARLIER ON HUFF/POST50: 25 CELEBS WHO ARE AGING GRACEFULLY