Lemme tell y'all about real Southern Comfort. I grew up in Clemson, South Carolina. My town was like somethin' right outta a Pat Conroy novel -- we had Judge Keller's General Store (where Judge kept everyone's accounts in a handwritten ledger, and he knew everyone's size in denim overalls), I went to school with kids named Rhett, Scarlett and Melanie. Clemson had a couple a traffic lights and two movie theatres (that's pronounced theee ay toors). D.W. Daniel High School football games were every Friday night. On Saturday night's we'd cruise up and down Main Street, and the Clemson House Hotel was where you could go for Sunday dinner -- if ya'll behaved yourself, Come Spring, the prom was in the high school gym (complete with a paper maché Eiffel Tower).
Life was not just good, it was downright delightful.
At D.W. Daniel High school, there was a real special teacher, Mrs. Frye. Mrs. Frye was truly a pioneer among educators. Before it was Glee-fashionable, she wrestled football players into chorus, got the cheerleaders to paint scenery, and she convinced the hippies to put aside their macrame, and learn to shuffle/step/slide across a stage. Mrs. Frye was masterful at using the arts to help us discover what the rest of the lessons were really all about. History and literature came alive with The Importance of Being Ernest (and, if you haven't seen a production of Fiddler on the Roof Southern-style, then y'all are just missing out). Math, science and technology -- we discovered what it all meant by building sets, designing lighting grids, and wiring sound boards. Mrs. Frye taught us that in order to live life, one must experience art.
The Creative Coalition's new public service campaign, Live Life to Discover: Art for the Soul, encourages support for arts in public schools and arts in communities.
Participants in the PSA include actor and The Creative Coalition President Tim Daly ("Private Practice"), and actors Tracy Morgan ("30 Rock"), Kevin McHale ("Glee"), Josh Radnor ("How I Met Your Mother"), Patricia Arquette ("Medium"), Giancarlo Esposito ("Revolution"), Leslie David Baker ("The Office"), and Beth Behrs ("Two Broke Girls").
Live Life to Discover: Art for the Soul is produced with support from Renaissance Hotels, directed by Academy Award-nominee Stephen Kessler, edited by Zeke O'Donnell, and produced by Laura Relovsky and Leanne Diamond, with gracious support from Fluid (www.fluidny.com). Special thanks to Bob Fisher and Celsius Films.
Yes, ma'am, art makes it all a grand discovery. Thank you, thank you Mrs. Frye.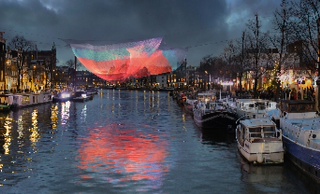 D.W. Daniel High School production of "Fiddler on the Roof" circa 1978. Author, as Golda, is sixth from the left. Photo Credit: Courtesy of Clair Gilliland