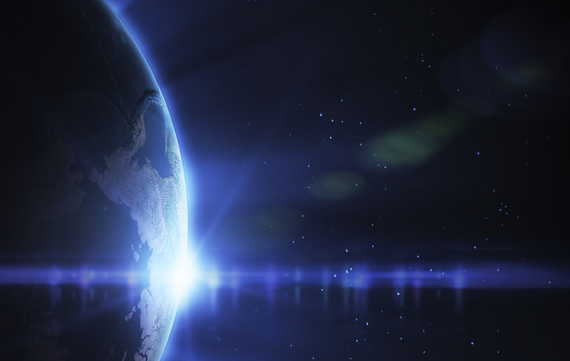 I am an honest and brave woman who writes about her life. I write about my feelings, experiences, insights and ideas with a purpose-filled courage and openness. I recently wrote a blog about an event in my life that was extraordinarily painful and very personal. In bringing this experience into words, I shared a deep hurt and, in doing so, I made a powerful claim of my body and spirit. On one level, the blog was about feeling rejected because of the age of my body. At a deeper level, it was about me stepping into the reality of my age and accepting the full wonder and gift that is my body -- these arms and legs, this torso and heart that have held my soul all the years I have been gifted to walk this planet.
I knew it was a good writing -- that it had heart and blood, that it was courageous, brutal and raw. I had grown in the writing of it and was hoping that my words might help just one other person see themselves clearly and love the true wonder of who they really are. And so, I posted the blog on The Huffington Post. The article went up online on Saturday, July 12, at 8:00 a.m. I shared it on my Facebook page as usual. Then it started. The responses began to flood in by the hundreds and then the thousands.
In sharing the heart-calling truth of how I felt as I stood soul-naked in front of a mirror -- in turning from profound hurt to self-owning and celebration -- something truly remarkable had happened. In seeing myself, I had held a mirror up for the world as well. I had touched a nerve at the heart of humanity. By Sunday, I was overwhelmed by the raw reaction: Emails from my website and Facebook page were pouring in faster than I could keep track. I attempted to participate in the online comments on HuffPost but stopped even trying to respond to the words of praise and protest at the bottom of my article. There were simply too many.
I had written my truth -- open, gutsy and real -- and it produced a tsunami of feedback. For many, my article was a clarion call for empowerment and brought approval, support, gratitude, and appreciation. For many others, it was a catalyst for expressing personal fear, sorrow, confusion or anger. I was hearing from men and women -- straight, gay, lesbian and transgender. I was hearing from husbands and wives. I was hearing from young people in their teens and older people in nursing homes. I received personal messages from 25-year-olds and 47-year-olds. My story was no longer my own. It had become the story of the human experience as it arced across cultures, generations and sexes -- from California to Cairo, from Thailand to Tennessee, from Serbia to New South Wales. To date, I believe the blog has been translated into more than 20 languages. I am still responding to the 7000+ personal replies.
It has taken me these past 12 days to begin to process what happened with "My Naked Truth." Reading and receiving the hearts and energies of thousands of people who sent their voices back to me has shown me there is a much deeper story than the one I thought I was telling. The deeper story was of me saying yes to myself as I anchored my power and my pride in the full-loving of my own body and heart.
The bigger story is that I shared my woundedness with the world and was heard and met. I told a story of hurt and healing -- of standing tall for every part of my being with grace, honesty, willingness, courage and ownership. My voice was honored and, in turn, honoring voices came soaring back to me. The honesty and love, the raw courage and outpouring of stories I have received, have arrowed my soul with awe, joy, gratitude and a profound love for the human community. My willingness to stand naked sparked a willingness for naked sharing to come back to me. Over and over again I heard the refrain, "I don't know how to love myself." As the words of so many thousands of courageous individuals poured in, I realized that in different ways, we are all wounded souls.
In telling my naked truth, I have opened a wider portal into my own soul. I have turned from judging others to learning and loving who I am -- all of me. I am a remarkable, beautiful and amazing creature -- I am a human being. My body is the delivery system of the outrageous joy and giftedness of my being alive. All that I am has been profoundly wounded by not understanding this.
In retrospect, I see that I have let others torque my soul and bow my spirit because I needed them to love me -- because I did not know how to love myself. Or, I have sought to control how others think, feel and behave, believing this was the way to make myself feel real, worthy and whole. In the past, I looked to others to heal me and now I realize that the healing has to begin within the inner reaches of my own being.
For me, the first step to begin to heal myself was to acknowledge that I was wounded -- and that being wounded is totally, totally okay.
Robin Korth enjoys interactions with her readers. Feel free to contact her at info@robininyourface.com or on Facebook.
To learn about her new book, "Soul on the Run," go to: www.SoulOnTheRun.com
You can also download her "Robin In Your Face" free daily motivational app by going to www.robininyourface.com/whats-new/
Earlier on Huff/Post50:
PHOTO GALLERY
5 Ways Post50s Can Improve Their Sex Life