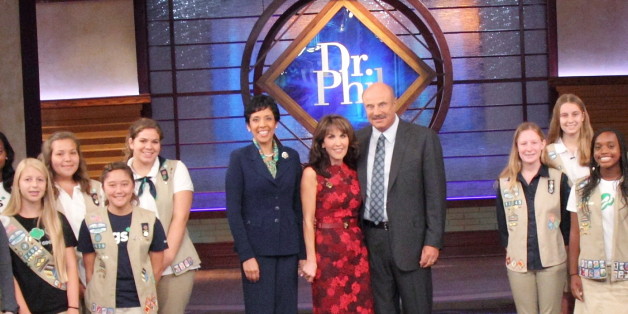 I truly believe I was put on this earth to be a mother. It's something I've known deep in my heart since I was a young girl growing up in Oklahoma with my three older siblings and twin brother. Our mother, Georgia, for whom I named my foundation (When Georgia Smiled), was a shining example of what it means to be a loving, comforting and supportive mom. Watching her strength and devotion to our family, I knew I wanted to be just like her.
I met Phillip when I was 19, and three years later when we walked down the aisle, I knew my dreams of motherhood would come true. Our son Jay was born three years into our marriage, and Jordan was born seven years after that, fulfilling my dreams. It has been the greatest joy in my life to raise these smart, creative and strong young men -- and to show them how to respect and honor the women in their lives.
Having the confidence to become a strong, independent woman was something I learned from my mother, as well as from my experience as a Girl Scout.
From the moment we were born, my twin brother, Roger, and I were basically inseparable. We were perfectly content to be each other's best friend, playing together and, basically, never leaving each other's side. So much so that our first grade teacher suggested to my mother that it might be a good idea for us to be signed up for some activities separate from each other. Upon receiving that suggestion, my mother thought of the perfect solution! She found the most loving Girl Scout troop for me and the perfect Boy Scout troop for my brother. We were very nervous to try something by ourselves but from that very first meeting, we knew we had found friends who would help us feel safe and make this new experience meaningful. What made it very special for me was that every time I was having fun at my meetings, I knew my brother was enjoying his meeting just as much. A real bonus: my mother still allowed him to "tag along" when I would go door to door to sell the cookies! I look back and know that my time as a Girl Scout gave me the confidence and character to discover new friendships and experiences.
The Girl Scouts has been instrumental in shaping thousands of girls into success stories. Did you know that almost every female astronaut was a Girl Scout? These role models show young girls how they, too, can become strong, independent thinkers. It's so important for girls and teens to develop the courage and self-esteem to know that they can accomplish anything they want in life, and I hope that through my continued work with Girl Scouts of the USA, we can help enable girls across the country to reach their full potential.
Today, I am thrilled and honored to announce that my work and devotion to the Girl Scouts will continue, as I have just been named National Celebrity Spokesperson for Girl Scouts of the USA! When Georgia Smiled will work alongside the Girl Scouts in many initiatives, including "ToGetHerThere", the largest fundraising drive Girl Scouts of the USA has ever launched, to help ensure that every girl across the country has the opportunity to join in the fun of Girl Scouts.
I'm hoping that you will join me in helping the 30,000 girls who want to join Girl Scouts of the USA but are wait-listed due to the lack of volunteers. If you believe in the unlimited potential of girls to change the world -- whether you're a man or a woman -- you can volunteer to be a leader, just like I did! To learn about the ways you can make a difference in a girl's life through Girl Scouts of the USA, visit: www.whengeorgiasmiled.org.
Let's empower our girls to dream big and help them live out what they think and believe, so that they, too, can inspire the next generation of women.