"Do you like the Stones?" Luke asked me as we headed over to the school where the meals are prepared and loaded into the vans and truck. I told him the truth, I'm not a Stones fan, but I can always sing along. Over the forward piano and the gospel harmonies we were quiet for a minute as we listened to Let it Loose. Luke let me know we'd be serving about 115 meals that day at seven sites including three subsidized housing complexes, a park, a weekly stay motel and two R.V. trailer parks.
I've come to Coos Bay to ride-along on a rural summer meals distribution route with Coos Bay School District. The school district received a $5000 grant from Partners for a Hunger-Free Oregon to expand access to summer meals. The school district used the award to help purchase a small panel truck so they could serve hot meals to the children who live in the pockets of the town where no school or park -- the traditional serving spots for the Summer Food Service Program --is within walking distance.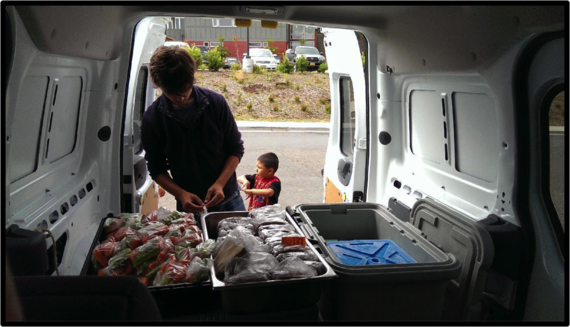 Luke whips around Coos Bay's corners like he was born driving this route. He's not from here. He says he is most recently from Worcester, Mass where her went to college. He's headed to grad school at the University of Chicago, a change, it seems, that can't come fast enough. Coos Bay isn't known for its bustling youth culture and nightlife, which must be a jarring for someone just out of university an hour outside of Boston.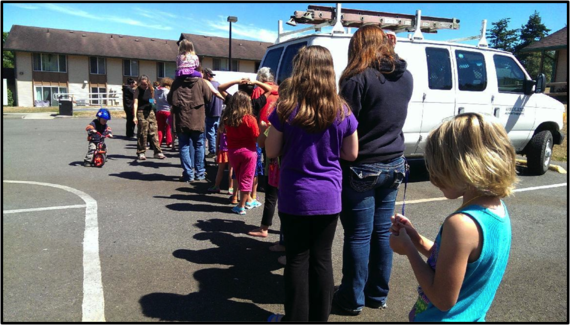 We arrived an apartment complex, on that breezy late morning there were 38 children and their caregivers are already lined up, waiting for lunch.
They know him by name, and he knows many of theirs, as well. He shared with me a little about what he knew. Who would still have food without the lunch, which would not. It's over a month into the program and everyone is familiar with the routine. The first kid in line is always asked to take the condiments: a bottle of ranch and mustard and mayo packets to the picnic table. They are always rewarded for their cooperation by being able to return to the front of the line.
He then reminded me of my job, which was to pull out the boxes of books to give away to kids at the sites. The children are excited to pull the crisp new books from the boxes and choose one to take home. For some children this takes what seems like ten minutes, others are very decisive and walk away with the first book they touch. Some parents chose books while their children were waiting in lunch line.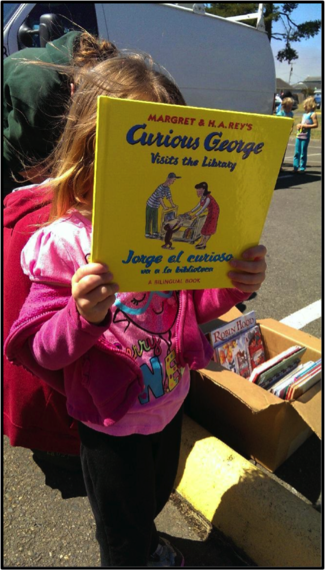 As this happened I took the opportunity to talk with participants. They accepted my presence because I was with Luke who is a trusted face, but they answered my questions efficiently. I found out that many families bring or send their kids to the lunch program every day. One parent shared that she wished the meal program were also on the weekends. "It would really help," she said.