As part of the kick-off for his new book Day of Doom (Scholastic), New York Times best selling author, David Baldacci introduced kids to the Smithsonian's National Museum of American History via a virtual field trip. The "Decoding History" virtual field trip.
In Baldacci's book, the latest in Scholastic's The 39 Clues: Cahills vs. Vespers series, features a museum curator as its main character and an item from the museum. The Lewis and Clark compass, plays a role in the story. The curator is based on the real life Nancy Gwinn, Director of the Smithsonian Institution's libraries.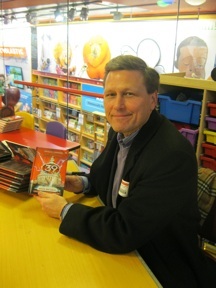 In addition viewers get a behind the scenes look at Abraham Lincoln's pocket watch and the Star-Spangled Banner. It is interesting to note that this very same pocket watch has been in the news recently due to it being featured in the film Lincoln. During the field trip, kids find out about the secret messages hidden inside the watch. When asked about his favorite item at the Smithsonian, Baldacci described how a curator showed him a gilded pole on which hung the the flag that General Cornwallis surrended at Yorktown. To his amazement he discovered that only 10 to 15 percent of the collection is actually on displayed and this item was stored away in a draw.
The 39 Clues series is multi-platformed. It combined books, collectible cards, and an online game. Book 6: Day of Doom by Baldacci is the concluding installment in The 39 Clues Cahills vs. Vespers series and was released on March 5, 2013. When asked about the possibility of a multi-platform book for one of his adult tiles, Baldacci answers below: