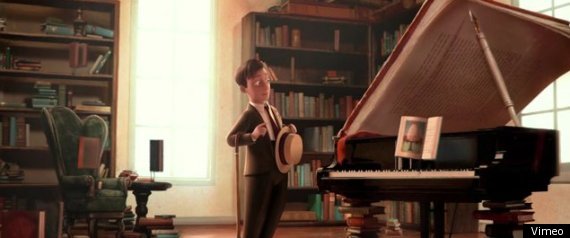 The Fantastic Flying Books of Mr. Morris Lessmore, an animated film by Moonbot Studios, is a love letter to books and its curative powers. In addition to books, the Louisiana-based children's author and filmmaker, William Joyce, was inspired by Hurricane Katrina, Buster Keaton and The Wizard of Oz when writing this film that was nominated for an Academy Award as an animated short. The awards will be presented on February 26th.
Morris Lessmore is also available as an iPad app. "A powerful example of what books can be in the age of the iPad," said Macworld when it was awarded Macworld's App Gem Award in December. They went on to say, "Each scene features some sort of reader-driven activity to draw you into the story." It is available from iTunes for $4.95.
Joyce dedicated the film to two people who devoted their lives to books, Bill Morris and Coleen Salley. Both are well-known names in the children's literature arena. Morris, who died in 2003, was vice president and director of library promotion at HarperCollins Children's Books. Upon his death an endowment was established at the American Library Association, funding programs, publications, events, and/or awards that would promote excellence in children's literature. In addition an award is given in his name to a debut author of an young adult novel.

Coleen Salley, a New Orleans icon who passed away in 2008, was a storyteller, children's author and a lifelong promoter of children's literacy. Sally was also queen of her own Mardi Gras krewe and has a bench with her statue dedicated to her memory in City Park in NOLA.
The Fantastic Flying Books of Mr. Morris Lessmore from Moonbot Studios on Vimeo.