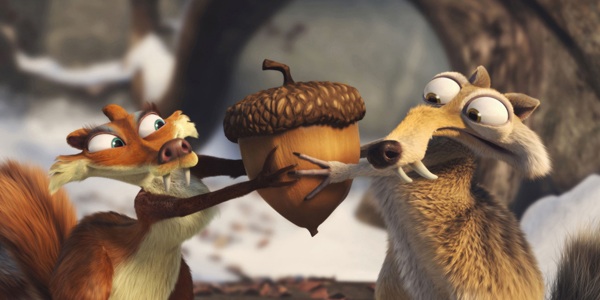 (Digital production still of Scrat and Scratte from Ice Age: Dawn of the Dinosaurs. TM & ©2009 Twentieth Century Fox Films Corporation. All rights reserved)
The Society of Illustrators which houses the Museum of American Illustration was recently named one of the five Hidden Gems in New York City by the New York Times Frugal Traveler Seth Kugel. I recently stopped at the society to check out its current exhibit, Ice Age to the Digital Age: The 3D Animation Art of Computer Animation. From now until May 5 visitors can get an inside look at the creative work of Blue Sky Studio, the creators of such films as the Ice Age series, Robots and Rio.
This free exhibit will take you through the entire process of creating computer animated films: from initial concepts, storyboards, characters and background art, to 3D and digital modeling. The exhibition features rarely seen original concept drawings, character illustrations, storyboards, background paintings, sculptural models, props and digital stills. During my visit I was able to meet with illustrator Peter deSeve, the lead character designer for the Ice Age series, and asked if he had a particular favorite character. Surprisingly, it wasn't Scrat but Sid, the Sloth, whose voice is portrayed in the film by John Leguizamo. When you begin the process "you can't predict what you get at the end. I was surprised with the character to the very end." Sid will reappear in the fourth installment of the Ice Age series, Continental Drift to be released this summer.
The Society of Illustrators is at 128 East 63rd Street, New York, NY 10065.