When you're the biggest star in the world, it's hard to keep people interested. When the challenges of your day include asking Cher to hold your meat purse and arriving to the Grammys in an egg (let's not even talk about Gaga in Space), it's even harder to avoid the kinds of jaded criticism Lady Gaga has attracted since her muffin-bluffin' debut. Lady Gaga has everything to lose with ARTPOP, as the favorable media coverage about her has dwindled amongst Madonna shade, toke-related weight gain, broken hips, Katy Perry rivalry, and a general public perception of being over her "reductive gimmick." While it certainly would've been easier to go the Prism route, Gaga accepts that she is going to alienate much of the Top 40 crowd by focusing on the ART and the POP. Really: how many people have conversational knowledge of Jeff Koons and have experienced the addictive thrill of performing for a sold out Madison Square Garden? ARTPOP is Gaga's point of ultimate trans-genre superstardom and bizarreness; it's her Sgt. Pepper's Lonely Hearts Club Band, her Mechanical Animals. Her ARTPOP could mean anything.
Gaga begins the album off strong with "Aura," the somewhat controversial song originally titled "Burqa." The song on leaked on the internet in August, when Gaga was still coming out of her Twitter exile and it shows. Lyrics like "Enigma popstar is fun, she wear burqa for fashion" directly address the album's central theme of displacing meaning. By situating the song as ARTPOP's first track, she addresses the inevitable scrutiny she faces and reminds the listener that much of Lady Gaga is an aura. The burqa in the song, appropriative but certainly not meant as a pastiche, acts as Gaga's covering from the scruples of those who aim to strip her naked by digging too deeply into her personal life and her music. Gaga hides "behind the aura" to separate Lady Gaga the concept, the "enigma popstar" the news media hopes to martyr, from Lady Gaga the woman.
With its nonsensical planetary lyrics ("Aphrodite lady seashell bikini garden panty") and '70s-esque synth-packed beat, "Venus" may or may not be Lady Gaga's demo for the new Sailor Moon theme song. The back-to-basics Gaga certainly isn't presenting ARTPOP's Derrida-inspired multiple meanings philosophy by any means with the track, but its simple-as-pie funk-tastic composition brings to mind tracks on The Fame. Lyrics like "Mercury, Venus, Uranus - Don't you know my ass is famous!?" show that the creator of what NME Magazine called "the most pretentious album ever" still has a sense of humor.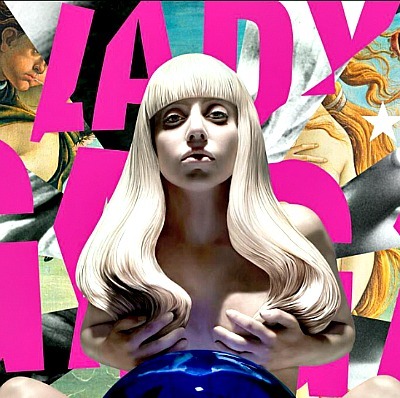 (ARTPOP album artwork via Jeff Koons)
"G.U.Y." (or "Girl Under You") is beyond lyrically engaging, acting both as a "power-bottom anthem" and a gender obfuscation opus dripping with sticky sex. Contributing to ARTPOP's overwhelming sense of personal satisfaction on Gaga's part, sometimes resulting in a jarring glass wall for the listener, Gaga's pop chops shine in this jam because her own confidence radiates. She asserts, "I don't need to be on top to know I'm wanted, 'cause I'm strong enough to know the truth." It addresses her satisfaction in her current romantic relationship, but the lyric could easily be applied to her superstardom; when Gaga didn't immediately hit number one on the iTunes chart with "Applause," detractors rushed to call it an ARTFLOP. "G.U.Y." shows that Gaga is still one of the smartest musicians in the pop industry, infusing an addictive beat with a smart feminist philosophy.
In "Jewels & Drugs," Gaga focuses the addictive nature of The Fame, likening it to the allure of, well, jewels and drugs. A precursor to "Applause," Gaga elaborates on similar themes when she croons, "I admit that my habit's expensive and you may find it quite offensive. But I won't die at the hands of another." Though the song doesn't always pull of its trap music conceit (Too Short's "I'm high as hell, tryna have some fuckin' fun" is worthy of more than a few groans), it certainly doesn't feel out of place with the rest of ARTPOP's R&B vibes. It could certainly be worse; both "Cake Like Lady Gaga" and "Dark Horse" are two worse options in different ways. Seriously, T.I. will always be a better score than Juicy J.
"Do What U Want" is an absolutely funky treat of a song that would lose none of its Oizo-esque appeal if it were manufactured solely for the purpose of a Beats by Dre commercial. Emphatically shouting "You can't stop my voice 'cause you don't own my life," Mother Monster seems to be channeling a place of pain last seen in her iTunes Festival performance of "Swine," providing a powerful, albeit somewhat troubling, anthem for survivors of sexual abuse while continuing the chronicling of her battles with the Fame Monster. The inclusion of R. Kelly crooning "Do what I want with your body" is positively inviting the subtext surrounding the partly-consensual tone of the song, but you better know Kelly "don't give a fuck." The lyrics "Write what you want/Say what you want about me" compounded with the bootylicious single cover serve as a lethal cocktail to her critics: kiss my ass.
The title track may be its least interesting musically and its most pretentious. Gaga embraces the enigma popstar label in "ARTPOP," telling the listeners to "Come to me with all your subtext and fantasy." Self-aware, Gaga keeps playing off of her public criticism as a shameless self-promoter (Born This Way and Farmville, for instance), noting "I try to sell myself, but I am really laughing because I just want the music not the bling." As ARTPOP is the embodiment of the album's concept and, therefore, chocked full of the drug-addled non-sequiturs Gaga's been tweeting since Born This Way. Like a mad scientist trying to create life, Gaga's experiment to fuse ART and POP sometimes results in overly ambitious deformities with six legs.
If the "Swinefest" iTunes Festival performance of "Swine" was heartbreaking, the hypnotically in-your-face nature of the album version of the song is its vindication. When Perez Hilton tweeted a link to an article purporting he was the subject of this biting jam, it was easy to assume he was flattering himself. With lyrics like, "You're just a pig inside a human body. Squealer, squealer, squeal out. You're so disgusting," it's not actually such an unbelievable jump. Regardless of the song's subject, lyrics like "Maybe I should have a little more just to stay out of my mind" betray a sense of sadness that lies just behind the aura.
"Mary Jane Holland" is easily the song the most atmospheric song on the album, shoving a joint in one hand and pulling the other through the "mad-magical" Red Light District of Amsterdam. Gaga snatches off the platinum weave when she and Mary Jane rendezvous, singing "Lady of the 'Dam won't be a slave to the blonde or the culture of the popular." Free as her hair, Gaga elaborates on the special kind of liberty she feels when she transforms into Smoky Gaga: "The grass heats up my insides and my brunette starts to sprout." As someone whose hair is iconic not for a certain style or color but for the sheer breadth and variety of forms it takes, Gaga going back to Stefani Germanotta brown is perhaps the greatest way in which ARTPOP serves to destroy the image of Gaga so carefully crafted.
Though powerful on its own, the power of "Dope" really comes from the dissonance between its new grating, unintuitive lyrics and the original overly-saccharine "I Wanna Be With You." The original song, a sweet but boring ode to the pull of the road and the desire for the kind of love someone like Lady Gaga could never have, goes "You lift me up when I feel strong." The new, vocally affected version is: "Oh, I'll hate myself until I die." Even though the lyrics, when placed side by side, read like the manic-depressive highs and lows of an undiagnosed bipolar teenager, each song has its own purpose. "Dope" works as ARTPOP's "You & I," an affected and alienating ballad that envelopes the listener in the emotion of the piece.
Perhaps what makes ARTPOP so satisfying is the kind of self-referential ("I don't speak German, but I try), celebratory toast that "Gypsy" makes so well, with Gaga Springsteen and Jo Calderone clinking glasses of Johnnie Walker. Gaga handles the wanderlust the song mourns rather well, approaching the bitter-sweetness of a crossroads in her relationship with "Like Dorothy on a yellow brick, hope my ruby shoes get me there quick." Even with the looming sense of loss, Gaga can't be sad when she sees all the stamps on her passport and realizes that she has the whole world in front of her. Looking to her Little Monsters across the world, Gaga almost reads off a tour itinerary during the song's outro: "Russia, U.K., Paris. I'm Italian, Asian konpai." After the album's emotional low of "Dope" and the somewhat deluded, pitiful nature of "Mary Jane Holland," ARTPOP needed a "Gypsy" to send it home in time for the applause.
Does ARTPOP shake off the pretention Gaga has worked so hard to dust herself in these last few years? No. But does Gaga come like a phoenix from the ashes, soaking up the applause (and the occasional "yass!")? Absolutely.
Check out the lyrics for ARTPOP on Rock Genius: