In 1910, a radical academic at the San Carlos Academy, Dr. Atl, organized a national Mexican art exhibition that challenged academic realism and the scientific reflections of the current dictatorship. He called for a national art that was rooted in aesthetic spiritualistic concepts of modernism, which would be a new school of artistic thought, and just as important as what their European counterparts were creating. Amongst his students, three stood out, "Los Tres Grandes," David Alfaro Siqueiros, Diego Rivera, and Jose Clemente Orozco, and lead the renaissance of the muralist movement, thereby giving it a significant voice and identity. In that same year, Dr. Atl gained permission from the minister of education to paint the first commissioned mural in the Bolivar Amphitheatre in Mexico City, where many of his students collaborated on a symbolic theme of human evolution.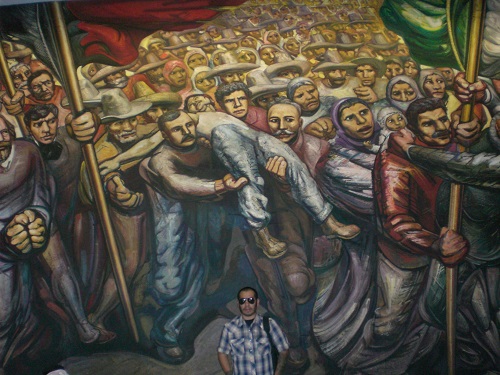 A few years later, during the Mexican Revolution, Dr. Atl became the director of the academy and founded a magazine that maintained that the role of art was to reflect life and the artist was to participate in the revolutionary struggle. Therefore, it was easy to understand how Siqueiros and Orozco joined him in setting up a propaganda center when the revolutionary army evacuated the capital. Another significant player of the muralist movement was Jose Vasconcelos. A key intellectual figure and philosopher of the revolution and the cultural renaissance, he also served as the Secretary of Education and surrounded himself with the young artists that focused on revolt and cultural renewal. In 1921, the first big wave of murals were commissioned on some of the most prestigious buildings all over the country and the art scene was booming with activity.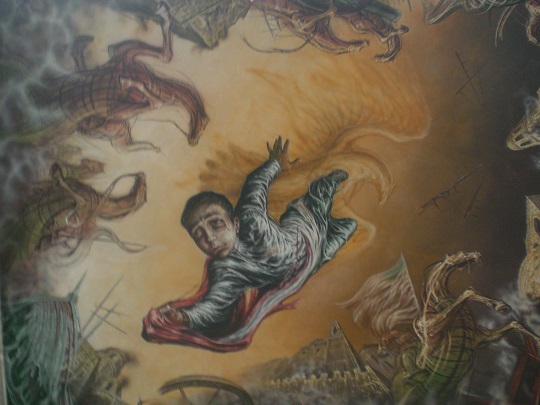 As the 1920s came to an end, the Mexican muralists shifted from creating imagery that represented the people emerging from the turmoil of the revolution and metaphysical origins, to a reflection of a national identify through its epic history. Also, with the significant industrial, cultural, and technological influences of its neighbor, the U.S., the painters looked beyond the national context and confronted regional concerns. When the American Ambassador to Mexico commissioned Diego Rivera to paint a mural in the Cortez Palace in Cuernavaca, where he worked and lived, it was surrounded by controversy because of his extensive use of Marx portraits within his work. This commission benchmarked a significant period for "Los Tres Grandes," since they all found themselves working in the United States shortly thereafter. Orozco was commissioned to paint at Dartmouth College, Claremont University, and the New School of Social Research in New York, while Siqueiros went to Los Angeles to paint Tropical America on a building in Olvera Street. In Siqueiros' mural, he attacked U.S. imperialism and capitalist oppression, as it represented the Mexican and Mexican American struggle of peoples' in California that suffered so many injustices, whether social, political, cultural, or economic.