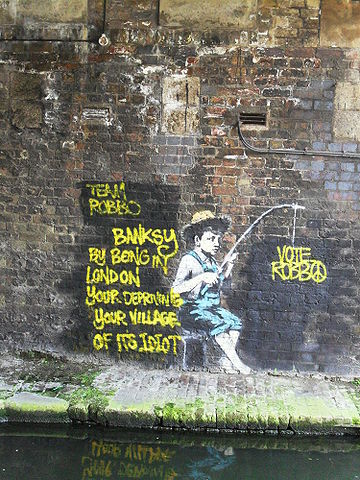 Tagging, street gangs, and graffiti culture hit a peak in Los Angeles in the 1990's. The streets of Los Angeles were plagued with egocentric individuals from all walks of life trying to make a name for themselves. Crews like: NTS, KWS, KCC, NBT, and FSK mobbed the streets for the notoriety of their crew, while crews like: K4P, LOD, WCA, MSK, AWR, and UTI created masterpieces on commissioned buildings, illegally, and on yards. In the Westside of Los Angeles, graffiti yards existed on Motor Ave, Jefferson Blvd and Venice Beach, but many other yards flourished throughout the entire L.A. County. With the highest levels of gang and graffiti activity throughout the region, draconian policies were ratified and many injunctions were placed on specific gangs and graffiti crews. Many individuals were sentenced to harsh prison years for vandalism or other lesser crimes for simply representing for a crew or gang, coupled with a handsome gang enhancement that would increase their sentence by x amount of years. As many gang members, graffiti writers, and taggers came of age within the spectrum of the '92 Riots, a different type of cultural adaptation began to develop. It was one filled with anti-establishment sentiment and it always started in the streets.
In 1994, Juxtapoz magazine was created in San Francisco to catalog, define, and celebrate underground contemporary art. Artists such as Gary Baseman, Mark Ryden and Camille Rose Garcia were featured. The magazine helped to influence and disseminate different styles of illustration, graphic design, street art, graffiti, pop-surrealism, lowbrow, sculpture and other types of modern art. One such graphic designer, Shepard Fairey, launched a meaningless, yet effective, OBEY (Andre the Giant) sticker and stencil campaign which eventually led to a clothing enterprise and to lucrative corporate commissions, while U.K. based artist, Banksy, used stencil-style creativity as social and political commentary, specifically when he painted images on the Israeli West Bank Wall. One of the most prolific artists to emerge and gain recognition during this period was Ron English, who explored guerrilla marketing and advertising techniques by transforming corporate billboards into clever political and surreal statements. Some of the highlights of his career include: the Berlin Wall in 1989, a juxtaposition of Picasso's Guernica, the Palestinian separation wall in the West Bank, with Bansky and his satirical imagery of Ronald McDonald as a reaction to the negative effects of the fast food culture.
In 1998, two PhD students from Stanford University created Google as a high-ranking search engine. With the internet just starting to take off, the ability to research anything from graffiti to corporate banking was at anyone's fingertips. Soon, the dotcom boom paved the way for seasoned and emerging artists to take advantage of the accessibility and used the new medium to establish clothing lines and digital murals. Others used Google to catalog photographs of illegal street art, vandalism and murals. People began to hit the streets again, fashionably uninvited, with spray cans, stencils and other tools, and tried to get recognition through murals, yet the Los Angeles City Council had different ideas and instead established a mural moratorium in 2002 to curb guerrilla advertising. It created a perennial battle between the establishment and artists of all types to gain control of what was considered public art.
Photograph: A fisherman mural by Regents Canal, Camden, London by Banksy. 26 April 2010, Author, Javier Vte Rejas, from Flickr.