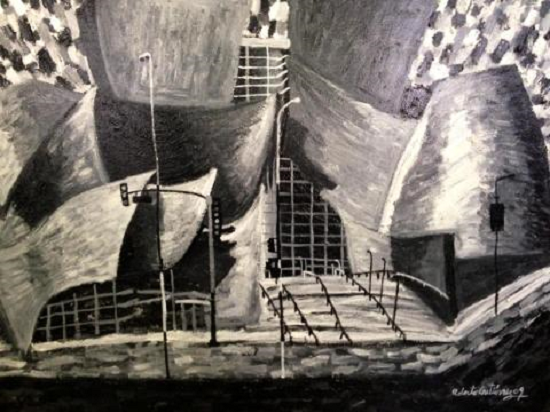 Roberto Gutierrez was born in 1943 in Los Angeles to a family at the edge of poverty and the youngest of nine children. They moved around a lot from Lincoln Heights, to Chinatown, to Highland Park, and then to Boyle Heights where he attended school at Roosevelt High. After graduating, with no job prospects and with inadequate internal turmoil for being an economic burden to his family, he volunteered to the U.S. Marine Corps and joined the Vietnam War. His time spent in boot camp was rewarding because at home he never had three meals a day, a bed with two sheets, a clean pillow and warm blanket, petty cash, but most importantly -- his confidence multiplied.
His mother and siblings weren't of the warm idyllic stock that is often referenced in popular Latino culture, on the contrary, they were cruel and heartless and often tormented him, thus crushing his self-worth. It seemed he had found the answer in a strict military environment. And unlike many of his counterparts who went on to college and launched the intellectual framework of the Chicano Movement, Roberto was drawn to the conservative agenda learned in the service. But after six years of engaging in military conflict with the death toll increasing and closing in on him, he had a nervous breakdown after his father passed away back home and Roberto ended up at a naval hospital in San Francisco, and six months later, he was back in L.A. where he would forever physically abandon the ravages of the battlefield.
This period marked the return of the prodigal son, the spiritual return to his father even though he was physically removed. It was then that a new grasp on reality was needed. After several months of working a dead-end job and living without purpose, he used his G.I. Bill and enrolled in East Los Angeles Community College and was introduced to artists such as: Chaim Soutine, Monet, Van Gogh, Manet, Jose Clemente Orozco, Diego Rivera, films like The Battle of Algiers and Los Olvidados, books like The Souls of Black Folks, Nobody Knows My Name, Native Son, and the political culture of protest that surrounded him. Around this time he took up painting and began with the trauma experienced in Vietnam and the angst of his childhood as if reconciling the wrongs he had observed or were imposed on him.
Mostly inspired by Soutine, Roberto Gutierrez went through a period where he experimented with painting rotting dead fish and chickens, and even a pig's head, and although cathartic and necessary, it didn't win him an audience. He had also started painting a self-portrait a year in the style of Basquiat, Schnable, and Anselm Kiefer, he sketched in notepads, address books, and folders reminiscent of Honore Daumier, but it wasn't until he began painting impressionist and expressionist cityscapes, which professor Jose Orozco of Whittier College refers to as urban pastoralism, that people began to take notice. Mostly disillusioned, ignored, and losing hope because people were indifferent to the work he offered, he was encouraged in 1991 by Sister Karen at Self-Help Graphics to paint the cityscape barrios using watercolors and oil pastels to illustrate the colorful abstract skies, the dignity and vibrancy of the people amongst the landscapes, and the representational urban complexities expressed through cultural and civic pride.
By the mid 2000's, Roberto Gutierrez moved from colorful urban pastoralism to black and white landscapes often recalling an industrial-era feel and Kafkaesque nightmare of the barrios of Los Angeles that look like they could've been painted by a German expressionist or French impressionist, or a combination of both. The somber and monochromatic images represent a departure from the colorful and vibrant narratives that developed out of commonplace Chicano art, and as the artist views it, it is a way to recall the gritty texture of the cityscape that is supposed to represent concrete or cement as a direct contrast to glamorous undertones often promoted by boosters.
His paintings in this context are classic L.A. noir, straight out of James Ellroy's L.A. Confidential, and often rendered from photographs that are sometimes blurry and spotty, which is also incorporated into the painting to give it a more authentic feel. Most of these paintings are devoid of people and are meant to produce a feeling of emptiness because they represent a Los Angeles that no longer exists. The lack of people metaphorically represents a generation of people that are also disappearing, people of his age, which is difficult for him to face.
His new project is in collaboration with Studio 50 in Highland Park, a solo show with several works depicting the 6th street bridge that is set to be demolished because it has been declared faulty and unsafe to handle earthquakes. The 6th street bridge is one of the most iconic symbols of Los Angeles, but often neglected, abandoned, disdained, and ignored, but it stands over the concrete and decay of the L.A. River like a character out of Fritz Lang's Metropolis looking down on the populace with authoritative observance. Currently Roberto has several watercolor paintings and canvases that observe the bridge from different perspectives, and the one I was most astonished by was the one painted in black and white, with a dreary blue sky that is sobbing for the bridge that will no longer exist. I knew then that I was no longer looking at a painting of a bridge.
Photos Courtesy of Laura Vargas 2014