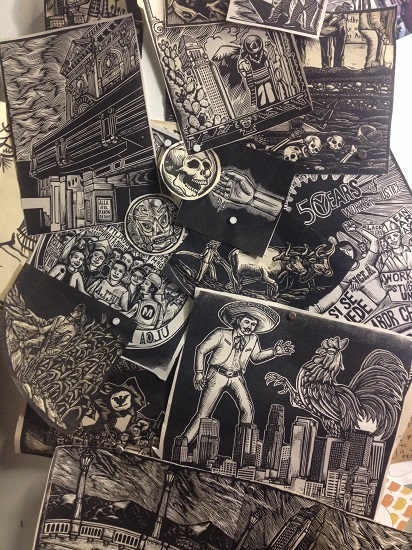 Born and raised in Boyle Heights to a family from Zacatecas, Mexico, Daniel Gonzalez is the modern-day Jose Guadalupe Posada. His work as a print-maker, designer, and illustrator has won him a historical place in the development of the visual arts in Los Angeles and demonstrates aspects of being dark and progressive in his approach.
As a child he traveled continuously from East Los Angeles to Mexico and maintained two national identities. His family came from a small rural town isolated in the mountains, Teul, Southern Zacatecas, and it is here where any romantic inclination for old Mexico was shattered by rampant violence, poverty, hopelessness, and immense suffering. The Mexican American whose parents still maintain a deep connection to Mexico inadvertently becomes a dual citizen regardless of legal standing or paperwork. The continuous travel back and forth, the folk tales, the ecosystem of family and friends, the language domination, and the cultural impact of both places contributes vastly to your world view -- and when this becomes your upbringing, there is no reversal of the process, thus making the Mexican American the rogue minority who refuses to assimilate. And it is through this dubious culture identity that spawned his creativity.
Before being born, his lineage was already a tale of dark romanticism. In the novel, The Underdogs, Los De Abajo, by Mariano Azuela, the main character, Demetrio Macias, was based on the real life story of one of Gonzalez' relatives, Manuel Caloca. The novel tells the story of the Mexican people in constant revolutionary struggle against an oppressive government, but who suffer at the hands of a constantly-changing rebel leader who reflects the same principles. The novel mirrors the political backdrop of the Cristero's War in Mexico, in which the clergy and its loyal Catholic followers fought the revolutionary government for their right of self-determination in a newly secularized society, partially based on another relative of Gonzalez who was martyred and elevated to sainthood by JPII, Fr. Agustin Caloca. In Los Angeles, the same story existed -- the Chicano Movement and their political ideology fought against the oppressive forces of the fascist regime and who's philosophical framework underlined the loss of space, yet the leadership was usually at odds and bickered heavily when trying to reach consensus about aesthetics -- thus remaining as underdogs. For a period he became politicized through this school of thought, until he managed to understand its stagnation and regressive nature. Daniel Gonzalez joined an art academy at the age of 12 and was always reading and building things, and studied under George Yepes, a Chicano muralist and painter, and Dr. David Carrasco, a historian, anthropologist, and scholar, where he understood how to do work with meaning and intent, avoid the obvious, and how to place imagery for specific reasons.
By the time he was 18, Daniel Gonzalez received a full scholarship to the College of Arts and Crafts in Oakland. At this juncture he understood the power of art and image making and enrolled in the graphic design program, but there was one small hiccup with his scholarship -- there was no student housing. It was arduous for most students... some rented closet spaces, some just a bed, the ones that were lucky had a room, and many were simply homeless and evaded the cold by sleeping on top of the glass furnaces which were never shut off, but were determined to go to school. In an advanced capitalist society where art students are literally starving and homeless, we can clearly observe the virtue of folly and absurdity that surrounds us. From this experience, Daniel found solace in the Mission Cultural Center where he was exposed to radical politics and where he learned printmaking and carving. Unfortunately, because of the housing concern and the overwhelming expense burden, he dropped out and moved back to Los Angeles and resumed studying art, this time folk art with some of the great masters of this tradition in Pasadena.
He furthered his education at Self-Help Graphics where he took up the letterpress, engraving, and lino-cutting, and once again received a scholarship to study Design Media Arts, but this time at UCLA, where he graduates from next month. Today, Daniel Gonzalez shows with other print-makers in Mexico City and he recently contributed original artwork to the Metro Expo Line at the La Cienega Station. Many of his works have Spanish titles and have satirical and political contexts as social commentary to help engage the viewer in public dialogue that reflects the current state of our society. His work is current and exciting, and lends itself to the political climate of our era. But don't tell him he is the modern-day Posada, because he will modestly tell you that although the comparison is an honor, he is mostly interested in avoiding the cult of personality.
Photo credit: Gil Ortiz 2014