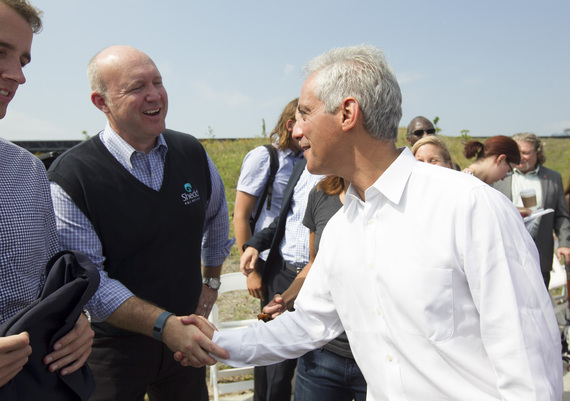 Shaking hands with Chicago Mayor Rahm Emanuel at the ribbon cutting at Northerly Island.
At any given point, cities along the Great Lakes are making investments in the waterways along the basin that more than 40 million people call home. Previously, we've discussed how recreation brings a sense of community to the region, and how cooperation in national and international policy making impacts the health of the Great Lakes. This month in our "Great Lakes, Amazing Connections" series, we'll see how investments in parkland brings the important message of wildlife and water conservation to urban areas.
Standing on Northerly Island just minutes from my office at Shedd Aquarium on Chicago's Museum Campus on an early September day was like taking a step back in time. Rolling hills and native plants surrounded on three sides by the waters of Lake Michigan, it was easy to forget the 40-acres of land once served as a private airport.
But as Mayor Rahm Emanuel, U.S. Senator Dick Durbin and Chicago Park District Superintendent Mike Kelly shook hands after the ribbon cutting and tour of the newly established park and nature conservancy at Northerly Island, it was clear that while the restored land resembled the natural beauty of what the land once was, the continued vision for the future of urban parks was being realized.
With six distinct ecosystems, a 5-acre lagoon and 150 different native plants, the newest green space in Chicago will become a haven for birds and insects to thrive, making their presence known to pedestrians taking advantage of the trail that circles the park. What the park represents is a prime opportunity for residents of the city to connect with the living world just minutes away from its urban center. Guided nature walks, camping and a chance for Chicago's museums to use the area as a living classroom, the property that was once Meigs Field is now an ambassador for conservation to the Great Lakes region.
Chicago isn't alone as a city willing to foster a connection between its bustling downtowns and natural areas on the lake. In July, the city of Toronto announced plans to expand its first urban park, Rouge Park, by about 8 square miles. This represents a permanent preservation of the land by Parks Canada, and when realized, will make it one of the largest protected urban parks in North America.
Stateside, the continued expansion by the Detroit Riverfront Conservancy -- which has dramatically transformed the river shore of the city with a system of natural areas and trails over the last decade -- is another example of a large city committing to preservation and restoration.
Investments like these ensure that even the most urban centers offer an opportunity for residents to connect with nature, make memories and learn how critical efforts are to preserve native plants and animals. My recent visit to Northerly Island reinforced this for me personally. Before the weather gets to cold, and autumn colors are in full display this fall, take some time to visit the many urban parks that dot the Great Lakes region.
The City Parks Alliance features a great national map of member parks, most of which are minutes away from cities like Indianapolis, Ind., Grand Rapids, Mich., and Milwaukee, Wisc.
You just might be surprised at the beautiful, native areas that have been preserved inside the major cities you call home.