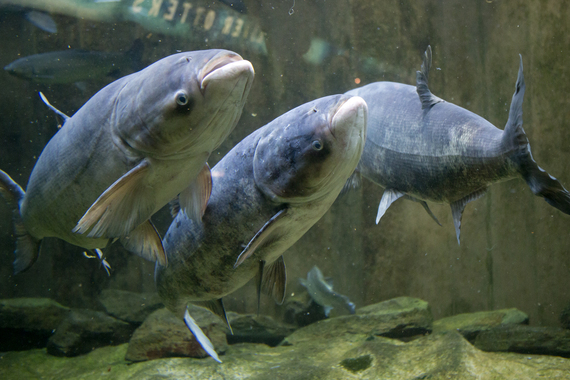 As a representative of Shedd's Great Lakes and sustainability programs, I spend a lot of time talking with our partners and collaborators around the Great Lakes Basin about the many environmental issues surrounding this important ecosystem. Through these conversations, it's become clear that we as people tend to care most about the things that affect us personally. At Shedd Aquarium, our mission is to connect people to the living world, inspiring them to make a difference. Our hope is that by demonstrating how we're all connected, we can inspire people to care about and take action in their local environments.
Earlier this week, the U.S. Army Corps of Engineers (USACE) submitted to Congress the Great Lakes and Mississippi River Interbasin Study (GLMRIS) Report, the majority of which concentrates on management of the Chicago Area Waterway to prevent the spread of invasive species. The report also stresses the importance of education programs to help create awareness and educate the general public on the complex issues associated with Asian carp. Although it might seem that this is a localized issue in one city or state, Asian carp affects each of the 42 million people living in the 140 communities around the Great Lakes Basin.
With the Chicago waterways right in our own backyard, Shedd has invested its time and expertise in developing a suite of digital tools to educate the Great Lakes community and inspire its members to take action. The new digital resources available online are twofold: the first is an online STEM (Science, Technology, Engineering and Mathematics) curriculum called Asian Carp Exploration designed to inspire critical thinking skills while learning about how the Great Lakes waterways are connected and how invasive species are spread; the second is a series of easily shareable public awareness videos called "High Stakes of the Great Lakes," which delves deeper into the issue of invasive species with interviews from the range of stakeholders around the basin.
We are doing our part to help build awareness of the lakes' vulnerabilities, contribute to research to address invasive species, accelerate habitat restoration as well as protect and promote native wildlife. I encourage you to help too, by sharing the "High Stakes of the Great Lakes" videos on your own channels and to check out the new curriculum. It's my sincere hope that by sharing these engaging educational tools, we can spread awareness of these important issues -- it's as easy as click, view, learn.