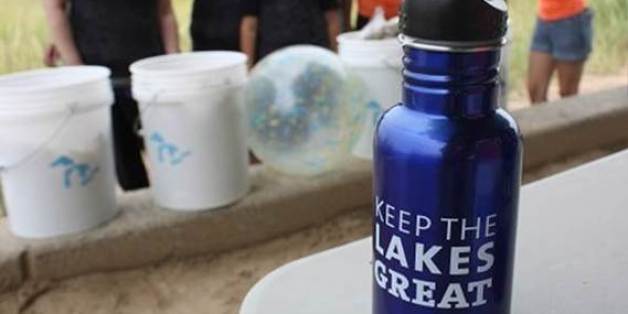 Superheroes in Chicago weren't limited to comic books and the movie screens this summer. I, along with the city of Chicago, celebrated our very own Jackie Robinson West representing the nation in the Little League World Series. From the ballpark to the beaches, we're also celebrating our own Great Lakes champs -- the team of volunteers, citizen scientists and environmentalists who go to bat every summer to preserve our Great Lakes.
This dedicated team got their hands dirty in restoration work through several programs in basin, including Shedd Aquarium's Great Lake Action Days (GLAD). Volunteers came out this summer to the Lake Michigan shoreline and Indiana dunes to maintain trails, plant native grasses and wildflowers and collect important data through citizen science projects.
Homerun for the Local Waterways
In the Chicago area this summer, 643 volunteers spent 1,394 hours (and counting) to help with beach restoration by:
Picking up 701.43 pounds of trash
Collecting 464.74 pounds of recycling
Planting 1,400 native plants
Removing 1,200 gallons of invasive plants
That's more than 1,400 pounds of waste removed in Chicago alone. It's hard to imagine the amount of waste along the shorelines of all of the Great Lakes. This is why we partner with other groups like the Alliance for the Great Lakes and support their successful Adopt-a-Beach stewardship program, which attracts some 10,000 participants to support preservation work across the region.
Star Summer Players
Great Lake Action Days are open to anyone who wants to make a difference and, for some, a GLAD might be their first hands-on exposure to spotting an invasive plant along a trail or stopping to pick up a piece of plastic floating in the waves. Our hope is that experiences like this become carry throughout a lifetime to ensure the future of the Great Lakes ecosystem.
Season's Not Over Yet
Our work is never done. Shedd, along with our volunteers, will be back on the beaches for International Coastal Cleanup Day on Saturday, September 20 along with partners in Toronto, Detroit and Cleveland. Join us, or an event in your area. Together, we can represent our home team -- more than 3,500 plant and animal species, and 36 million people who call the Great Lakes home.