Recently, I discovered a photo of my dad from 1964. The grainy black-and-white image reveals a young man, who would soon embark on a journey to America. He was wearing a perfectly fitted suit, and a tightly knotted tie. In the photo, I see my dad as confident, assertive, and filled with an optimism that defied the poverty and political unrest of 1960s Korea.
Soon after the photo was taken, he would leave Korea for good. He arrived at San Francisco with a lifetime savings of forty dollars and an even poorer English vocabulary. He was one of a multitude of Asians taking advantage of the recently ratified Immigration and Nationality Act Amendments, which eliminated racial-based quotas in immigration.
I understand that the harsh reality of immigration life quickly took its toll on our family. In retrospect, the 1960s was probably not the most ideal time for a man with the surname of "Nam" to move to America. I only have vague recollections of my father, but my bits of memories suggest a grueling existence. My older cousins told me that they were so proud to watch my dad "Stand up and fight white men, rolling in the ground with people much bigger than him." (What!?) When organizing papers with my mom as a child, I remember finding a single one-dollar bill hidden in a drawer.
"Why is there a dollar bill there, mom?" I asked.
"We must have put it there in case of an emergency." She replied.
This was the late 1970s, not the Great Depression!
One evening, my dad came to my brother and me, telling us that he that he wanted to switch from our American names of "Jimmy" and "Roger" to our Korean names of "Sangkyu" and "Sangbum." My brother and I immediately rejected the suggestion, then raced downstairs to catch the start of The Muppet Show. What can I say, we were pretty assimilated, and Korea was a strange place even to us! To this day, I still wonder what prompted my dad to ask us this.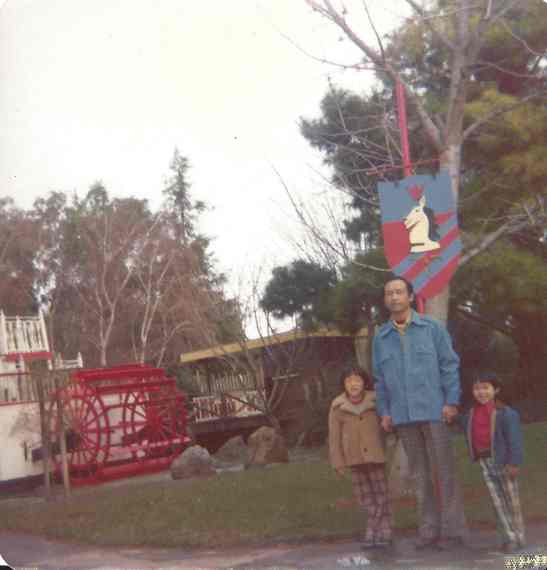 (My brother, my dad, and me. This picture was taken in the 1970s, as if the pants did not make that obvious enough.)
My personal memory of my dad is locked to 1981, the year when he passed away at age forty-three from a car accident. By that time, his body was weathered from years of drinking and smoking. His spirit was broken with the unimaginable struggles and pressures as our family patriarch.
I am grateful to find the photo of my dad in Korea, as it reminds me that my dad was not just a tired and stressed engineer, who worked a day job at General Electric, then closed the family coin laundromat every night, while apparently hiding one-dollar bills throughout the house. I am reminded that he was not always an immigrant with broken English. There was a time when my dad walked the streets of Seoul, telling his friends that he was moving to America, and optimistically painting a future life for his unborn posterity.
Today on Father's Day in his hometown of Seoul, Korea, I admire his optimism, emphasize with his struggles, and am deeply encouraged by the resolve of Richard Kyung-Hee Nam. I now know that the courageous twenty-six year-old and the exhausted forty-three year-old, were indeed the same person. He was my dad.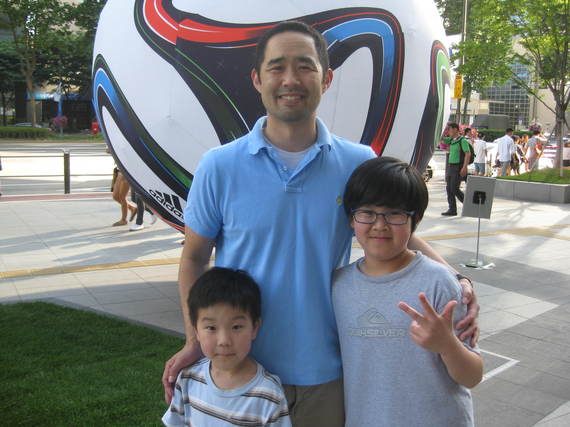 (Father's Day in Seoul, with my third-generation Korean American sons.)