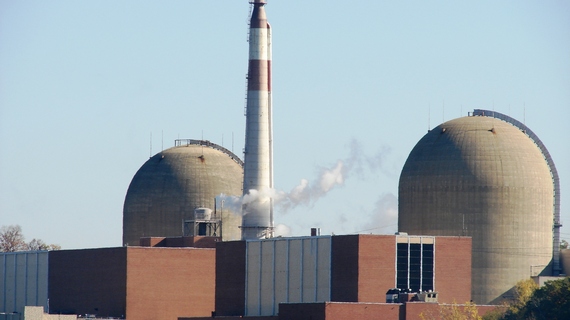 Representatives of Entergy Nuclear and the union representing control room operators and other technical workers are preparing for around the clock bargaining sessions beginning Wednesday to avoid a strike at the two Indian Point nuclear plants on the banks of the Hudson River some 25 miles north of Manhattan.
John Melia, spokesman for the Utility Workers Union of America, Local 1-2 said the two sides will be sequestered at the Rye Hilton beginning at noon and enter unbroken talks to hammer out a replacement to the current four-year contract, which expires at midnight, Friday.
Last week, the union overwhelmingly voted to authorize Local President James Slevin to call a strike if no contract was reached. And Thursday, some 50 workers marched on practice picket lines in front of the Buchanan plants as a final step in preparation for a strike.
"They had signs and union paraphernalia," said Melia. "It was an exercise showing that the unionized workers are serious about obtaining a fair contract. We authorize strikes because that is one of the few tools left to us, and we use it to show that we are serious.
"That said, no one ever wants a strike. No one wins in a strike."
The negotiating teams of the Utility Workers and Entergy will be joined by Commissioners Peter Donatello and Martin Callaghan of the Federal Mediation and Conciliation Service (FMCS) who seek to facilitate discussions and avert a strike. The Service is an independent government agency which provides mediating service when requested.
Agency spokesman John Arnold said "we are responding to a joint request from the parties involved." The actual mediation process is secret, he added, and the commissioners will not be providing status reports to the public. Entergy declined to comment.
Melia said there were no particular sticking points, but the company and union differed on wages and benefits, particularly the level of employee contributions to health care.
"It's been a pattern in collective bargaining the last few years," Melia said, "that big corporations like to throw their weight around. They seek an increase in member contributions to health care spending. They seem to think that the costs are going through the roof and it's another thing that employers seize upon to nickel and dime the workers."
But a strike would be hard on the workers. There were some 1,500 union workers in 2001 when Entergy bought Indian Point 2 from Consolidated Edison, and Indian Point 3 from the New York Power Authority. As the plants were consolidated Entergy eliminated many positions and others were converted over time to non-union positions.
With membership at about 375 - just 25% of what it was before Entergy bought the plants - Local 1-2 does not have the numbers and income to maintain a strike fund. In 1978, when Melia was a reporter at the New York Daily News, the strike fund of the New York Newspaper Guild paid each member a small stipend for the duration of the four-month strike.
But with the utility union's diminished numbers, Melia said, "We are not in a position to provide benefits to our members. We have funds to carry out our day to day functions as a union, but we do not have a strike fund to service the members."
It is also a tough economic period for Entergy. The talks with its unionized workers take place at a time when the nuclear industry is facing severe financial challenges due to competition from low-priced natural gas. The huge amounts of gas produced in recent years by hydraulic fracturing have altered the dynamics of the electricity marketplace. Entergy Nuclear Northeast is closing its Vermont Yankee plant - which received a 20-year license extension in 2011 - because it is no longer profitable.
Neither is Entergy's James A. FitzPatrick nuclear plant in upstate New York.
-- Continue reading at Energy Matters.