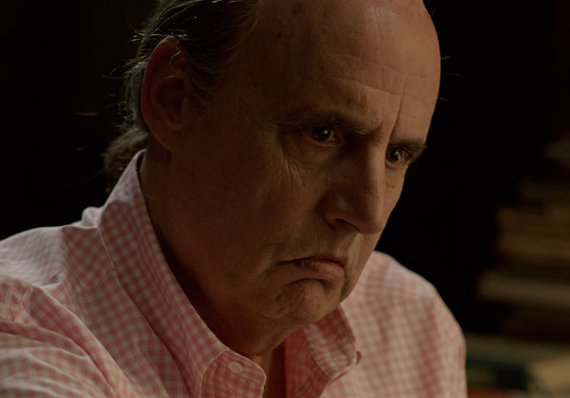 Jeffrey Tambor in a scene from Transparent (Amazon Studios).
This is how I usually wake up in the morning: half-squinting at my phone and scrolling through my messages to make sure I haven't missed anything crucial during my scarce hours of slumber. After skimming, I soon move to swallowing tea and churning away at my writing desk.
Today, however, was different. During my dormancy, I had missed something tremendous. My Twitter and Facebook feeds were swelling with buzz surrounding Jill Soloway (of Six Feet Under and United States of Tara fame), and the pilot for her new show Transparent.
As part of Amazon's second pilot season, five Amazon original primetime pilots are currently being streamed for free, and the audience gets to play TV exec and vote on which shows they want green-lit for their binge-watching pleasure.
At the time of writing this, my tea has been steeping for the 29 mins and 55 seconds it took to watch the pilot episode. It's honestly hard to write anything coherent right now and to give this show as much credit as it deserves because I haven't even taken a sip of my morning tea yet...which says it all.
Transparent revolves around Mort (played by Arrested Development's Jeffrey Tambor), a father who has yet to come out to his three self-absorbed children about transitioning to his true self: a woman. The siblings are made up of a perfect cast featuring Gaby Hoffman, Jay Duplass and Amy Landecker, whose characters of course harbor personal secrets of their own. Don't we all?
That's the genius of this show. It takes a concept such as the trans experience (which even Katie Couric has a hard time wrapping her head around), and holds it up as a mirror to our own experiences of what it sometimes feels like to be uncomfortable in our bodies, in relationships with people who don't really know us, and how life is complicated when we can't be our true selves.
The writing was so standout that I sometimes couldn't believe it was scripted. One of my favorite themes was when the siblings were guessing what big announcement their father was going to make, and how they decided he certainly must be dying of cancer. The rawness and hilarity of how that conversation manifests is just...it's like the blue meth of dialogue.
As a filmmaker who gets desensitized by writing formulas and stock characters, I can honestly say this is probably the most addictive pilot I have ever seen. If this is the future of entertainment, my seatbelt is strapped on, and I cannot wait for my next fix from Soloway.