The golden age of TV is upon us, but do you know who are the ones actually spinning the gold? I share my list of the top TV show creators bringing raw, new, original ideas to the thirsty masses.
Some come from a long history in TV, others have been catapulted from an indie filmmaking background, and still others have been plucked from the world of web series. One thing is for certain, though, they are changing the face of TV for the fresher, and we are here to bear witness.
Here they are, in no order at all.
1. Jenji Kohan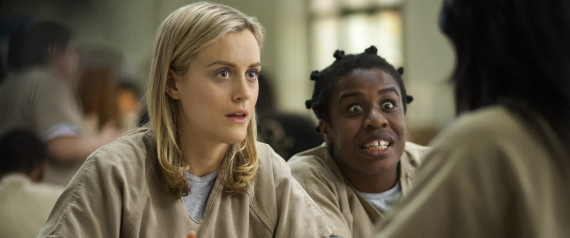 (Taylor Schilling, left, and Uzo Aduba in a scene from the Netflix series, "Orange is the New Black." AP Photo/Netflix, Paul Schiraldi)
Unless you've been living under a rock, or in a prison cell with no TV privileges, you are counting down the days to June 6th, the release date for the second season of Orange Is The New Black on Netflix. Last year, Kohan took TV to a whole new binge level with her breakthrough show about a women's federal prison, and all the shenanigans that go along with it.
Her ensemble cast lead by Taylor Shilling and Laura Preppon is a dream for those of us who are starving for diverse and eclectic female characters on TV. The show is also hailed for its LGBT story lines, and its trans representation by way of Sophia, played by the ridiculously lovely trans actress and activist Laverne Cox. Most of all, though, it's one hell of an entertaining show.
Kohan's track record is as high as ever, as she's the one who also brought us Weeds. Please excuse my pun and move on.
2. Jill Soloway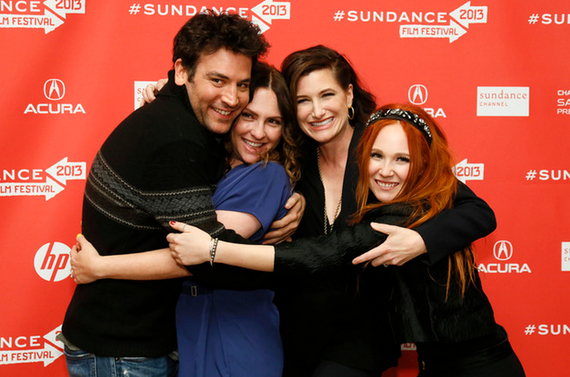 (Writer and director Jill Soloway, second left, and cast members Josh Radnor, left, Kathryn Hahn, third left, and Juno Temple, right, pose at the premiere of "Afternoon Delight" during the 2013 Sundance Film Festival on Monday, Jan. 21, 2013 in Park City, Utah. Photo by Danny Moloshok/Invision/AP)
Speaking of trans representation on TV, it's official: Jill Soloway's Transparent has been green-lit by Amazon with its first season due on Amazon Prime soon.
Transparent revolves around Mort (played by Arrested Development's Jeffrey Tambor), a father who has yet to come out to his three self-absorbed children about transitioning to his true self: a woman. The siblings are made up of a perfect cast featuring Gaby Hoffman, Jay Duplass and Amy Landecker, whose characters of course harbor personal secrets of their own.
We absolutely can't wait to see what Jill has in store, as she was also the producing power behind Six Feet Under and United States of Tara. If it's anything like the pilot (which you can currently watch on Amazon for free), it'll be nothing short of transformational for the world of TV.
3. Lena Dunham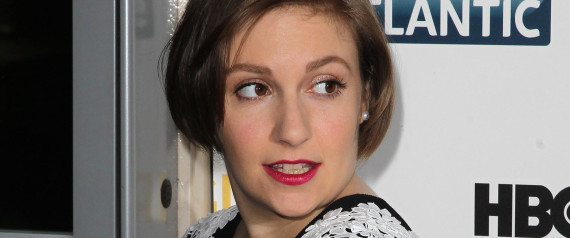 (Lena Dunham attends the UK premiere of 'Girls: Season 3' at Cineworld Haymarket on January 15, 2014 in London, England. (Photo by Fred Duval/FilmMagic) | Fred Duval via Getty Images)
What would a proper top-TV-show-creator-list be without Dunham? With the third season coming to a close, the great news is that HBO is into Girls, and has renewed the show for a fourth season.
Dunham's rise to TV creator royalty has been something inspiring to witness as she came straight from the indie filmmaking world with her festival gem Tiny Furniture, winning her a coveted Independent Spirit Award for best first screenplay.
Love it or hate it, Girls has definitely gained its place in TV hipsterdom history, with Lena as its fearless leader. By the way, if you haven't already, I highly recommend listening to Marc Maron's WTF podcast interview of Lena Dunham a few weeks ago. It was so refreshing, and I came out of it with mad respect for her and what she has managed to accomplish at 27.
4. Sarah Gertrude Shapiro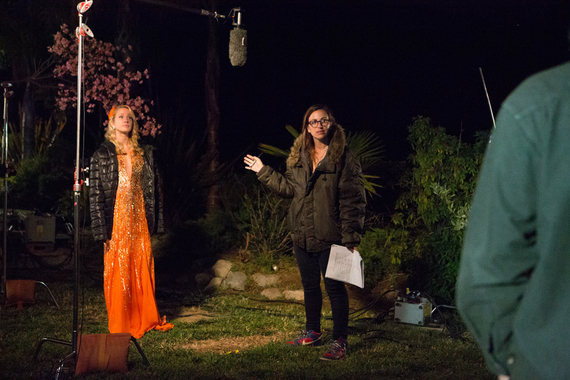 (Anna Camp and Sarah Shapiro on the set of Sequin Raze. Photo by Eleanor Stills.)
Shapiro is another one on the list who has made an astounding leap from indie filmmaking straight to a development deal with A+E Studios for her highly anticipated new show, Un-Real.
Based on her SXSW hit short film Sequin Raze which she produced while at the AFI Directing Workshop for Women, Un-Real offers a fictional behind-the-scenes look at the chaos and manipulation surrounding the production of a dating competition reality show. A cross between Newsroom and Girls is something you might hear tossed around, although honestly if it's anything like the short film, it promises to delve into deep, dark areas of our culture and its relationship to fame unlike any other TV show before it.
The pilot was green-lit, with 10 1-hour episodes ordered and slated to be released early 2015. Watch Sequin Raze here, and let the countdown begin.
5. Marta Kauffman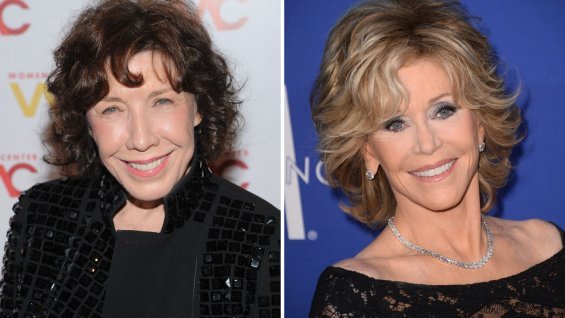 (Lily Tomlin, left, and Jane Fonda. AP Images.)
Friends creator Marta Kauffman does it again, and this time, she's bringing Lily Tomlin and Jane Fonda with her to Netflix. You heard it right, Tomlin and Fonda will be back together on-screen after 34 years from when they starred in 9 to 5 together, and Kauffman is the show runner who's making us squeal with anticipation.
Grace and Frankie is a 13-episode single camera comedy series that centers on Grace (Fonda) and Frankie (Tomlin), whose lives are turned upside down when their husbands announce they are in love with each other and plan to get married. According to Netflix, "The women find their lives both turned upside down and to their dismay, permanently intertwined. Eventually, to their surprise, they find they have each other."
The show will debut in 2015. That's turning out to be one hell of a year kids.
6. Shonda Rhimes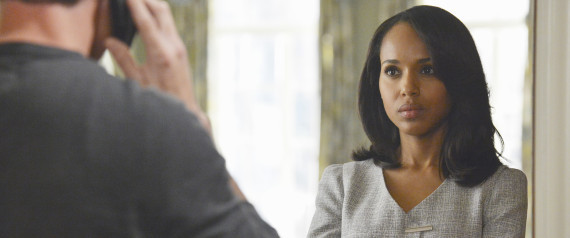 (Kerry Washington in Shonda Rhimes ABC show, Scandal | ASSOCIATED PRESS)
ABC's hit show, Scandal, is by far the network's top performer, all thanks to Rhimes who is also behind the hit TV shows Grey's Anatomy and Private Practice.
In the middle of a season three, Scandal is proving time and time again that us gladiators can't get enough of Olivia Pope, the Washington D.C fixer played by powerhouse Kerry Washington. Scandal is currently the only show on broadcast television featuring a Black female lead. Here's a great clip of Rhimes, Washington and Oprah discussing how the show came to be, and how it almost never was.
Though ABC won't make any official announcements until May on show renewals, Scandal is definitely not one to worry about. As Olivia would say, "Season four is handled."
7. Mindy Kaling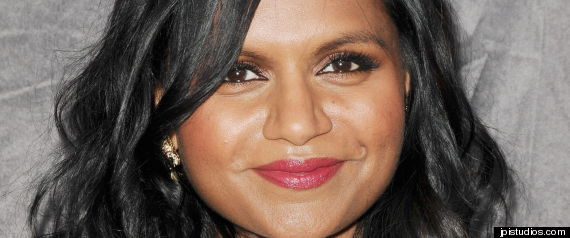 (Mindy Kaling attends the Premiere of Columbia Pictures' 'This Is The End' at Regency Village Theatre on June 3, 2013 in Westwood, California. | Photo by Jason Kempin/Getty Images)
Who would have thought Kelly Kapoor from The Office would end up creating and starring in one of my favorite shows on Fox right now, The Mindy Project? Well, dig a little deeper and you'll discover that Kaling is a comedy veteran who was actually a head writer for The Office, and who has been at it since her college days at Dartmouth.
The Mindy Project centers around Mindy Lahari, a talented obstetrician (loosely inspired by her mother who had the same profession), who struggles to find the right guy, the right outfit and the right attitude.
I have to say my crush on this show is as strong as ever, so I'm glad for their third season renewal. A confident, curvaceous brown woman who is comfortable in her own skin, creating, writing and starring in her own TV show? Yes, yes and yes. If you didn't catch it, by they way, here is her recent feature in Vogue, "Mindy Kaling Comedienne and Star of The Mindy Project On Dressing with Confidence."
8. Numa Perrier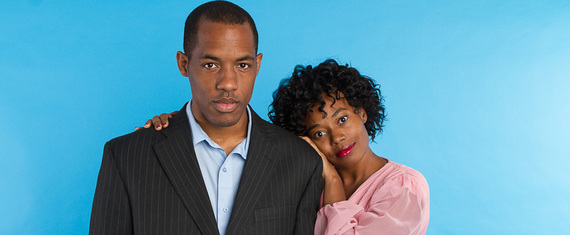 (Numa Perrier and Desmond Faison star in "The Couple" | Black & Sexy TV)
Web series are all the rage these days and rightfully so, especially when it comes to content representing characters and stories where traditional TV falls short. This is where Perrier and the other three co-founders of the Black & Sexy TV on-line network come in.
With their fresh programming representing a young, Black (and yes, sexy) progressive voice, The Couple is a show co-created by Perrier and has been my hands-down favorite of their roster. It stars Perrier and Desmond Faison as a young Black couple, chronicling the everyday nuances of dating and living together.
The show caught the eye of HBO executives, and news leaked during Sundance this year that they have indeed clinched a development deal with HBO, with Spike Lee onboard as executive producer. Watch what you've been missing, and cheer them on as they make it to the big leagues.