At Resource Furniture, we see a lot of small space problems and come up with even more solutions. But we aren't alone in believing that everyone can make their spaces work for them. This month, we invited designer and creative force Libby Langdon to share some tips and tools from her book Libby Langdon Small Space Solutions.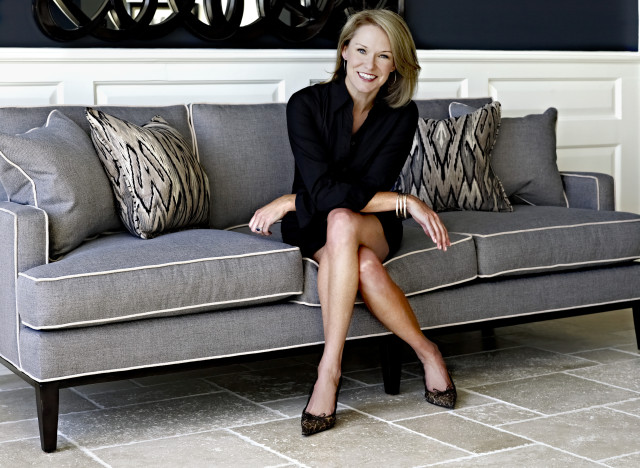 Photo by Noel Sutherland
When decorating a small space, most people default to white, how adventurous can you get with wall coloring?
White walls won't technically add square footage. They won't make your space look larger and they lack personality, so I say, spice up your space and put some color on your walls! Don't be afraid of bold colors -- just use them judiciously. Brighter hues tend to make a wall seem closer, while cooler colors and darker shades tend to make it recede. So if you love chocolate brown, while you don't want to use it on all four walls, you can paint one accent wall for fabulous impact. Paint the wall behind your bed or sofa -- the darker color on one wall will make it visually recede and make your small space feel bigger. Another neat trick is to paint vertical stripes on walls, which make a tall statement in a small space. They draw your eye upwards, giving the illusion of height, which is especially effective when ceilings are low.
Storage is always an issue when it comes to small spaces. What are some creative storage solutions?
Use bed lifts to raise your bed. They can raise it up to 6 inches, which creates more room for storage space underneath and the look of a higher bed is luxurious. Use a longer bed skirt to hide your secrets!
Use ottomans with storage inside. They can hold everything from paperwork and files to extra bedding. Plus, they can serve as extra seating or a cocktail table when a neat tray is placed on top. Try grouping four small cube ottomans together as your coffee table, which can be easily rearranged to accommodate different situations.
Multifunctional furniture is the name of the game. What pieces can do double duty in your small space? Ottomans can be seating, a footrest, or a cocktail table; a tall kitchen rolling cart can act as a bar, extra workspace, and storage; a desk can be a dining table.
For rooms that are dark and lack windows and/or natural light, how can you create the illusion of light and space?
Lighting is critical to small spaces because it has the power to make a room feel brighter and therefore larger. Also, by using various light sources, you create layers in a room, resulting in a richer ambience. There are two kinds of light to work with -- natural and artificial. The more natural light you can bring into a room the better. Be careful not to obstruct natural light and views that lead the eye beyond the room. Use lower pieces such as benches, ottomans, and stools to keep the space open and capitalize on the natural light you do have. For window treatments, translucent shades or sheers work better than blackout or opaque. As for artificial light, you want to ensure that light reaches each corner of your room; since you have less space, you want to avoid having it get lost in darkness. You can use as many as four or five larger lamps. Yes, larger! People tend to think a small space requires small lamps, however, it's just the opposite! Large lamps add height and scale to a small room, making it feel larger. Try and avoid harsh overhead lighting and if you must use it, add a dimmer switch if possible. The most important rule is that light should be inviting and create a feeling of warmth.
Your interior design firm is based in NYC, however, as a TV makeover designer who has worked in homes nationwide, how is small space decorating a challenge beyond urban areas?
Many people are choosing to downsize, not compelled to like most urban dwellers. In certain ways, I think "small is the new big" because people started to step back and see how huge things had really gotten. We've become carried away with "super-sizing" everything! People also started seeing the results of "living large": the costs of filling up your car, gaining weight, big mortgages and just living with STUFF everywhere! There is an underlying desire right now to simplify our lives, get back to basics and what really matters and that's now translating into our homes. Of course, we're also facing sobering issues with the economy and more and more people are downsizing for financial reasons as well. The greater part of my design philosophy is that living with less doesn't mean you have to sacrifice comfort, elegance and style... sometimes living with less is the ultimate luxury." There is an incredibly diverse group of small space dwellers who share the desire to live in a space that's not only beautiful but also functions for their needs and the needs of their family.
Empty nesters: Baby boomers are scaling back and are realizing that living with less is wonderful!
Young growing families: They might want to move to a larger space but are playing it safe financially and will work with the smaller space they are in.
Eco-minded folks: Many folks want to leave a smaller footprint on the planet and conserve energy, water and just not live with excess.
The elderly in assisted-living homes: Overall we are living longer and the aged are moving into smaller-scale assisted living facilities or into their children's homes.
Dorm roomers: Many parents spend a ton of money to create a comfy home away from home for their kids.
What is the biggest mistake when decorating a small space?
I couldn't narrow it down to just one mistake, so here is my top 10 list of biggest mistakes people make in small spaces!
Libby's Top 10 Biggest Mistakes for Decorating Small Spaces:
• Not using color on the walls. White walls don't make your space bigger; they make it boring.
• Using oversized, large-scale furniture that cramps space, instead of better proportioned pieces.
• Not lighting your space effectively -- whether by capitalizing on natural light or bringing in artificial light.
• Using shelving and cabinetry that isn't full scale -- meaning that it does not go all the way up to the ceiling.
• Holding onto too much stuff and not throwing away clutter.
• Using small-scale accessories (lamps, artwork, candles, vases, and pillows) instead of large ones. Large accessories create the appearance of greater space and more height.
• Not using mirrors. They bring in and reflect lots of light to visually multiply your space.
• Not making the most of your wall space. Think vertically; mount shelving on your walls to display collections and store items so you don't waste precious surface space.
• Using all wood furniture. It makes a room feel dark and heavy. Mixing materials like glass-topped tables with wood pieces makes your room feel lighter and more open.
• Using small area rugs. Large rugs create a feeling of more square footage and small rugs look like a postage stamp!